By PJ dela Peña, USTP System STRATCOMM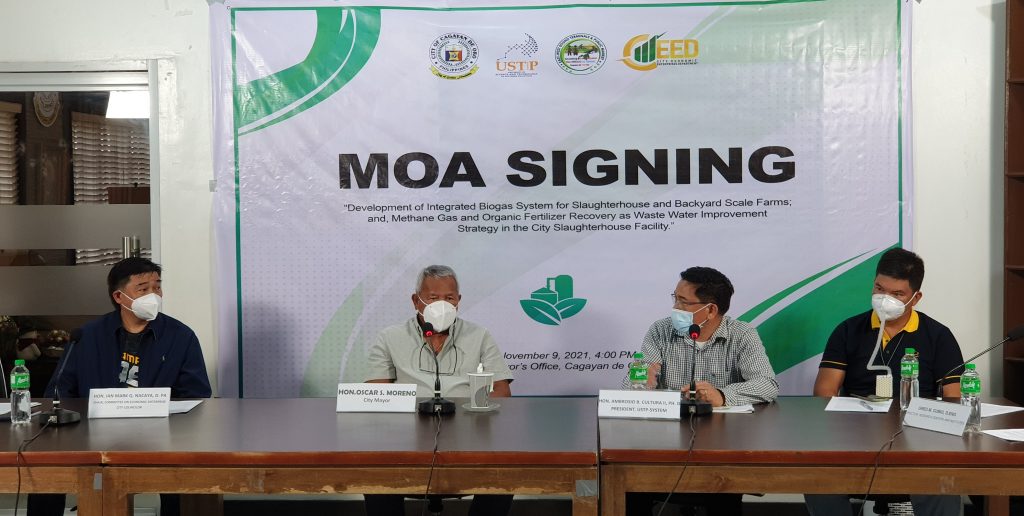 (Left to Right): Councilor Ian Mark Nacaya, Mayor Oscar S. Moreno, USTP System President Dr. Ambrosio B. Cultura II and Mr. Erwin Sy of MEGA Farms discuss the partnership during the MOA signing.
The City Government of Cagayan de Oro and MEGA Integrated Agro-Livestock Farm Corporation signed a Memorandum of Agreement (MOA) with the University of Science and Technology of Southern Philippines (USTP) to collaborate on the study of two of its research projects.
Mayor Oscar S. Moreno represented for the City Government of Cagayan de Oro, Mr. Erwin Sy for MEGA Farm and University System President Dr. Ambrosio B. Cultura II for USTP.
The City Government wants to harness the waste generated by the City Slaughterhouse in Barangay Cugman and display the benefits and advantages of biogas technology as a renewable energy source that can be replicated in other establishments in the city.
Mega Farms will undertake the Redevelopment of the City Slaughterhouse under a Build and Operate Transfer (BOT) Agreement with the City Government.
USTP will supervise the implementation of research activities, and present results, findings, analysis, conclusion, and recommendation of the study.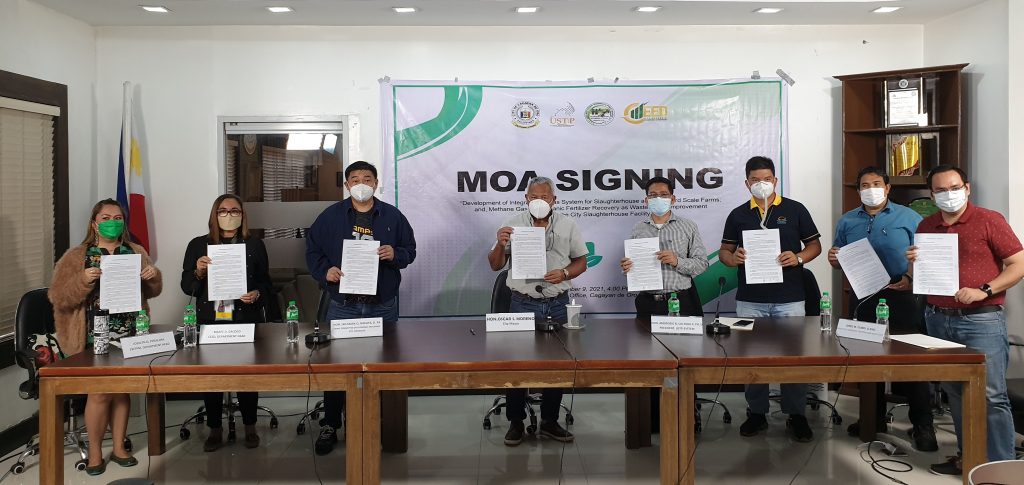 Officials from the City Government of Cagayan de Oro, MEGA Farms and USTP showing the signed MOA
Dr. Antonio-Abdu Sami M. Magomnang is the lead on the study entitled Development of Integrated Biogas System for Slaughterhouse and Backyard Scale Farms. The National Research Council of the Philippines (NRCP) is the funding agency and the Department of Science and Technology (DOST) Regional Office XI acts as the monitoring agency.
Dr. Greg M. Cubio is the project leader on the study Methane Gas and Organic Fertilizer Recovery as Wastewater Improvement Strategy in the City Slaughterhouse Facility, a research study endorsed by the DOST Regional Office X.
The City Economic Enterprise Department (CEED) and the East-West Public Market and Terminal (EWPMT) will oversee the conduct of the research study.