CSTE conducts Visiting Professor Lecture Series
by Ramir Philip Jones V. Sonsona, DA
The College of Science and Technology Education (CSTE) through the Department of Teaching Languages and Special Education (DTLSE) of USTP Cagayan de Oro conducted its first Visiting Professor Lecture Series on November 26, 2022, via Zoom.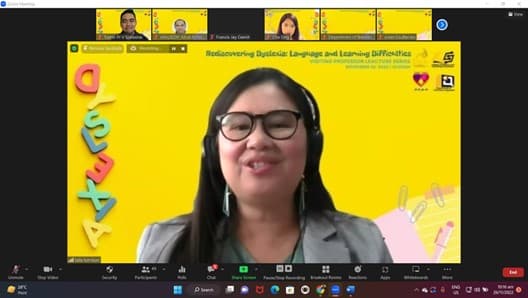 Dean Laila S. Lomibao, Ph.D. formally opened the activity.
CSTE Dean Laila S. Lomibao, Ph.D. formally opened the activity by highlighting the importance of inviting an international speaker who can shed light on the specialization of discipline and provide interaction on this aspect.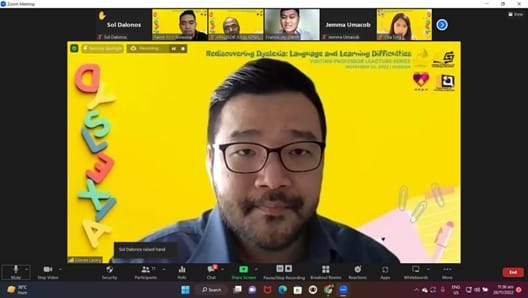 Edmen Leong in his insightful and engaging talk on dyslexia.
The invited speaker is Edmen Leong, MA, the current director for Specialised Educational Services of the Dyslexia Association of Singapore, who shared the topic Rediscovering Dyslexia: Language and Learning Difficulties. Mr. Leong provided insights into the realm of dyslexia and even discussed potential provisions for remediation, including reading interventions.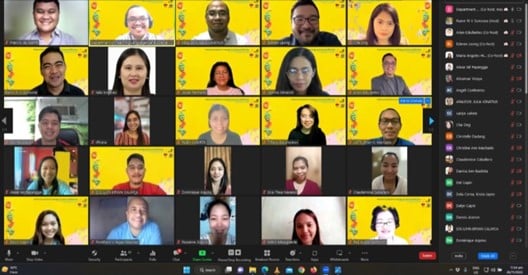 The attentive attendees of this first-ever Visiting Professor Lecture series by CSTE.
"Through this event, I was able to discover what dyslexia is, and hopefully will be able to know if my students are showing manifestations," Rodel Marayan, MATESL 1, shared.
The event was attended by the current students and professors under the Master of Arts of Teaching Special Education (MATSpEd), Master of Arts in Teaching English as a Second Language (MATESL), some alumni of these graduate school programs, and CSTE faculty members.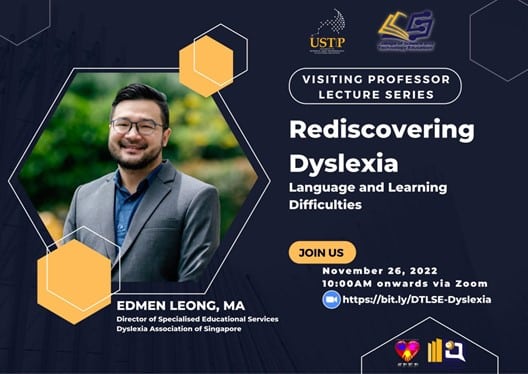 The poster invitation for the Visiting Professor Lecture Series designed by Mr. Arian M. Edullantes.
The CSTE looks forward to more activities of this kind in 2023.