By Jomerl I. Gomez, USTP System STRATCOMM
Following the PHP1.2-million worth proposal to improve its existing Urban Community MicroFarm (UCM) project with a hybrid water supply system, the University of Science and Technology of Southern Philippines (USTP) – through its Center for Human Development (CHD) – recognized its UCM project partners on April 1, 2022, through a virtual celebration via Zoom.
The event opened with video reels promoting urban farming and food security from UCM partners, including the Department of Agriculture Agricultural Training Institute (DA-ATI Region X) and Kids Who Farm, an organization based in Zamboanga City that teaches new ways to make farming possible in urban areas.
Mr. Clint Django Pacana, Manager of the USTP Claveria S&T Park or The Agropolis, welcomed the program partners and beneficiaries to the virtual celebration, aptly titled "Hudyaka: A Virtual Recognition Ceremony for UCM Partners."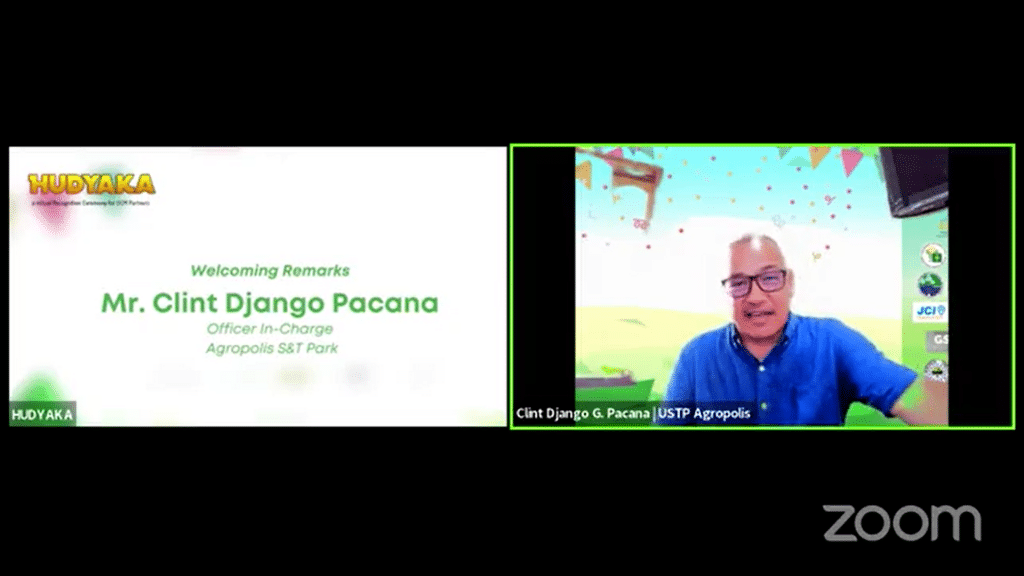 After which, the USTP CHD Head Ms. Angelie Collera presented the rationale for the UCM program. She shared how it was born to "divert[ing] the attention of the people from the negative impacts of the pandemic… [on their] mental health… by making them productive [and] encouraging them to plant their survival vegetable gardens."
Ms. Collera added how it all started with giving seeds to people through their Gulayan sa Kabalayan (GSK) program. Then, with the help of partners – JCI Kagayhaan Gold and Kids Who Farm, and later, USAID Opportunity 2.0 – the program progressed to capacitating their beneficiaries by providing a webinar series on how they can make use of urban farming in their communities, which is now the UCM project.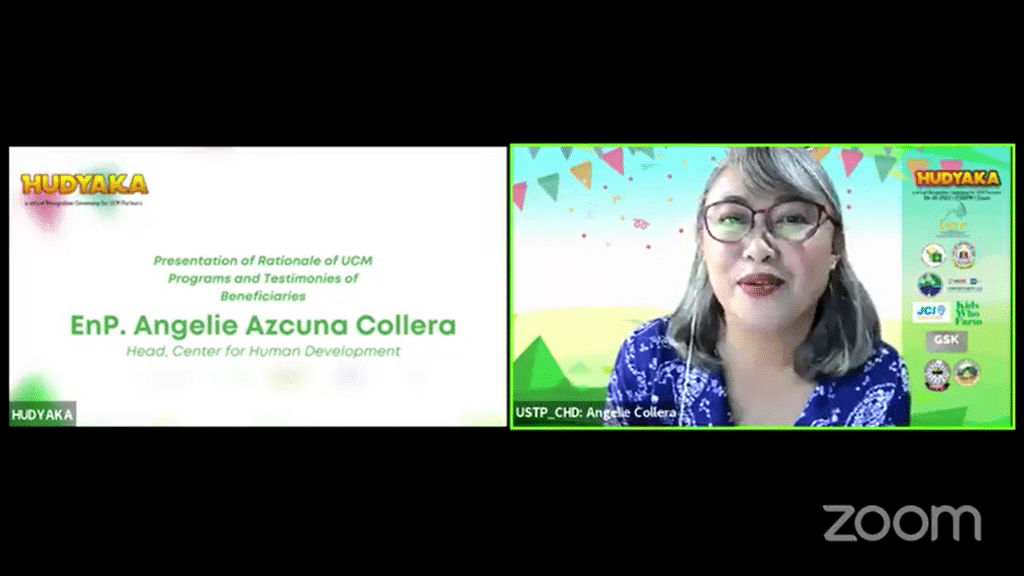 The CHD head also highlighted how the UCM framework was designed to "work with the youth on the ground" to address the expanding gap between food production and the youth, citing statistics on the average age of farmers to be 56 to 60 years old — a problem that could face the country in the near future.
As a result, the USTP CHD launched the Sustainable Urban Gardening Contest to stimulate the interest and action of the youth from the two barangay beneficiaries. The CHD head then expressed her gratitude for the barangay beneficiaries' favorable response to their call, saying "magpasalamat kaayo ko nga niduyog gyod sila… nakapananum, nakapamaligya…" Hudyaka is, thus, a celebration of the youth's successful steps into making urban farming a fruitful reality.
Ms. Collera then shares how "GSK started with giving a seed. Seed is life. We are running into our third year. The seed has started to grow. And it's growing…" She hopes that, through this celebration, the UCM program will continue with its cause and "make Cagayan de Oro a more food-secure, resilient, and sustainable urban community via youth leadership in Urban Community MicroFarm."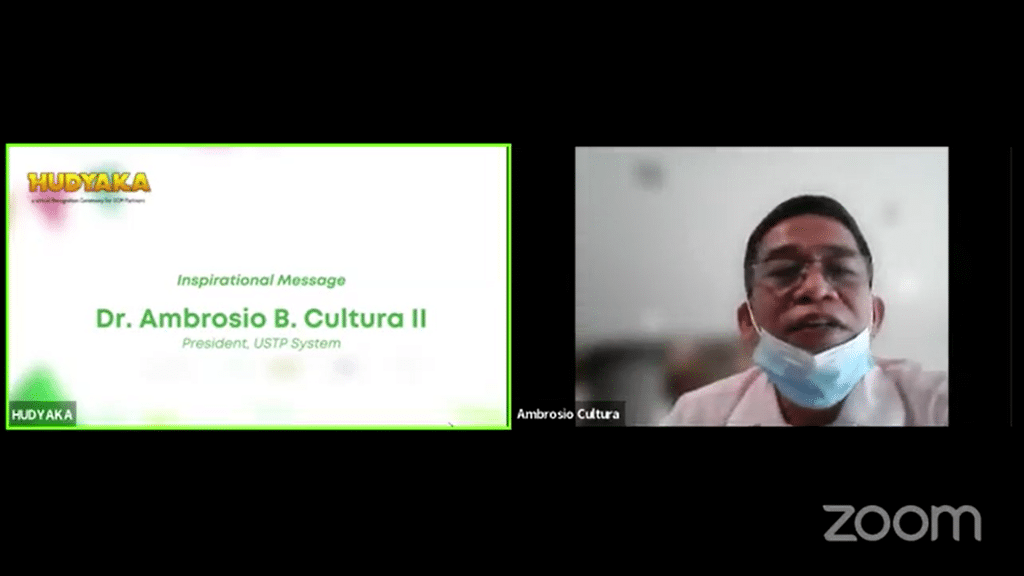 Dr. Ambrosio B. Cultura II, USTP System President, also graced the event with an inspirational message focusing on how the University – together with its UCM partners – can capacitate families in urban communities to "produce adequate, accessible, and healthy food on their table and empower them… to end hunger, achieve food security, improve nutrition, and promote sustainable agriculture."
Before the awardees for the Sustainable Urban Gardening Contest were announced, the online participants on Zoom (and on Facebook Live) were entertained by Shania Obidos with her melodic and impactful rendition of Ryan Cayabyab's song "Paraiso."
The following are the Youth Agvocates who were recognized and awarded for their effort in advocating urban agriculture in their respective communities:
Pagatpat
Home Gardening Contest (PHP1,000.00)

Shiena Marie Handugan Lagura

Seed Fund (worth PHP10,000.00)
Tablon
Home Gardening Contest (PHP1,000.00)
Seed Fund (worth PHP8,000.00)

Quenny Jane Agus
Rica May Moromondia
Enrique Virtudazo
Jay Anthony Noble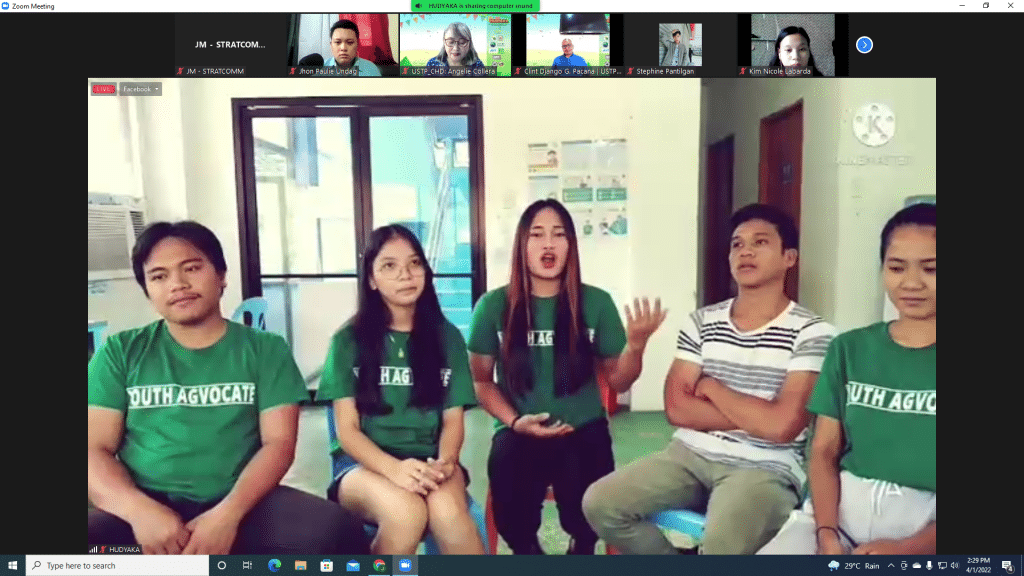 Plaques of Recognition were also presented to the following UCM partners, acknowledging their support in making the project possible:
Kids Who Farm
Agricultural Productivity Operations Office (APOO-CDO)
City Local Environment and Natural Resources (CLENRO-CDO)
Department of Agriculture-Agricultural Training Institute (DA-ATI Region X)
JCI Kagayhaan Gold
USAID Opportunity 2.0
Barangay Pagatpat
Sangguniang Kabataan (Barangay Pagatpat)
Barangay Tablon
Sangguniang Kabataan (Barangay Tablon)
Nef Luczon, Philippine News Agency
To give the stakeholders something to look forward to, the DA-ATI Region X Center Director, Ms. Maria Lydia Echavez, announced that they will be conducting two training sessions in partnership with USTP on: (1) herbs and spices production and utilization, and (2) beekeeping, organic vegetable production, and social technologies, such as leadership, proposal writing, farm-for-profit, and more.
The afternoon activity ended with words of gratitude, encouragement, and support from the USTP CDO Chancellor, Atty. Dionel O. Albina. Chancellor Albina closes the UCM virtual celebration, saying, "we can move forward until such [a] time that this will no longer be a project but a culture for everyone to embrace… not just for Cagayan de Oro, not just for Northern Mindanao, not just for the island of Mindanao, but all throughout the Philippine archipelago."