By Mary Allein Antoenette C. Bug-os & Ramir Philip Jones V. Sonsona, DA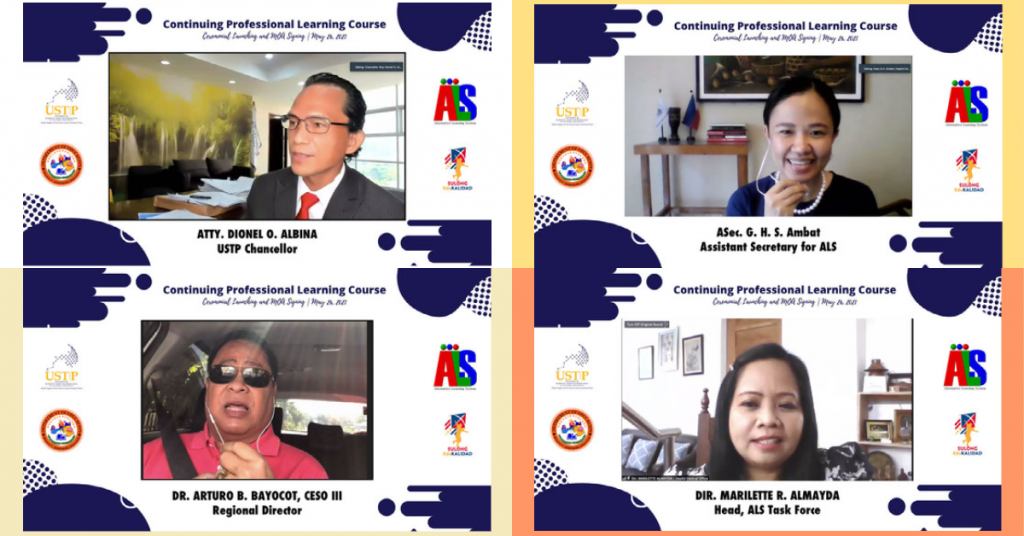 USTP Cagayan de Oro Chancellor Atty. Dionel O. Albina with DepEd Regional Director Dr. Arturo B. Bayocot with DepEd key officials during the ceremonial MOA signing. (Photo courtesy: Dr. Ray Butch D. Mahinay, Dep-Ed Region 10)
The University of Science and Technology of Southern Philippines (USTP) extends its support to education through the capacity building of Alternative Learning System (ALS) teachers in Region 10.
A Memorandum of Agreement (MOA) was signed between USTP and the Department of Education – Alternative Learning System (DepEd-ALS) Region 10 last May 26, 2021. 
USTP Cagayan de Oro Chancellor Atty. Dionel O. Albina and DepEd Regional Director Dr. Arturo B. Bayocot CESO III led the ceremonial MOA signing. Also present to lend their support were the fourteen (14) divisions of School Division Offices (SDOs) and the respective ALS coordinators/focal persons. USTP Cagayan de Oro was supported by the faculty and designated facilitators coming from the College of Science and Technology Education, College of Science and Mathematics, and College of Information Technology and Computing.
The MOA gives way to the Continuing Professional Learning Course (CPLC) Program, a 5-year engagement between DepEd Region 10 and USTP for all ALS teachers and select literacy volunteers. The first three years are intended to cover the basic and intermediate competencies of the six learning strands in the ALS curriculum while the next two years are for the advanced level. Expected output includes better handling of classes and improved performance of learners in the competency examination.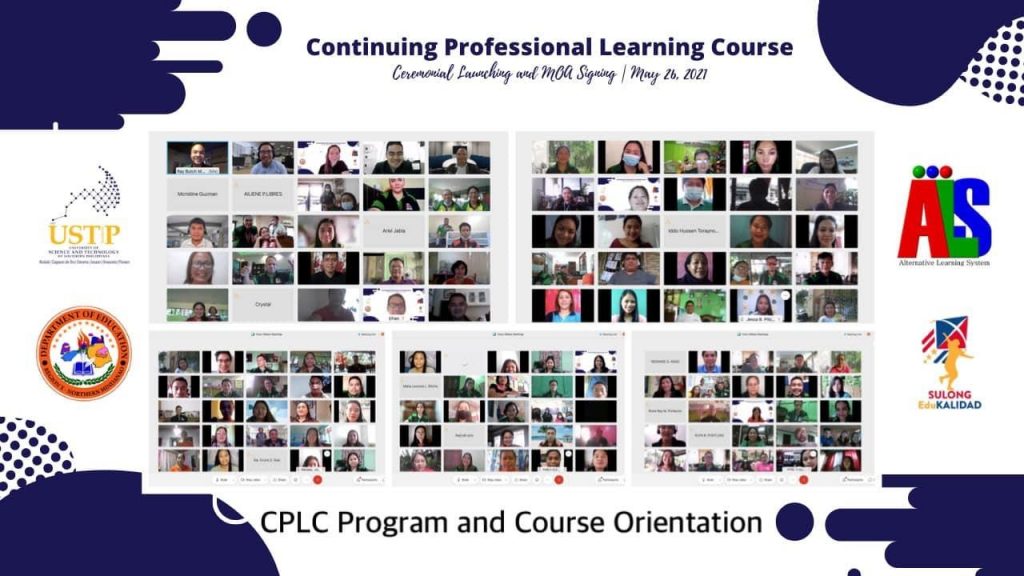 Screen grab with the ALS teachers and literacy volunteers during the program and course orientation
Around 400 ALS implementers were in attendance during the CPLC program and course orientation. This collaboration was made possible with the coordination of Dr. Maria Terasa M. Fajardo, Extension and Community Relations Director of USTP CDO, and Dr. Ray Butch D. Mahinay, Alternative Learning System Educational Program Supervisor – Region 10.
The ALS teachers started their online training last June 15, 2021. CLPC classes for ALS teachers and literacy volunteers are facilitated through the USTP's e-learning management portal known as the USTeP.
ASec. G.H.S. Ambat, Assistant Secretary for ALS, and Dir. Marilette R. Almayda, Head of the ALS Task Force DepEd Central Office, expressed their full support for the implementation of this program.