By Diane Therese C. Esmade, USTP System STRATCOMM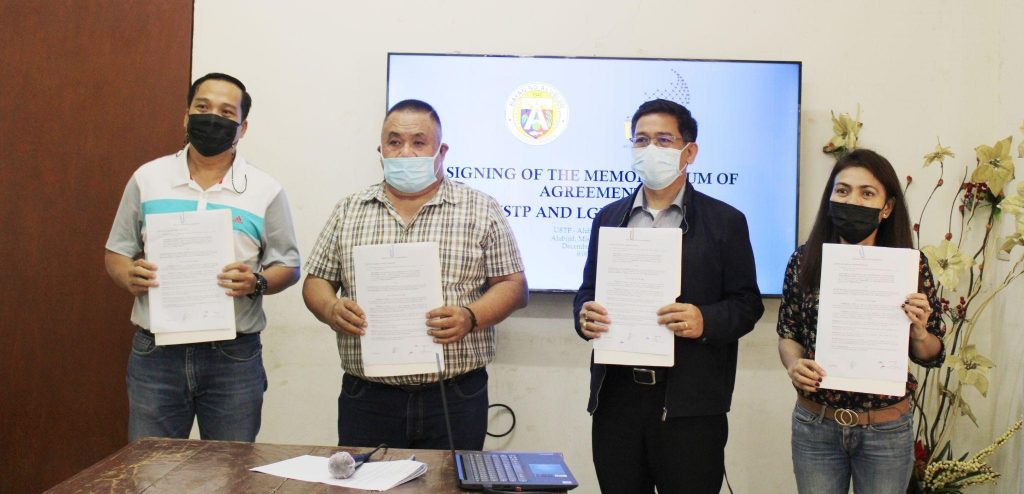 (From left to right) Officer-in-Charge of the Alubijid Municipal Planning and Development Office Mr. Tristan Lindsey Ares, Alubijid Municipal Mayor Hon. Emmanuel L. Jamis, USTP System President Dr. Ambrosio B. Cultura II, and Acting Campus Director of USTP Alubijid Dr. Lory Liza D. Bulay-og
As the university expands its collaboration and partnerships in establishing the Science and Technology Parks (S&T Parks), the University of Science and Technology of Southern Philippines (USTP) and the Municipality of Alubijid forged a Memorandum of Agreement (MOA) on December 20, 2021 at the Alubijid Municipal Hall.
USTP System President Dr. Ambrosio B. Cultura II during his welcome remarks (right) and the MOA Signing (left).
The signing of the MOA is for the Municipality of Alubijid to host the undergraduate programs, extension and research endeavors of USTP in its facility, and to conduct collaborative projects and activities that will contribute to the promotion of economic and community development.
The collaboration looks forward to giving higher education opportunities to students in the locality and from schools in neighboring municipalities and cities. It will also open opportunities and provide basic services and facilities, molding and producing professionals and leaders as the University continues to aspire to be a globally recognized science and technology university.
USTP was represented by University System President Dr. Ambrosio B. Cultura II and the Municipality of Alubijid was represented by Municipal Mayor Hon. Emmanuel L. Jamis.