By PJ V. dela Peña, USTP System STRATCOMM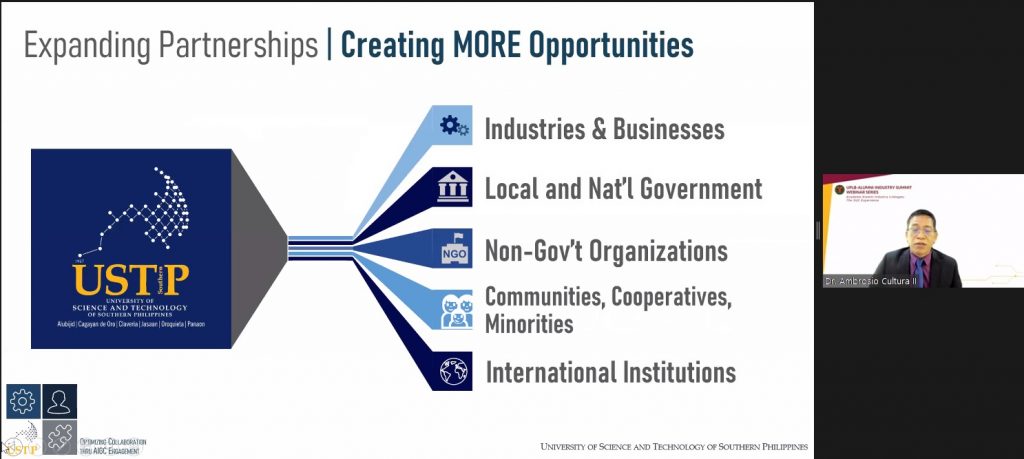 Dr. Ambrosio B. Cultura II during his presentation in the UPLB-Alumni-Industry Summit Webinar Series
October 19, 2021. The University of Science and Technology of Southern Philippines (USTP) System President Dr. Ambrosio B. Cultura II is one of the panelists of the University of the Philippines Los Baños (UPLB)-Alumni-Industry Summit.
Dr. Cultura highlighted the optimized collaboration with key players in development especially the alumni and the industry from the perspective of being one of the State Universities and Colleges (SUCs) in the country.
USTP's Quadruple Helix Model of Collaboration, which includes the academe, community, government, and industry, is a crucial enabling mechanism to engage and contribute to the development of the region.

Panelists from USTP, BatStateU and MMSU
In the last six (6) years, USTP was able to forge partnerships on a major or system-level collaboration through a Memorandum of Agreement/ Memorandum of Understanding/ Memorandum of Cooperation with 121 Academe, Industry, Government, and Community (AIGC). This includes fabrication and installation, technology transfer and adoption, scholarship agreements, development of curriculum, and establishment of offices and centers.
The framework also spurred the University's Innovation Ecosystem by encouraging start-ups through the Business Incubation Technology Entrepreneurship and Startups (CDObites). Among the start-ups that have made an impact in the community include the EaseRequest Mobile Application, a barangay-based information system, and Mobile Gas Start-Up, all developed by different USTP alumni.
EaseRequest was launched in April 2019 while Mobile Gas launched its Mobile Gas Mini Station in August 2021.
Dr. Cultura considers the alumni in the university as a lifelong resource and can contribute to the excellence in the University. They are also considered as brand ambassadors projecting expertise and carrying the brand of education.
"This is what happens when academic institutions cultivate the possibilities that its alumni can provide. This is the potential impact that the alumni can create in the development of the University," Dr. Cultura added.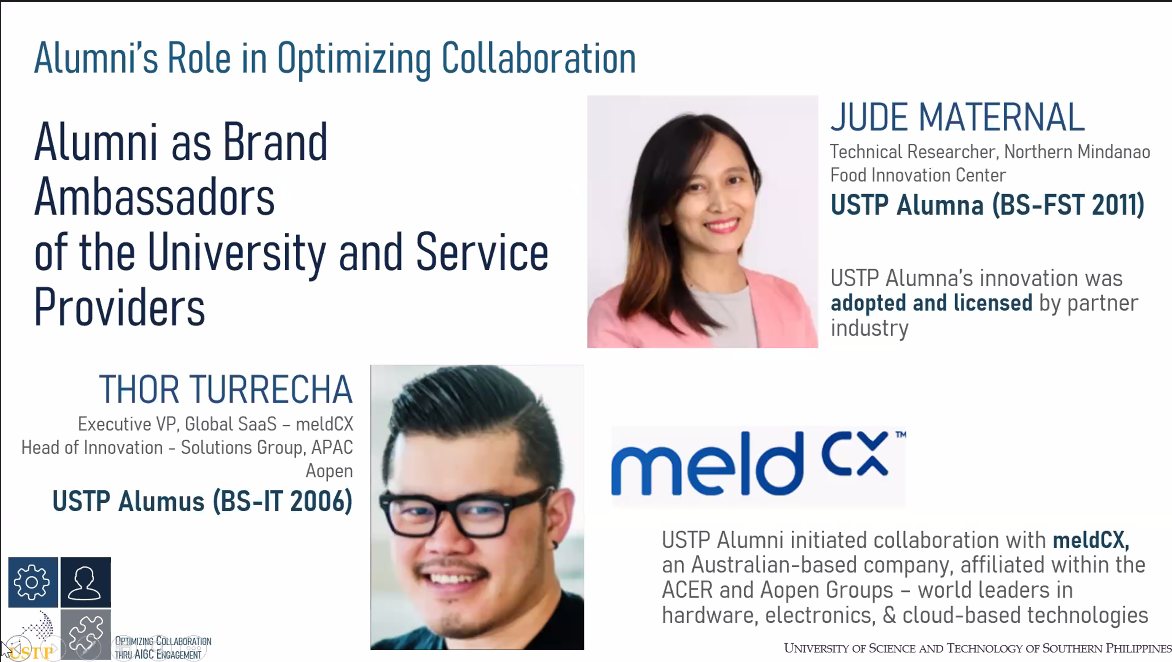 Notable alumni from USTP Thor Turrecha and Jude Maternal.
Among the notable alumni President Cultura mentioned include Thor Turrecha, the Executive Vice-President of Global Saas and Head of Innovation for the Solutions Group, APA in Sydney, Australia, and Jude Maternal, an innovator whose four (4) technology innovations were adopted and licensed by partner industries.
Other panelists during the webinar are Dr. Shirley Agrupis, President of Mariano Marcos State University (MMSU), and Engr. Albert Amante, Vice President of the Batangas State University (BatStateU).