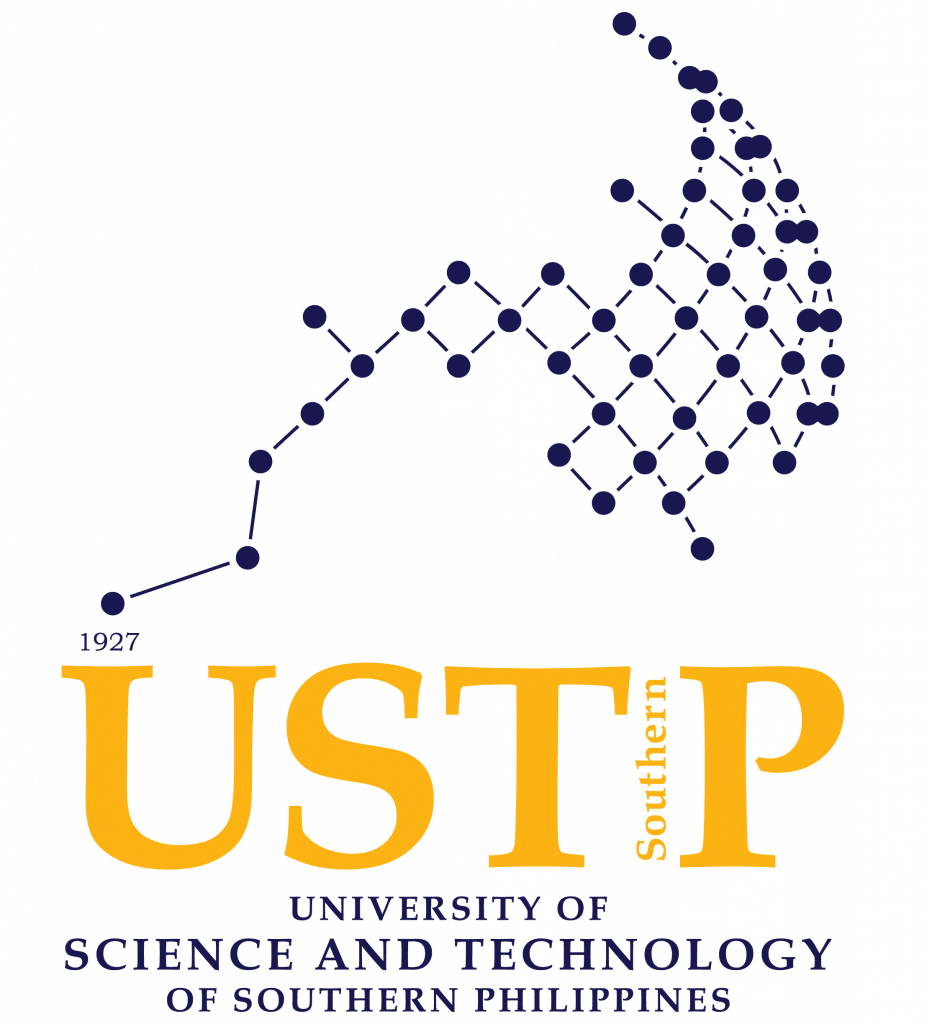 The University of Science and Technology of Southern Philippines (USTP) is a state university established on August 16, 2016, by virtue of Republic Act 10919 through the amalgamation of the Mindanao University of Science and Technology (MUST) in Cagayan de Oro City, Misamis Oriental and the Misamis Oriental State College of Agriculture and Technology (MOSCAT) in Claveria, Misamis Oriental. It is located in Northern Mindanao, the Gateway to Mindanao, which offers a strategic locational advantage for the institution to train and develop students from all the other regions.
Adhering to its general mandate to primarily provide advanced education; higher technological, professional, and advanced instruction; and advanced research and extension work required for global competitiveness, the University envisions becoming a nationally recognized S&T University providing the vital link between education and the economy. As the university fulfills this mandate, it moves from within its immediate context and toward its larger international environment as the first and only national university of science and technology in the country. It will operate as such that it will have seamless knowledge and collaboration with its stakeholders in the private and public sectors, the labor market, business, and industry.
USTP's mission is to bring the world of work (industry) into the actual higher education and training of students; offer entrepreneurs the opportunity to maximize their business potentials through a gamut of services from product conceptualization to commercialization; and contribute significantly to the National Development Goals of food security and safety and energy sufficiency and security through technology solutions.
It has maintained its Level IV Status as State University (Highest Distinction) as adjudged by the Commission on Higher Education (CHED) and the Department of Budget and Management (DBM) and continues to be one of the nineteen (19) leading state universities in the Philippines.
The University is recognized by the CHED as a Center of Excellence (COE) in Information Technology, the only institution in the entire Mindanao awarded with such recognition, as per CHED Memorandum Order No. 38, series of 2015. It is also recognized as a Center of Development (COD) in Mathematics, a Center of Development (COD) in Electrical Engineering, and a Center of Development (COD) in Agriculture.
USTP currently holds a 3 Stars Rating in the Quacquarelli Symonds (QS) Stars University Rating System. It is also ISO Certified through ISO 9001:2015 and ranks 8th among Public Universities in the Philippines and 16th among General Universities in the Philippines in the AD Scientific Index 2022 (Version 1). The University also ranked 27th among the top universities in the Philippines as per the Webometrics Rankings of World Universities in 2022.
The Accrediting Agency of Chartered Colleges and Universities in the Philippines (AACCUP), Inc. listed USTP as fourth among the Top 5 State University and Colleges (SUCs) with the highest number of Level III Accredited Programs for 2020.
The USTP Career Center and Industry Relations Office (CCIRO) is awarded as one of the Philippines' Model Career Centers by the United States Agency for International Development – Science, Technology, Research, and Innovation for Development Program (USAID-STRIDE) in 2021. The Career Center exemplified the best practices in engaging industry in career development and championing student success.
The USTP System was also recently recognized during the ASEAN Philippine Higher Education Internationalization Champions Of Nation-building and Sustainability (ASEAN ICONS) Awards Night for its exemplary and trailblazing performance in advancing the internationalization of Philippine Higher Education Institutions (HEIs) through its participation in the Quacquarelli Symonds (QS) Stars University Rating and for its innovative initiatives to contribute to the country's economic and societal goals.
The University also received the following recognitions: Oro Chamber Innovation Partner Awardee for 2021, Times Higher Education (THE) Impact Ranking inclusion in SDG 17, Asia Technological University Network (ATU-Net) Membership, Southeast Asian Ministers of Education Organization (SEAMEO) Schools Network Membership, IPOPHL Silver Awardee for providing 30 patent searches in 2021, IPOPHL Bronze Awardee for conducting the required number of IP capacity-building activities in 2021, and IPOPHL Special Citation Awardee for Commercialization.
The University boasts of a 7.3-hectare campus in Cagayan de Oro with state-of-the-art infrastructure and facilities geared toward providing quality education. The conducive and inspiring learning environment with its advanced laboratories and amenities complements its excellent academic instruction and boosts students' learning experience. Its campus in Claveria, Misamis Oriental boasts of a 101.37-hectare-rich agricultural land. USTP's main campus will eventually be located at the institution's 292-hectare property in Alubijid, Misamis Oriental. The University also has satellite campuses in Balubal, Cagayan de Oro; Jasaan and Villanueva, Misamis Oriental; and Panaon and Oroquieta, Misamis Occidental.
USTP has a strong workforce and diversified faculty who graduated from leading universities in the USA, Europe, Japan, Australia, and Thailand, among others. Faculty members have been active in conducting research and innovations in different areas of expertise, which provided biotech solutions not only to the Food Industry and Energy Sectors but also to government entities.
Researches are consistent recipients of awards in regional, national, and international research and development symposia, research papers published in Thompson Institute for Scientific Information (ISI), and international and national refereed journals.
The University has established Research Centers and Institutes that support the innovation ecosystem. These include the Center for Artificial Intelligence; Center for Natural Products Research; Design and Engineering Center / Metals and Engineering Innovation Center; Center for Advanced Plant Science and Phytotechnologies; Center for Biomass Energy; Center for Inclusive Development Studies; Center for Human Development Studies; Institute of Governance, Innovations, and Sustainability; Precision Agriculture/Smart Farming Center; Center for High Value Crops; Center for Agricultural and Biosystems Technology; Center for Dairy Research and Innovation; Bamboo Research and Innovation Center; Power Institute; Mindanao Institute for Water Research; and Institute for Material Science and Nanotechnology.
USTP also has the following Innovation Centers: the Affiliated Renewable Energy Center (AREC), a center that encourages and accelerates the exploration, development, and increases the utilization of renewable energy resources; the Northern Mindanao Food Innovation Center (NMFIC), which serves as a Technology Hub for Innovations, R&D, and Support Services for the food industry in Northern Mindanao; and the Northern Mindanao Metals and Engineering Innovation Center (NorMMEIC), which provides design, fabrication, innovations, training, and technical support services related to metalworking, including consultancy services and provision of incubator facilities for use for all industries, but shall prioritize MSMEs and major industries, of Region 10.
The University also has existing tie-ups with various industries and agencies in the region, the country, and across the globe.