The Bachelor of Science in Computer Engineering (BSCpE) is an integration of Electrical Engineering and Computer Science in which it consists of both hardware and software. It is a program that embodies the science and technology of design, development, implementation, maintenance, and integration of software and hardware components in modern computing systems and computer-controlled equipment.
Computer Engineering programs usually include Mathematics, Science, Computer Programming, Circuit Design, Computer Architecture, Embedded System, Digital Signal Processing, Network System, and Artificial Intelligence. Besides that, analytical skills, critical thinking, problem-solving, and strong communication skills are needed to be part in this program. Though, Computer Engineering program is not limited to the operating of computer systems but is aimed to design more comprehensive technological solutions.
Upon graduating in the program, the students shall have the:
a.) Ability to apply knowledge of mathematics, sciences, and engineering appropriate to the field of practice in computer engineering
b.) Ability to design and conduct experiments, as well as to analyze and interpret data
c.) Ability to design a system, component, or process to meet desired needs within identified constraints
d.) Ability to work effectively in multi- disciplinary and multi–cultural teams e: Ability to identify, formulate, and solve computer engineering problems
f.) Ability to understand professional and ethical responsibility
g.) Ability to effectively communicate in
verbal and non-verbal
communication
h.) Ability to apply broad education necessary to understand the impact of engineering solutions in a global/societal context
i.) Ability to engage in life–long learning and to keep current of the development in a specific field of specialization
j.) Ability to apply knowledge of contemporary issues
k.) Ability to use appropriate techniques, skills, and modern tools necessary for
computer engineering practice to be locally and globally competitive
l.) Ability to apply acquired computer engineering knowledge and skills for national development.
m.) An ability to apply and demonstrate skills in intelligent system, network design and security, and technoprenuership.
n.) An ability to preserve and promote Filipino and historical and cultural heritage
PROGRAM EDUCATIONAL OUTCOMES (PEO)
Three (3) to five (5) years from graduation, BSCpE graduates of USTP are:
1. Competent to contribute to the advancement of technologies in industries and to engage in professional practices by applying in advanced computer engineering knowledge and skills.

2. Professional practitioners can engage in leading-edge research, extension, and technology solutions to global challenges that can support national development which necessarily includes computer-based systems in food security and energy sufficiency, and the like.

3. Effective to engage in successful technopreneurship endeavors and maximize business potential through the design and integration of intelligent systems, computer-based systems, and networks from product conceptualization to commercialization thereby contributing to the growth of the national economy.
Computer Hardware Engineer
Robotics Engineer/ Technologist
Computer Systems Engineer
Test Engineer
Software Engineer
University Professor
Circuit Designer 
Quality Assurance Engineer
PCB Designer  
User Interface Designer
Cyber Security Specialist      
Technical Sales Engineer
Database Administrator 
IT Analyst
Embedded Software Engineer
Application Analyst
Computer Programmer   
Automation Engineer
Information Systems Designer       
Manager
Entrepreneur   
Computer Scientist
Network Engineer
Production Engineer
Product Engineer
Research Engineer
DEPARTMENT OF COMPUTER ENGINEERING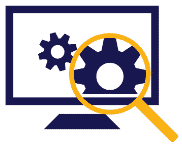 Bachelor of Science in Computer Engineering