USTP MAIN CAMPUS ALUBIJID
USTP Alubijid, the main campus of the USTP System, is also designated as one of USTP's Science and Technology Parks which foster research, innovation, and entrepreneurship. 
It is envisioned to be a premier university-led S&T Park in the Philippines that hosts a sustainable, climate resilient, and liveable environment. USTP Alubijid is set to transform to become a diverse, values-oriented, and entrepreneurial academe-community.
THE CAMPUS DIRECTOR'S CORNER
About the Campus Director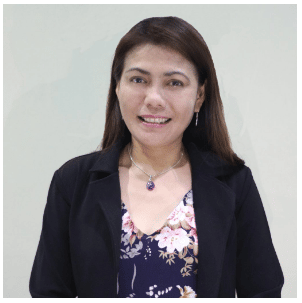 Dr. Lory Liza D. Bulay-og was a Research Fellow in Electronic System Design at the University of Surrey, England. She earned her Doctor of Engineering in Mechanical Engineering degree at the Mindanao State University-Iligan Institute of Technology (MSU-IIT), Iligan City in 2018. She is also a graduate of BS Electronics and Communication Engineering at Cebu Institute of Technology University, last 1994.
She is a licensed Professional Electronic Engineer (PECE) which allows her to practice her profession. As a PECE, she was able to sign and seal electronic plans such as Fire Detection and Alarm System (FDAS), Closed Circuit TV (CCTV), data and telephone systems among others.
Dr. Bulay-og, has been teaching for more than twenty (20) years and also has industry experience. She has attended various seminars and training in the field of Electronics, Wireless Communications (Microwave System, Cellular System), Communications System Analysis and Design and Techno-preneurship. She has organized various professional and student activities that are beneficial not only to the academic community but to the local communities within and outside Cagayan de Oro City. She has also conducted various researches and have been co-proponents of various projects.
Prior to her appointment as Campus Director of Alubijid, she was the Dean of the College of Engineering and Architecture, USTP Cagayan de Oro from 2017 to 2019. She was also the program department Chairperson of the Electronics Engineering Department before her deanship.
For her dedication in the advancement of Electronics Engineering education, she was recognized as the "Most Outstanding Electronics Engineer of the Philippines" in 2004. The award was given by the Institute of Electronics Engineers of the Philippines.
For further inquiries, please get in touch with:
---
---
MS.REGYNE P. ABAN
Secretary, Office of the Campus Director, USTP Main Campus
Brgy. Lourdes, Alubijid, Misamis Oriental
[email protected]
DR. LORY LIZA D. BULAY-OG, PECE
Campus Director, USTP Main Campus
Brgy. Lourdes, Alubijid, Misamis Oriental
[email protected]