By PJ V. dela Peña, USTP System STRATCOMM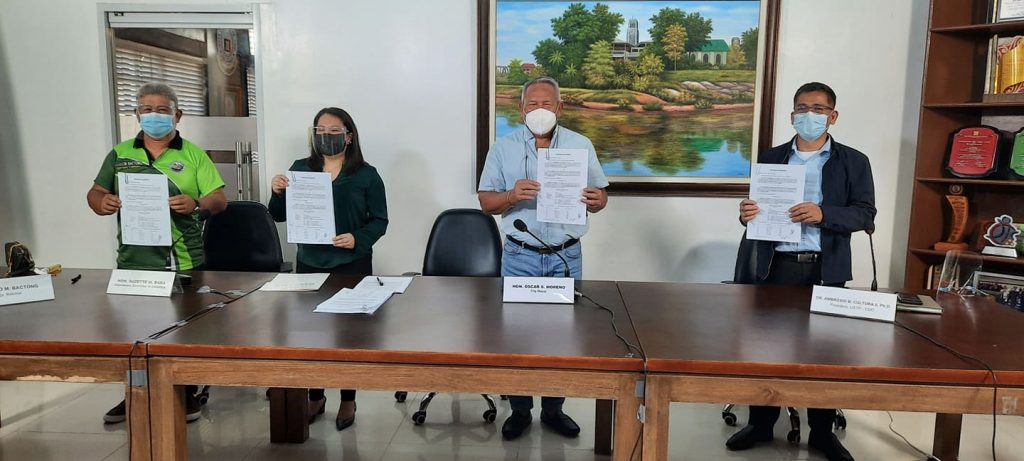 USTP System President Dr. Ambrosio B. Cultura II with Mayor Oscar S. Moreno, Councillor Suzette Daba and Barangay Chairman Pablo Bactong of Balubal after the signing of the Usufruct Agreement.
The University of Science and Technology of Southern Philippines (USTP) and the local government of Cagayan de Oro forged another partnership through the signing of the Usufruct Agreement for the University's campus in Barangay Balubal.
The 1-hectare property was made available for use by the city government and the host barangay of Balubal for the satellite campus of USTP for a period of twenty-five years (25). Currently, there are one hundred (100) students who are enrolled at USTP Balubal, which started accepting students last year with three (3) course offerings.
USTP is temporarily using the barangay multi-purpose hall of Balubal for classes. The Usufruct Agreement will allow USTP to build classrooms and facilities.
Copy of the City Ordinance and the usufruct agreement between USTP and LGU of CDO (Courtesy: CIO-CDO)
Mayor Oscar S. Moreno signed the agreement on behalf of the city government. Mayor Moreno mentioned that USTP has been a partner of the city and a good catalyst for education to be accessible to the residents in Balubal and neighboring areas.
"We are making available the use of the land but to me what's more important here is USTP making education available to our people" Mayor Moreno added.
For his part, USTP System President Dr. Ambrosio B. Cultura II expressed his gratitude to the city government of Cagayan de Oro, the City Council, and Barangay Balubal for their support in the Usufruct Agreement.
USTP has been expanding the reach of education in Misamis Oriental with the establishment of USTP Villanueva and its main campus in Alubijid.
"USTP wants to extend our services not just in the urban area, but we want to expand it to the hinterland – the rural areas. We want education to be accessible not just for the few but if possible, all," Dr. Cultura said.
Also present during the signing of the agreement is Balubal Barangay Chairman Pablo Bactong and the City's Chairperson of the Committee on Education Councilor Suzette Magtajas Daba, who sponsored the ordinance that was enacted in the City Council giving the City Mayor the authority to enter and sign the Usufruct Agreement.
The University is currently offering Agriculture, Education, and Information Technology courses in USTP Balubal and plans to add more courses this school year.
USTP has been hosting scholars from the city government since 2019.