By PJ V. dela Peña, USTP System STRATCOMM
What do the City of San Francisco and Cagayan de Oro have in common aside from a substantial number of Filipinos living in the bay area?
It's urban flooding. With the onset of the wet season in the Philippines, a slight rain shower can cause street flooding and waist-deep water in low-lying areas. How much more when an average of twenty (20) typhoons visit the country annually coming from the eastern corridor in Mindanao?
The Institute of Governance, Innovations, and Sustainability (IGIS) of the University of Science and Technology of Southern Philippines (USTP) is hosting the leading climate change expert in the person of Dr. Joaquin "Jay" Gonzalez III for a virtual public e-lecture on June 9, 2021, from 10:30 am to 12:00 noon via Zoom.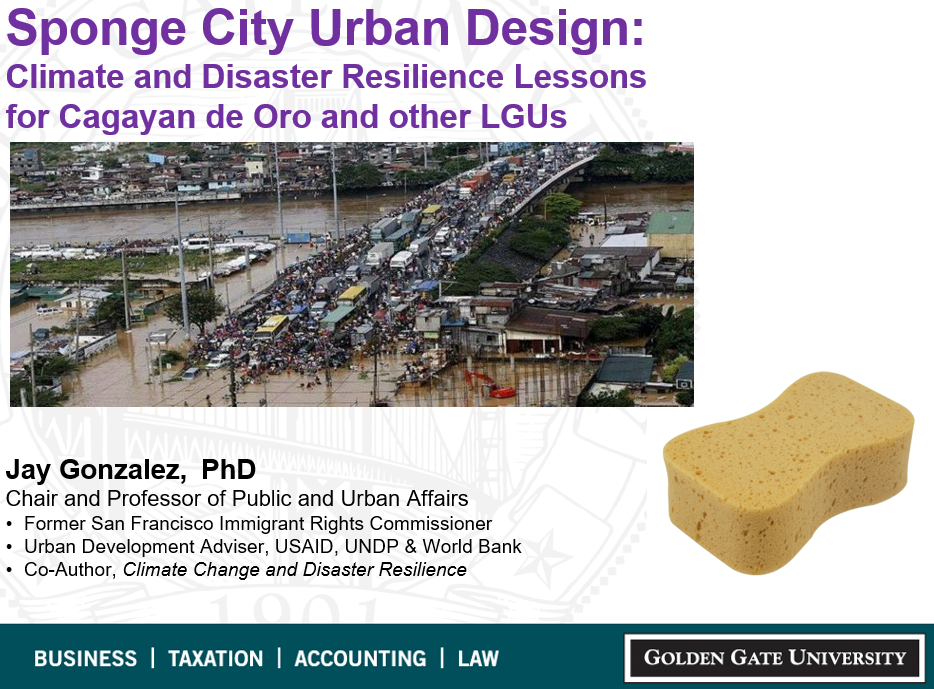 Prof. Jay will talk about San Francisco's Sponge City Urban Design: Climate Change and Disaster Resilience Lessons for Cagayan de Oro and other Philippine cities.
This is the highlight of the launching of the Master in Public Sector Innovations (MPSI), an Urban Development Learning Program (UDLP) supported by the United States Agency for International Development-Strength Urban Resiliency for Growth and Equity (USAID-SURGE).
Prof. Jay is Mayor George Christopher Professor of Public Administration at the Ageno School of Business of Golden Gate University (GGU) in San Francisco, California. He chairs the Department of Public Administration and is the founder of their Urban Innovations Program.
As a practitioner, Prof. Jay has worked as Governance, Urban Development, and Solid Waste Management Specialist for the Strengthening Urban Resilience for Growth with Equity Project (Philippines) and the Enabling Growth through Investment and Enterprise Program (Tanzania). 
In the Philippines, Prof. Jay has provided climate adaptation and disaster resilience advice and training to professors, urban planners, architects, NGOs, and LGU officials helping them integrate customized resilient designs into their comprehensive land use and climate and disaster risk reduction assessment and management plans. He has helped in the innovative and resilient urban designs of many cities in China including their newest green growth area, Xiong'an.
In 2019, he was UNDP's Technical Consultant for their South-South (China to the Philippines) Waste-to-Energy Exploratory Mission to Bohol Province.
Prof. Jay has written twenty (20) books on public administration and urban development including his most recent one on Climate Change and Disaster Resilience.