By Aire Jade Taga, USTP Claveria STRATCOMM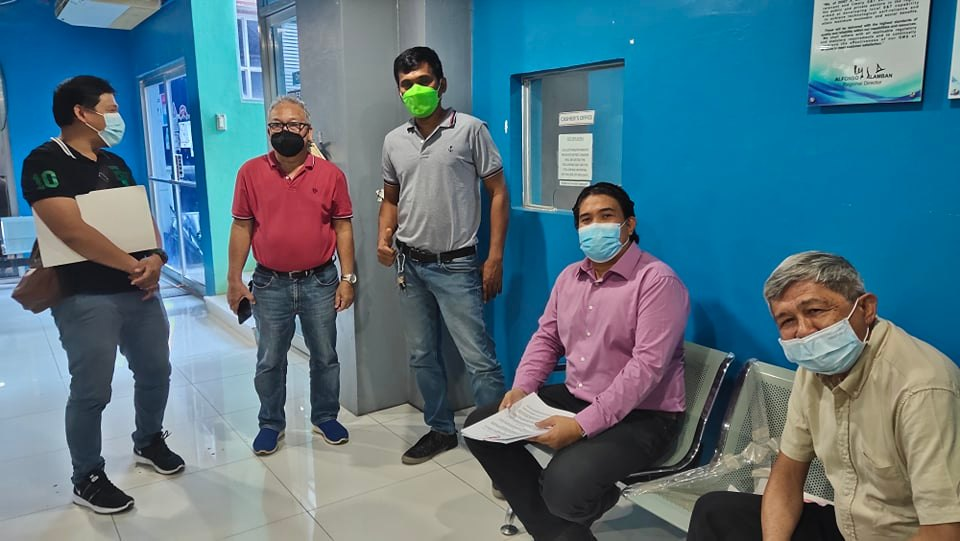 (From left to right) Engr. Paul P. Ubalde of USTP, Mr. Virgilio M. Fuertres of DOST, Mr. Temoteo L. Chaves of CEED, Dr. Greg Cubio and Dr. Arnil Emata of USTP, during their visit at the DOST Regional  Office in Cagayan de Oro.
Cagayan de Oro City. The project Methane Gas Recovery and Organic Fertilizer Production as a Wastewater Improvement Strategy in the City Slaughterhouse Facility proposed by several proponents headed by Dr. Greg M. Cubio, Director of the Research Centers and Institutes of the University of Science and Technology of Southern Philippines (USTP), has been approved for implementation by the Department of Science and Technology (DOST-10). 
The approval of the 1-year project, including its budget of Php 2.79 Million, was made after the proponents addressed the final evaluation of the Research and Development Executive Committee of DOST-10 last November 11, 2021.  The proposal stemmed from the Technical Working Group (TWG) created by the Cagayan de Oro City Council under the City Economic and Enterprise Committee headed by Majority Floor Leader Councilor Ian Mark Q. Nacaya.
The City Government partnered with USTP to develop a strategy to improve the wastewater quality at the City Slaughterhouse. The Department of Environment and Natural Resources – Environmental Management Bureau (DENR EMB-10) prohibits the discharge of effluent that fails to meet the standards set by the agency.
Specifically, the project will establish and demonstrate various designs for pilot-scale methane recovery systems suited for slaughterhouse, the use of Effective Microorganisms to produce safe and high-quality soil conditioners or organic fertilizers and demonstrate the application of these soil conditioners or organic fertilizers as alternative to inorganic fertilizers and chemicals.  The design and operational protocols of the most effective biogas model will be recommended for use as the wastewater treatment and energy system to the Cagayan de Oro City Slaughterhouse as well as to other similar processing plants.  The resulting slurry after methane recovery which will be used to power the slaughterhouse's boiler and other facilities, will be treated with Effective Microorganisms to produce a compost with high total Nitrogen, Phosphorus, Potassium, and organic matter content to serve the farmers.
Together with Dr. Cubio, the other proponents include Dr. Apolinario B. Gonzaga, Jr. of USTP Claveria; Dr. Antonio-Abdu Sami M. Magomnang of the College of Engineering, USTP CDO; Dr. Arnil C. Emata, Research Consultant of USTP; Engr. Paul Nestor P. Ubalde, Research Associate of USTP; Councilor Ian Mark Q. Nacaya of Cagayan de Oro City as Project Consultant; Engr. Sin R. Del Jamomorol, Project Consultant; and Mr. Rey C. Calixto, Cagayan de Oro City Slaughterhouse Master.