By John Carlo Ranoco, USTP Jasaan STRATCOMM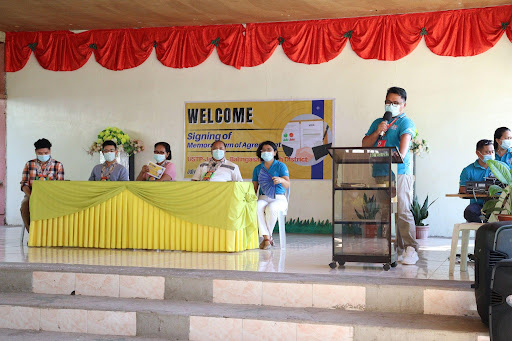 Dr. Ruel S. Salvador of USTP Jasaan together with Rosana S. Emanel, Public Schools District In-charge of Balingasag South District; Dr. Maria Fidela Salvador, Principal I of Baliwagan Central School; and other guests during the signing of the MOA.
The University of Science and Technology of Southern Philippines (USTP) in Jasaan, Misamis Oriental is gearing up to promote collaboration and the transfer of innovative technology through its extension programs.
A Memorandum of Agreement (MOA) on Implementing Extension Programs and Activities was signed last July 26, 2021, with Acting Campus Director Dr. Ruel S. Salvador representing USTP Jasaan and Rosana S. Emanel, Public Schools District In-charge of Balingasag South District, representing the Department of Education (DepEd).
Through this pursuit, USTP Jasaan is looking forward to collaborating with DepEd Balingasag South District to assess ongoing programs/projects and help implement more activities based on their needs and opportunities. Channeling the USTP Extension Office's vision – Provide Opportunities Within Everyone's Reach – is also one of the aspirations of this collaboration.
Presently, USTP Jasaan is eyeing to offer activities that would help teachers from Balingasag South District capacitate themselves and cope with the changes brought by the pandemic. The initial program includes GEAR UP: ICT Skills Training Series for the New Normal for Balingasag South District Teachers. This is a series of Capability Building Webinars that would tackle mostly ICT Skills which is timely and relevant given the current situation.
The USTP Jasaan Extension Office is always open to help the Balingasag South District reach the organizations or people within their circle of influence to provide initiatives that could improve their quality of living.