The University of Science and Technology of Southern Philippines (USTP) is gearing up for the virtual launching of its Masters Program offering from the Institute of Governance, Innovations, and Sustainability (IGIS).
The Master in Public Sector Innovations (MPSI) virtual launching is on June 9, 2021, 9:00 AM – 12:00 NN via Zoom and can be viewed over USTP's Facebook Page. The MPSI started offering the program to students during the 2nd semester of Academic Year 2020-2021.
The MPSI program was crafted by IGIS in partnership with the United States Agency for International Development (USAID) and the Golden Gate University in California, United States as an Urban Development Learning Program (UDLP). The UDLP aims to enhance the skills and knowledge of local experts in urban planning by promoting a local government-academe framework that links the practical experience of the local government with the technical expertise of the universities. MPSI students will give their testimonials on the program including solidarity messages from local government units and national agencies.
Dr. Ambrosio B. Cultura II, USTP System President, will deliver the opening message while Mr. Sergio Andal Jr., Chief of Party of USAID's Strengthening Urban Resilience for Growth with Equity (SURGE) Project, will give an update on the project assistance.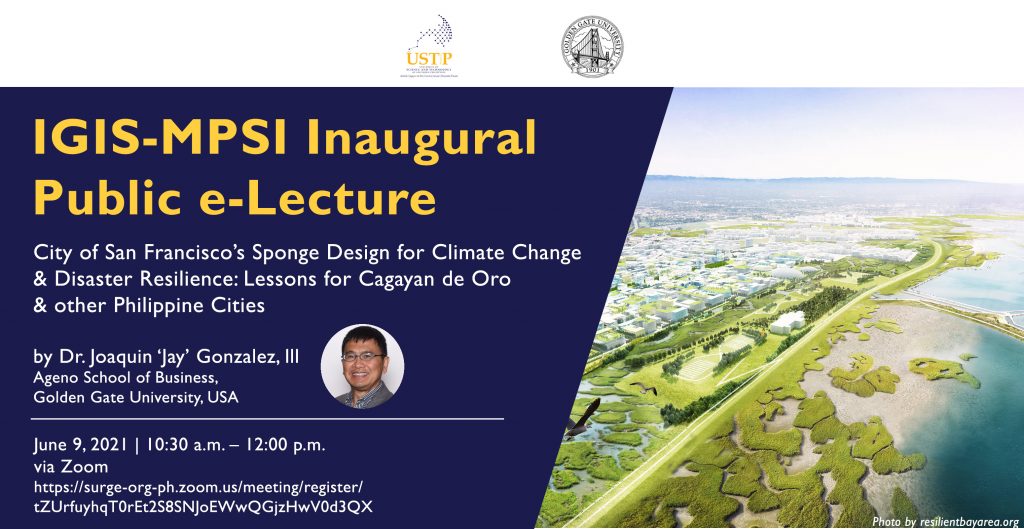 Dr. Joaquin "Jay" Gonzalez III will give the Inaugural Public e-Lecture.
The partnership that was forged between the USTP and the Golden Gate University (GGU) has also led to a sustained engagement of GGU academics with IGIS-MPSI. In the second part of the launch, Dr. Joaquin "Jay" Gonzalez III, Chair and Professor of the Department of Public Administration, Ageno School of Business at the Golden Gate University, will give the Public e-Lecture about the "City of San Francisco's Sponge Design for Climate Change & Disaster Resilience: Lessons for Cagayan de Oro and other Philippine Cities."
Under the Institute of Governance, Innovations and Sustainability, professionals especially those engaged in any public sector work and are interested to help address societal issues and challenges, can learn through any of the four MPSI pathways, i.e., Public Policy Studies, Sustainable Development, Digital Service Platforms & e-Governance Solutions, and Environment & Climate Solutions.