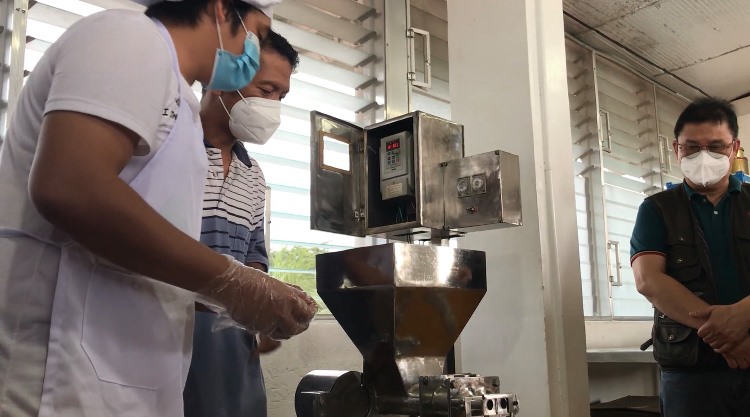 Final check on the Twin-Screw Extruder Machine for Pastillas de Leche production. Looking on is DOST-X Regional Director Alfonso P. Alamban.
Technology Utilization and Adoption: Collaboration between Academe, Industry and Government
Industry partner Bestfriend Goodies, a local manufacturer of Pastillas de Leche in Cagayan de Oro, is confident it can supply the increasing demand of pastillas in the market. Last September 16, 2021, the University of Science and Technology of Southern Philippines (USTP) in a simple ceremony turned over the Twin-Screw Extruder Machine with Filling Machine. This is USTP's answer to Bestfriend Goodies production woes.
It all began during the ideation workshop in 2019 facilitated by the United States Agency for International Development – Science, Technology, Research and Innovation for Development (USAID-STRIDE). The project was part of the Orobest Program of the Cagayan de Oro Chamber of Commerce Foundation, Inc. and funded by the Department of Science and Technology Region 10 (DOST-10) in collaboration with the Department of Trade and Industry (DTI).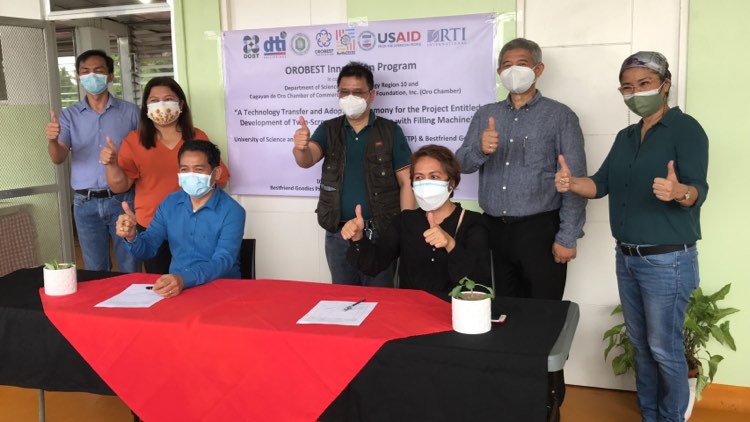 USTP System President Dr. Ambrosio B. Cultura II with Bestfriend Goodies COO Nenita Tan. Partners from DTI, DOST and Oro Chamber show their support.
The goal then was to build a machine that can improve the production of pastillas. USTP as the academe partner provided the technology solution/product to address the need of the industry.
What was then a manual operation has transitioned to the production using the Twin-Extruder Machine.
USTP System President Dr. Ambrosio B. Cultura II thanked all the partners of the project and for supporting the collaboration between academe, industry and government and championing innovation.
The technology utilization and adoption will hopefully address the need of the industry. After the turnover of the machine, a one (1) year monitoring and data gathering will continue on the performance of the equipment which is valuable to the research team of the University.  
By PJ V. dela Peña, USTP System Strategic Communication Office