By Diane Therese C. Esmade, USTP System STRATCOMM
The University of Science and Technology of Southern Philippines through its Center for Artificial Intelligence (CAI) and the City Government of Cagayan de Oro inked a Memorandum of Agreement (MOA) for the use of SpaceBetweenUs: A Computer Vision Application for Physical Distance in Public Areas as a response mechanism of the COVID-19 pandemic. The University was represented by USTP Cagayan de Oro Chancellor Atty. Dionel O. Albina and CDO was represented by Hon. Ian Mark Q. Nacaya, DPA.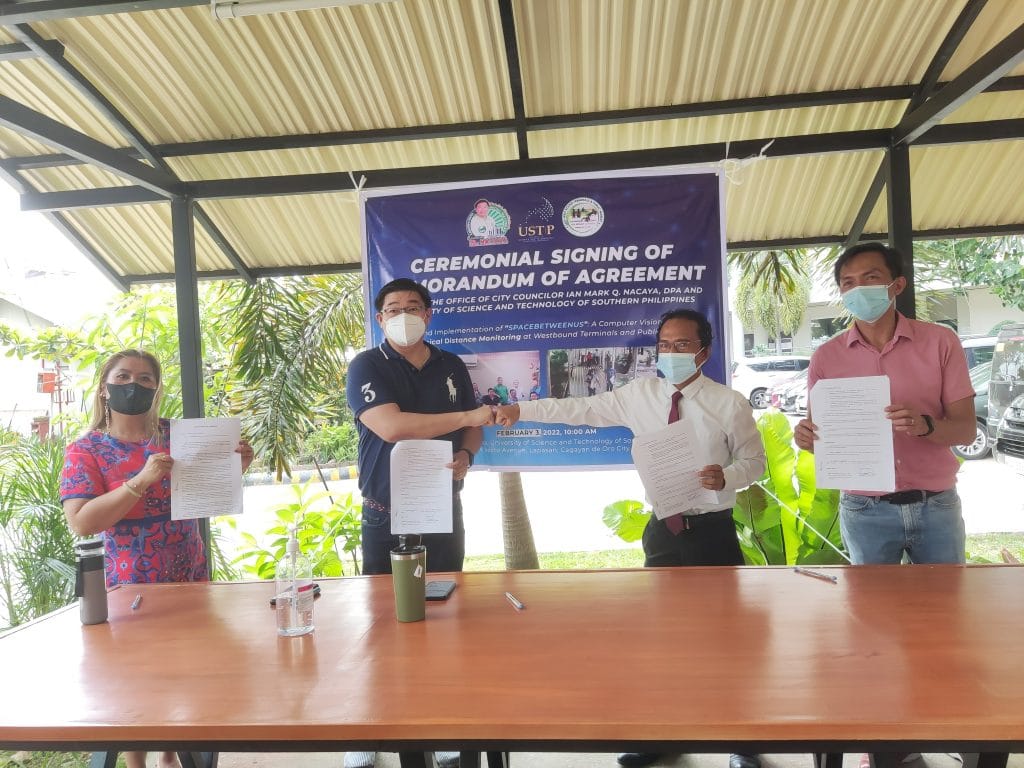 From left to right: Ms. Che Peñalosa, Hon. Ian Mark Q. Nacaya DPA, Atty. Dionel O. Albina, and Engr. Bronson G. Mabulay
USTP's CAI headed by Engr. Bronson G. Mabulay conducted research in utilizing computer vision for a more efficient way of monitoring physical distance especially in public areas where the risks are high. The application will be used at the East-Westbound Terminal Public Market (EWTPM) managed by Ms. Che Peñalosa.
The research was conducted by Engr. Wencel Jean C. Dacay, Engr. Mark Lister Nalupa, Engr. Jodie Rey D. Fernandez, and Engr. Clynt Neiko Rupinta from the Center for AI. The MOA Signing is also the outcome of Filipinnovation Entrepreneurship Corps 3 (FEC 3), sponsored by DOST-PCIEERD, USAID Stride, RTI International, and De La Salle University.