By Faith Guligado, USTP Cagayan de Oro STRATCOMM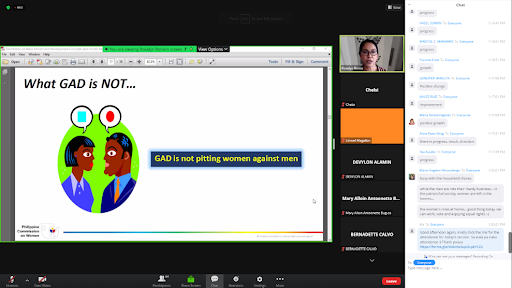 Dr. Echem during the discussion on GAD
The Extension and Community Relations Division of the University of Science and Technology of the Southern Philippines (USTP) in Cagayan de Oro hosted a Gender and Development (GAD) Workshop for students and faculty on October 19 – 21, 2021 through Zoom. The workshop aims to equip the frontliners of the University and the members of the GAD Focal Point System.
The resource person of the three-day workshop is Dr. Rosalyn Echem who served as the former Director of the Gender Research and Resource Center of Western Mindanao State University.
The workshop participants over the course of the three-day workshop
Dr. Echem began her lecture by asking a series of questions to assess the attendee's level of knowledge on the issue of gender and development. The Basic Gender and Development Concepts, Gender and Development Policies and Mandates, and Gender and Development Tools were all explored at length during the three-day session. Participants were able to apply what they have learned by participating in group activities, asking questions about specific areas, and developing a plan to address gender-related concerns.