By PJ V. dela Peña, USTP System STRATCOMM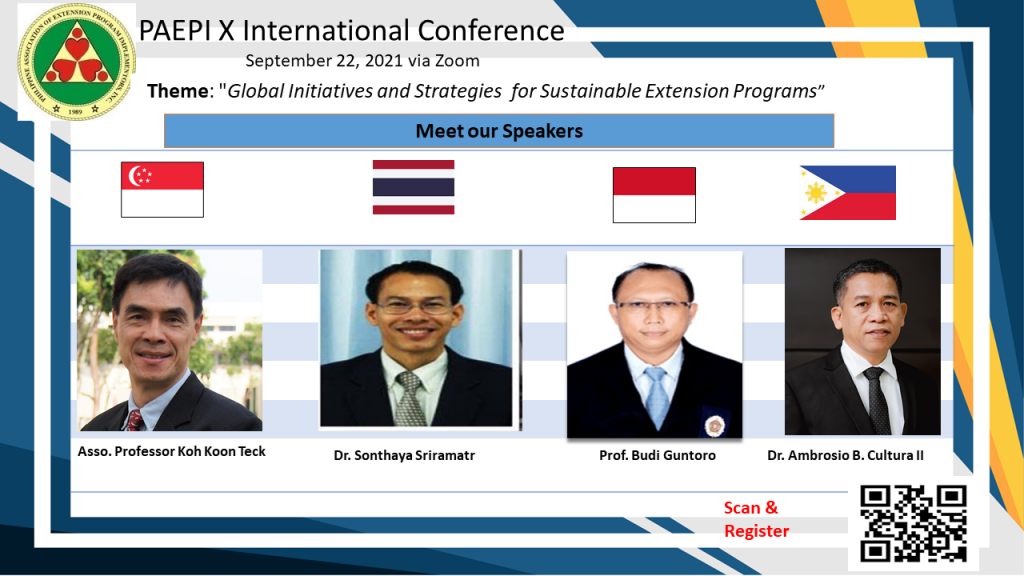 USTP System President Dr. Ambrosio B. Cultura II is among the speakers from Singapore, Thailand and Indonesia.
University of Science and Technology of Southern Philippines (USTP) System President Dr. Ambrosio B. Cultura II shared the limelight with other international resource speakers during virtual international conference of the Philippine Association of Extension Program Implementors Inc. (PAEPI-X) on September 22, 2021, via Zoom.
This is part of the universities' initiatives to address the pressing needs of the community during the pandemic by accelerating innovation, focused on the delivery of its function in research, instruction, and extension.
COVID-19 initiatives of USTP include sponsoring the Temporary Holding Facility for Locally Stranded Individuals on the campus; developing a system for contact tracing and tracking and documentation of passengers for the Maritime Industry Authority (MARINA); various food initiatives and urban agriculture like Gulayan sa Kabalayan in Cagayan de Oro and the Pandemic Farm in Claveria; e-learning and web-based portal managing on testing, admission and accreditation; web-based solution on timekeeping and attendance; new master's program in education for local government officials; faculty capacity building on Flexible Learning Program; Digitalized Health Care Services; extension services through skills training for the Talaandig Tribe; and development of irrigation and water services of the Higaonon Tribe in Claveria. USTP also facilitated technological transfer and utilization through the turnover of a twin extruder machine designed and fabricated in the university to a partner industry in food production; a food technology licensing agreement for ready-to-eat meals for the Department of Education's feeding program; and the creation of Science and Technology Parks in Alubijid and Claveria, among others.
"USTP created opportunities by the crisis of today by bolstering innovative extension services in response to the pandemic, all the while scaling up technology adoption and accelerate innovation to address the potential challenges brought about by the new normal." Dr. Cultura added.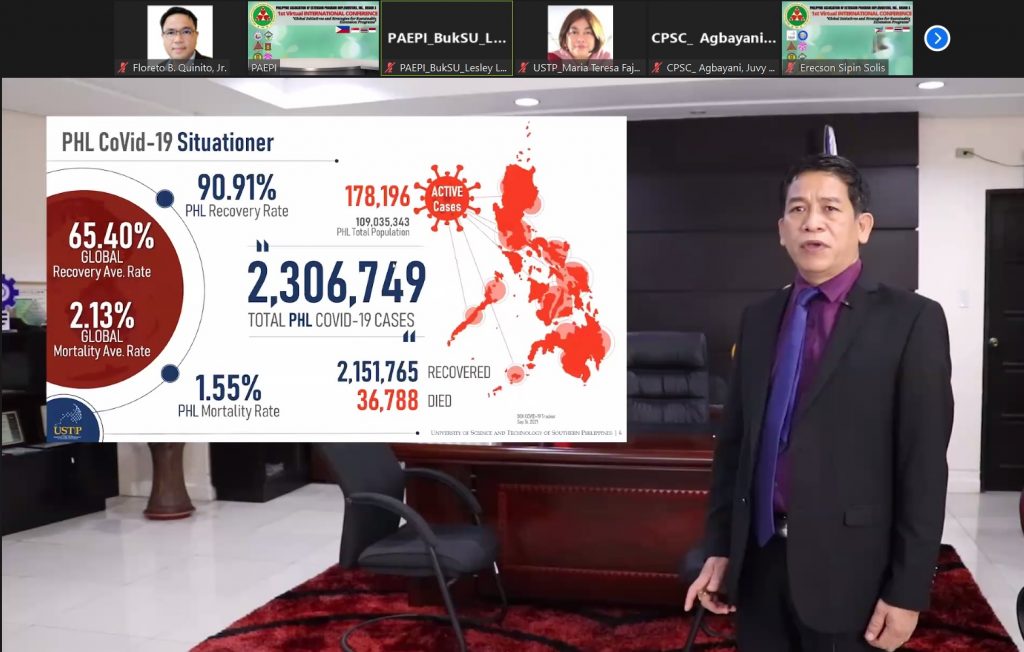 Dr. Cultura during his presentation for the PAEPI-X virtual international conference.
Dr. Cultura is the only Filipino resource speaker during the conference. Other speakers include Associate Professor Koh Koon Teck of Nanyang Technological University in Singapore who spoke about the extension initiatives on Health, Dr. Sonthaya Sriramatr of Srinakharinwirot University, Bangkok, Thailand on extension initiatives on Education; and Prof. Budi Guntoro of Universitas Gadjah Mada Yogyakarta, Indonesia on extension initiatives on Agriculture.
The PAEPI-X virtual international conference is hosted by the Camiguin Polytechnic State College and co-hosted by Mindanao State University-Iligan Institute of Technology (MSU-IIT).