USTP hits more SDG categories in 2023 THE Impact Rankings
By Jomerl I. Gomez, USTP System STRATCOMM
In the fifth edition of the THE Impact Rankings this year, the USTP System took the 1001+ spot among 1,591 universities from 112 participating countries/regions around the globe. The USTP System was carefully evaluated against the seventeen (17) Sustainable Development Goals (SDGs) of the United Nations, particularly across areas of research, stewardship, outreach, and teaching.
In the previous year, the USTP System placed in the 1001+ rank under SDG 17: Partnerships for the Goals. This year, however, the USTP System ranked higher under the same SDG category, taking the 801-1000 spot in the ranking system.
The University also ranked 601-800 under SDG 5: Gender Equality, 801+ under SDG 8: Decent Work and Economic Growth, and 1001+ under SDG 4: Quality Education, resulting to an overall Impact Ranking of 1001+.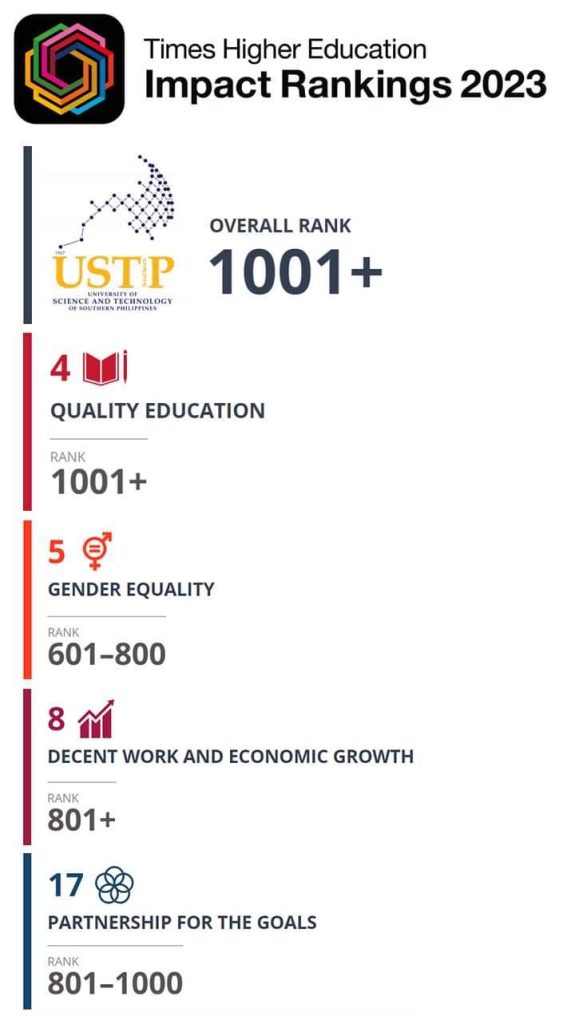 The USTP is also recognized as Reporter for the World University Rankings in 2023.
In its continuous effort to contribute to the attainment of the goals, the University constituted a committee who shall facilitate the alignment of the program, activities, and projects of the USTP against the SDGs and the Philippine Development Plan.
The University of Science and Technology of Southern Philippines (USTP) is a state university established on August 16, 2016, by virtue of Republic Act 10919 through the amalgamation of the Mindanao University of Science and Technology (MUST) in Cagayan de Oro City, Misamis Oriental, and the Misamis Oriental State College of Agriculture and Technology (MOSCAT) in Claveria, Misamis Oriental. It is located in Northern Mindanao, the Gateway to Mindanao, which offers a strategic locational advantage for the institution to train and develop students from all the other regions.