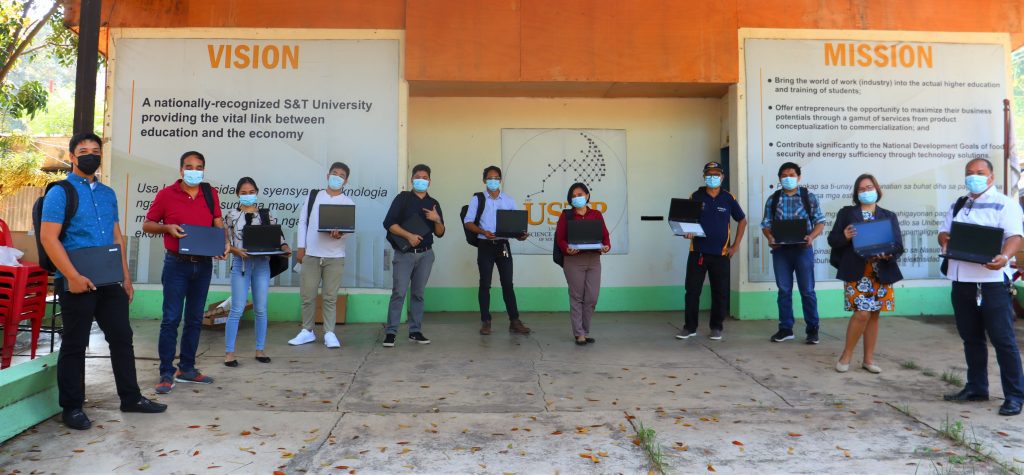 USTP Jasaan faculty with their new laptops for Flexible Learning
USTP Jasaan faculty receive new laptops for Flexible Learning Program
Twelve (12) full time faculty members of the University of Science and Technology of Southern Philippines (USTP) in Jasaan, Misamis Oriental received their new laptops for the Flexible Learning Program.
This is part of the University's initiative on equipping the faculty of their needs in the new normal learning. The assigned laptops will aid the faculty in transitioning from face to face classes to online and modular sessions.
Face to face classes has been suspended to stop the spread of the Corona virus. USTP Jasaan is the first campus to receive the laptops.
Unboxing and distribution of the new laptops for the faculty in USTP Jasaan.
Early this year, USTP have been distributing gadgets and load to students for online learning.
USTP System President Dr. Ambrosio B. Cultura II, the Board of Regents and the University administrators believe that education should continue and shall promote technology solutions and innovation to propel the University's goal to produce knowledge-based graduates.
The laptop comes with a Windows 10 Processor and Intel Core i5 which is ideal for education settings.
Here are some of the impressions from the faculty recipients:
"Thank you, USTP, for the gadget. With this, I will be more productive in my online teaching classes."

Engr Brian D. Genon, Chairperson, Manufacturing Engineering Technology Department
"I'm surprised with the processor. It's a Core i5 meaning it is commonly used in high-performance laptops for programming applications and other heavy tasks. Excited to use this! Thank you, USTP!"

Ms Nevel Taurine D. Cuasito, Chairperson, Information Technology Department
"I am very grateful to the administration for the initiatives in helping us faculty members. The laptops provided to us are of great significance specially in doing our work that is mostly done online. Thank you, USTP, for the laptop!"

Engr. John Mikel M. Acma, Research Coordinator
By Greg C. Pegarro, USTP Jasaan Main Focal Person for Strategic Communication