By Monica Mabaylan-Ruiz, TPCO Technology Promotions Unit Manager
The University of Science and Technology of Southern Philippines (USTP) and the Cagayan de Oro Chamber of Commerce (Oro Chamber) signed a Memorandum of Understanding (MOU) signifying mutual intent to strategically nurture the innovation and entrepreneurship ecosystem in Cagayan de Oro and the Region 10.
USTP and Oro Chamber have a long history in terms of collaboration, but it is only just recently that the partnership is officially sealed through an MOU. Both parties agreed to conduct joint activities in the following areas:
Research and Development
Incubator and Accelerator Program
Investments or Venture Capitalists
Technopreneurship
Ideation Workshops
Investment Fora
Formation of the Academe-Industry Council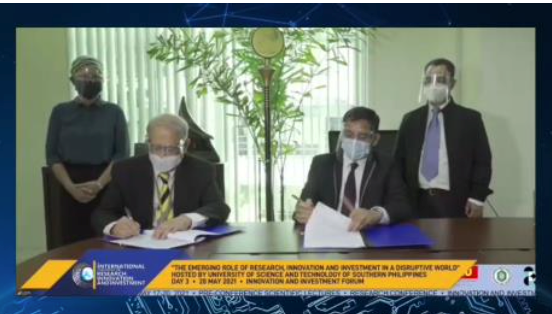 USTP System President Dr. Ambrosio B. Cultura II and Oro Chamber President Ruben Vegafria during the signing of the MOU. The signing was witnessed by Dr. Ruel Cabahug, USTP Vice President for Research and Innovation, and Queritess Queja, Program Director of Oro Chamber's OROBEST program.
"Today marks a new milestone for Oro Chamber as we ink our partnership with USTP. Through its OROBEST Innovation Program, your Chamber will continue to work with USTP, to provide more avenues for a seamless link from concept development to technology adoption and commercialization of local research," Oro Chamber President Ruben Vegafria said in his message.
The MOU signing was facilitated by the Technology Promotions and Commercialization Office (TPCO) of USTP which has a two-fold mandate of protecting the University's intellectual property and transferring its technologies for community or commercial use. Partnerships are at the heart of technology transfer; strong cooperation between sectors must be enabled to unlock available resources, tap unexplored opportunities, and harmonize trailblazing initiatives to put Cagayan de Oro and Region 10 as an epicenter of innovation in the country.