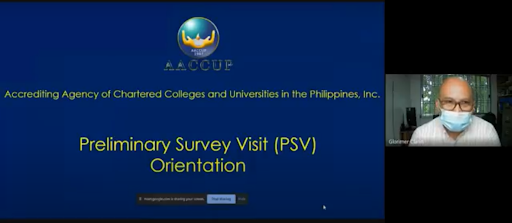 Dr. Glorimer Clarin, USTP Oroquieta's Acting Campus Director, gives his welcome address and overview of the accreditation.
USTP Oroquieta faculty participates in AACCUP PSV Orientation
COVID-19 did not stop the Area Task Force of the University of Science and Technology of Southern Philippines (USTP) Oroquieta from meeting the standards of accrediting bodies.
The USTP Oroquieta faculty participated in an in-campus virtual Accrediting Agency of Chartered Colleges and Universities in the Philippines, Inc. (AACCUP) Preliminary Survey Visit (PSV) Orientation organized by the Office of the Quality Assurance and Accreditation Services (QAAS) last May 31, 2021.
This is in preparation of the two programs of USTP Oroquieta namely Bachelor of Science in Information Technology (BSIT) and Bachelor of Technology in Livelihood Education (BTLEd) which are about to undergo AACCUP PSV in 2022. 
The activity was also initiated to give the Area Task Force an overview on accreditation and to address their expectations and concerns as they are about to experience it firsthand. 
The resource speaker for the orientation was Mr. Steve I. Embang, Program Head of the Bachelor of Elementary Education and focal person for the Level 3 Phase 2 accreditation of the School of Teacher Education in Northwestern Mindanao State College of Science and Technology. He gave a detailed lecture on accreditation, the documents that may be compiled for each parameter, how points are given and how it is carried out in face-to-face and in virtual setup.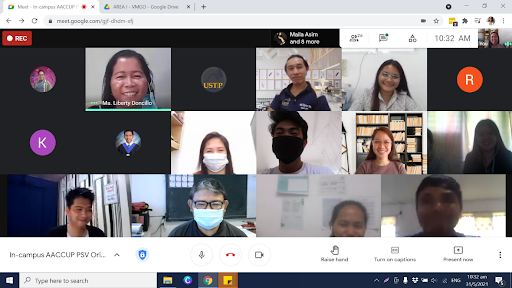 USTP Oroquieta's Area Task Force participates in the orientation on accreditation.
The scenarios before, during and after the accreditation were also discussed by the QAAS Coordinator, Engr. Mitchie M. Roa. 
Questions from the Area Task Force chairmen and members were raised and were addressed by the speaker and the QAAS Coordinator. They were also given pieces of advice as accreditation in general is a laborious task.
Accreditation is the process where a program will be evaluated in a certain institution according to standards which are basically higher than those set by the Commission in Higher Education (CHED) and other appropriate agencies. An institution awarded with an accreditation status attains prestige that parents may consider when choosing the institution where they will send their children. It also opens chances of acquiring funds for scholarship program, and research and extension activities, among others.
By Engr. Mitchie M. Roa, Strat Comm Focal Person for USTP Oroquieta