By Ruthy Valdez, USTP Oroquieta STRATCOMM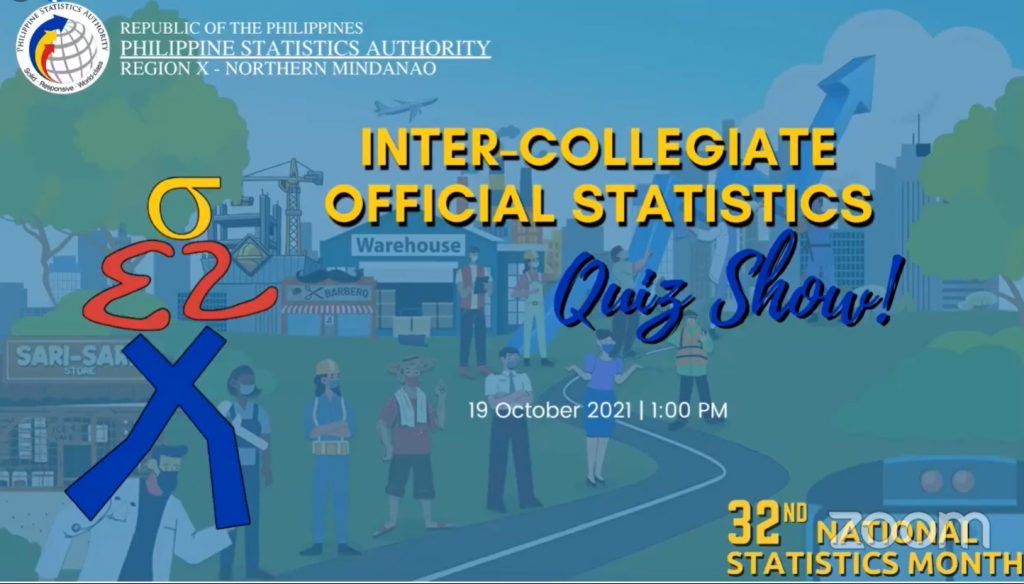 14 schools participated in the region-wide quiz show
Birth certificate! This comes to mind when Jamaica Viña hears the word PSA.
But after attending the webinar from the Philippine Statistics Authority (PSA), Viña learned that PSA does more than issue birth certificates. The PSA also helps other sectors in the country, such as the agricultural sector, by providing statistics that would help stakeholders improve their situation.
(left to right) 3rd placer Cabural with Viña and Coach Acosta. (2nd photo) Other participants from the different HEI's
Viña placed eighth in the Inter-Collegiate Official Statistics Quiz Show of the Philippine Statistics Authority last October 19. Dimple Cabural a sophomore student from the Information Technology Department, placed third on the quiz. The students were coached by Pelmar Acosta, a faculty of USTP Oroquieta. The quiz show was participated in by twenty-eight (28) participants from 14 Higher Education Institutions (HEIs) in Region 10 as part of the celebration of the 32nd National Statistics Month.
Viña and Cabural recalled how challenging the competition was, but they remained calm and optimistic.
"Ga-transfer-transfer mi ug location kay unstable ang internet connection. Daghan kay mi'g gi-transferan jud, Ma'am," Viña added.
(We had to move from one place to another to look for a stable internet connection.)
"I am glad that I competed and had the most fun out of it. It brought me back to those good old days where I participated in different events with my friends and teachers. It is a bonus that I won. But all in all, the quiz is a great experience and another milestone in my life." Cabural said.
The PSA has organized activities for college students, particularly freshmen and sophomores. The theme for this year is "NSM@32: Revving up for Economic and Social Recovery Through Evidence-Based Policies".