By Clark Jhayson D. Papileras, USTP Oroquieta STRATCOMM
After getting selected as one of the grand prize winners of Smart's "Balik Tuition Promo" Year 2, Angel Face R. Apduhan, a working student from USTP Oroquieta, officially received her cash prize worth One Hundred Thousand Pesos (PHP 100,000) last March 11, 2022, at the USTP Oroquieta Conference Room. The event was attended by Apduhan's mother, Theresita, the campus heads, and representatives from Smart Communications, Inc. and the Department of Trade and Industry.
Through its "Balik Tuition Promo" program, Smart Communications, Inc. is giving away almost two million pesos in prizes to lucky students who win the electronic raffle. Students using Smart and TNT prepaid SIMs can win cash, gadgets, and other e-learning tools.
This year's "Balik Tuition Promo" is bigger than ever, with ten grand prize winners each receiving PHP 100,000 (tax-free). Four lucky students had previously received the top prizes. In addition to the cash prize, the grand prize winner will also receive fifty (50) Smart Bro Pocket Wi-Fi kits for their schools.
Apduhan narrated in a mix of English and Binisaya how she registered for the raffle with no expectations of winning the grand prize. She said that winning a laptop would be more than enough to enable her to pursue her course in IT, especially amidst the pandemic where students cannot convene face-to-face and access their school's computer laboratory due to safety protocols and restrictions.
She also expressed her gratitude to Smart for the rare opportunity, considering the cash prize to be a major help in getting her a laptop and financially sustaining her studies. Apduhan also reassured her parents that part of the money will be used for their maintenance medication while the rest will be allocated to their family's savings.
Apduhan then thanked God for relieving her of the worries brought by the pressure of having to consider stopping school to get a job instead to contribute to their family's finances. With gratitude, Apduhan said "I'm not lucky but I am blessed. Everything I have is because of God's grace and favor."
The fifty (50) Smart Bro Pocket Wi-Fi kits were raffled to fifty (50) lucky students who registered during the Local Consultations Meeting on the Limited Face-to-Face Laboratory Classes of USTP Oroquieta.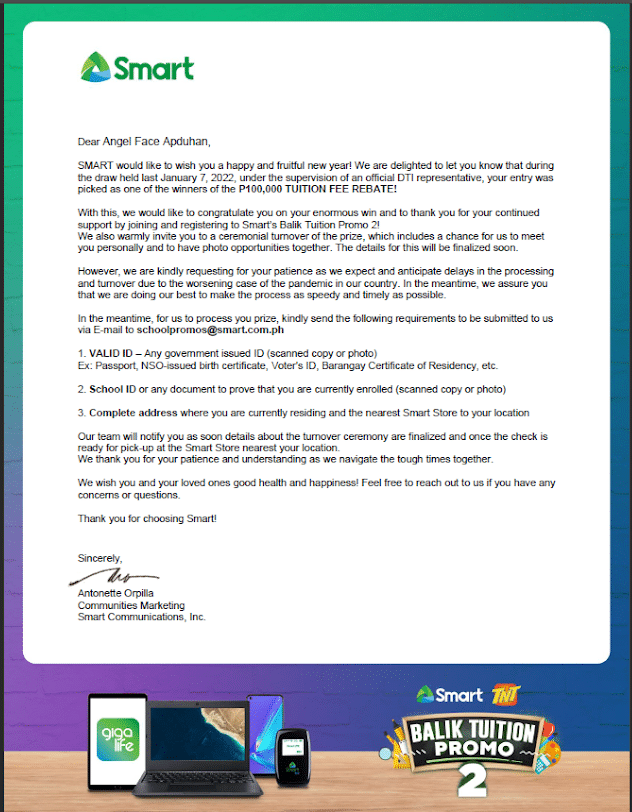 Letter from Smart to Ms. Angel Face R. Apduhan.