USTP Panaon attends 6th CSASP-10 Meeting & Seminar-Workshop on SAS Documents and Reports through Digitization
By Mary Cris J. Gemoros, USTP Panaon Head for Student Affairs and Services
The Student Affairs and Services (SAS) Unit of the University of Science of Technology of Southern Philippines (USTP) in Panaon, Misamis Occidental, participated the 6th Student Affairs and Services Practitioners Meeting cum Seminar-Workshop on the Submission of SAS Documents and Reports through Digitization last April 13-14, 2023, held at the Pearlmont Hotel in Cagayan de Oro City. The gathering of all SAS Practitioners of both public and private HEIs of Region 10 was organized by the Commission on Higher Education (CHED) Regional Office 10 and the Council of Student Affairs and Services Practitioners (CSASP) Region 10.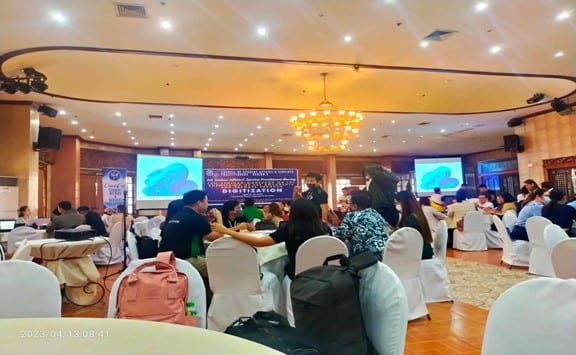 Ms. Rose Mae T. Lumasag, CHED-SAS Focal Person acknowledged all participating SAS practitioners coming from different HEIs of the region. Dr. Raymond S. Tan, CSASP Region 10 President, gave his opening remarks. He was followed by the inspirational message from Dr. Freddie T. Bernal, CESO III, CHED 10 Regional Director, who emphasized that giving extra services to students gives them a memorable experience while studying.
Ms. Lumasag then discussed the digitizing submissions of all SAS documents and reports, which should be uploaded and submitted through a unique link per HEI.
In the afternoon session, Mr. Candido P. Bontogon Jr., Acting Regional Director of National Intelligence of the Coordinating Council Region 10, gave an orientation on youth and student recruitment by the CPP-NDF-NPA.
Afterwards, the CSASP Region 10 conducted their Annual General Assembly, where reports were presented by the different CSASP officers.
Ms. Mary Cris J. Gemoros, Head of Student Affairs and Services, and Ms. Judielyn L. Cualbar, Admission and Scholarship Coordinator represented USTP Panaon during the seminar-workshop.