By Faith Guligado, USTP Cagayan de Oro STRATCOMM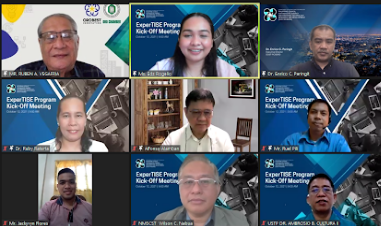 Screenshot during the ExperTISE program kick-off meeting
October 12, 2021. The University of Science and Technology of Southern Philippines (USTP) participated in the Philippine Council for Industry, Energy and Emerging Technology Research and Development (PCIEERD) Regional Consortia kick-off meeting for the Expert Intervention for Scientific Engagement (ExperTISE) Program in collaboration with regional industry partners and the Department of Science and Technology (DOST) Regional Offices. The meeting was conducted virtually via Zoom.
USTP System President Dr. Ambrosio B. Cultura II, the Chairperson of the Northern Mindanao Consortium for Industry, Energy and Emerging Technologies Research and Development (NorMinCIEERD), presented the Regional Consortia Updates and the Highlights of Achievement for the year 2021.
"I strongly believe that we have to generate technology solutions that are responsive to the economic challenges of the present. We are fortunate that we have researchers, inventors, and innovators in the Region that are actively seeking initiatives that can assist them in developing technological solutions," Dr. Cultura said.
Among the highlighted accomplishments is the turnover of the output of a research and development (R&D) project that the consortium through DOST-X has funded. The project entitled Development of Twin-Screw Extruder Machine with Filling Injector was handed over to partner industry BestFriend Goodies last September 16, 2021. The technology that started from an idea during an Ideation Workshop, conducted by the United States Agency for International Development (USAID) with DOST-X and ORO Chamber, was completed and is now being utilized by Bestfriend Goodies. The technology was designed and fabricated by USTP experts. DOST-X granted USTP over 1.1 million pesos for the said project last March 1, 2020.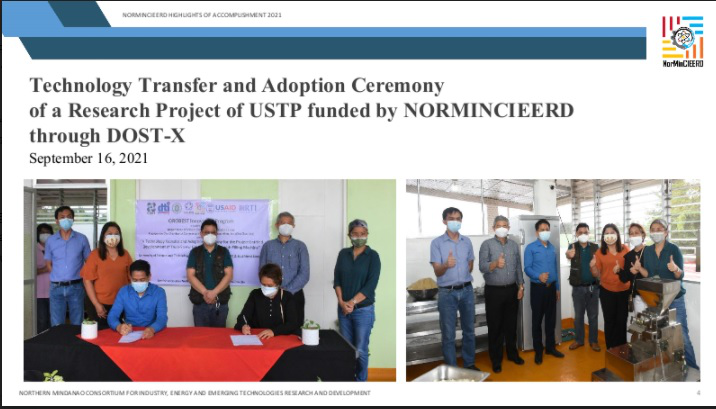 The machine was designed by the experts of USTP
Dr. Enrico C. Paringit, PCIEERD Executive Director, said the ExperTISE program aims to provide regional expertise and identify emerging industries in the peripheries, as well as potential niches, industry gaps, challenges and needs. Through the program, research and development can be performed to address the gaps in the industry.
Dir. Alfonso P. Alamban, Regional Director of DOST-X and Co-Chair of NorMinCIEERD, presented the Industry Roadmap and Industry Challenges in the Region. 
Mr. Ruben A. Vegafria, President of the ORO Chamber, shared the Best Practices of OROBEST with the Industry and introduced the OROBEST Industry Academe Immersion Program.
The fifteen (15) academe members of the consortium have varying fields of expertise which serves as an advantage to the consortium. With the diverse niches of these institutions, the NorMinCIEERD will be able to further support the innovation ecosystem in the region.