By Diane Therese A. Esmade, USTP System STRATCOMM

USTP System President Dr. Ambrosio B. Cultura II and XU President Fr. Mars P. Tan, SJ share their perspectives on the MOU
In advancing clean energy through collaborative research in Northern Mindanao, the University of Science and Technology of Southern Philippines (USTP) and Xavier University Mindanao Clean Energy Living Laboratories (XU MindaCELLs) inked their partnership in a ceremonial signing of a Memorandum of Understanding (MOU) on October 15, 2021, via Zoom Meetings.
XU MindaCELLs and USTP through its College of Sciences and Mathematics, Departments of Mathematical Sciences, Electrical Engineering, and Mechanical Engineering, Biomass Institute, and Institute of Energy will develop collaborative efforts in promoting awareness and knowledge on rural electrification, energy efficiency, and renewable energy. This collaboration is also an avenue to exchange ideas through technology transfers.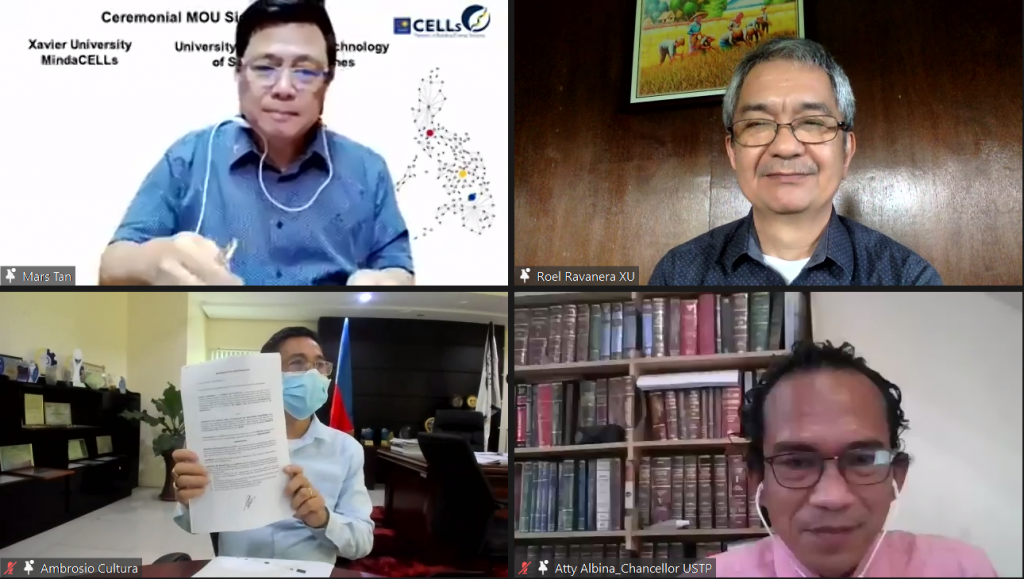 USTP and XU MindaCELLs during the ceremonial signing of the MOU
The virtual signing ceremony was represented by USTP President Dr. Ambrosio B. Cultura II and XU President Fr. Mars P Tan, SJ.
Through this partnership, both universities aim to work together in the promotion of sustainable green energy to contribute to the development of energy sufficiency and security not just in Cagayan de Oro but also in Mindanao.