By Monica Mabaylan-Ruiz, TPCO Technology Promotions Unit Manager
The University of Science and Technology of Southern Philippines (USTP) through its Technology Promotions and Commercialization Office (TPCO) conducted a webinar on Intellectual Property and Technology Transfer on August 19, 2021, for the Bukidnon State University (BukSU) top management, and selected faculty and staff. The activity was held upon the request of BukSU President Dr. Oscar Cabañelez to build the university's capacity for Intellectual Property protection and technology transfer.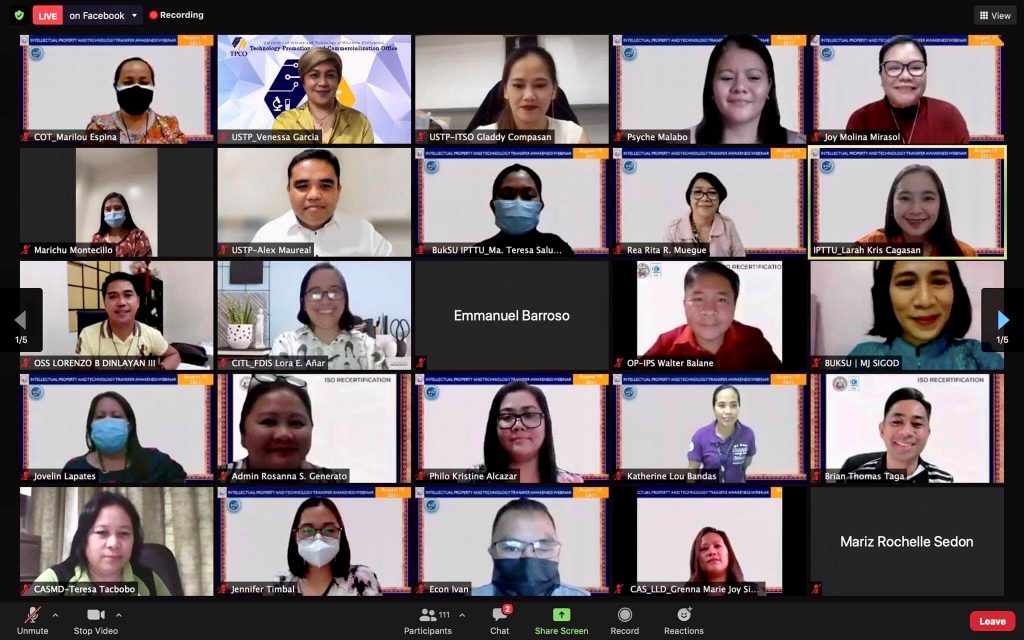 A screenshot of some of the participants together with the USTP TPCO headed by Dr. Venessa Garcia. The event was also graced by Engr. Alex Maureal, USTP Cagayan de Oro's Vice Chancellor for Finance and Administration, who is also one of the champions of technology transfer in the University.
The training was led by TPCO Director Dr. Venessa Garcia, Innovation and Technology Support Office (ITSO) Manager Engineer Gladdy Compasan, and ITSO Expert Engineer Clark Gozon. The speakers gave an engaging talk that perfectly blended theory and actual practice.
While the TPCO is still in its infancy stage, it already has some success stories worth sharing with other universities. These are inspiring narratives that can spark interest and motivation toward tech transfer. One of these is the story of Ms. Jude Maternal, a technical researcher at the Northern Mindanao Food Innovation Center. Jude is the first USTP researcher whose innovation was adopted and licensed by a food manufacturing company. In her talk, she underscored the relevance of the researchers' participation in technology transfer.
"It should be the researchers who should sell the products because it is the story behind the products which sell, it is what piques the interest of the adopters," Maternal added.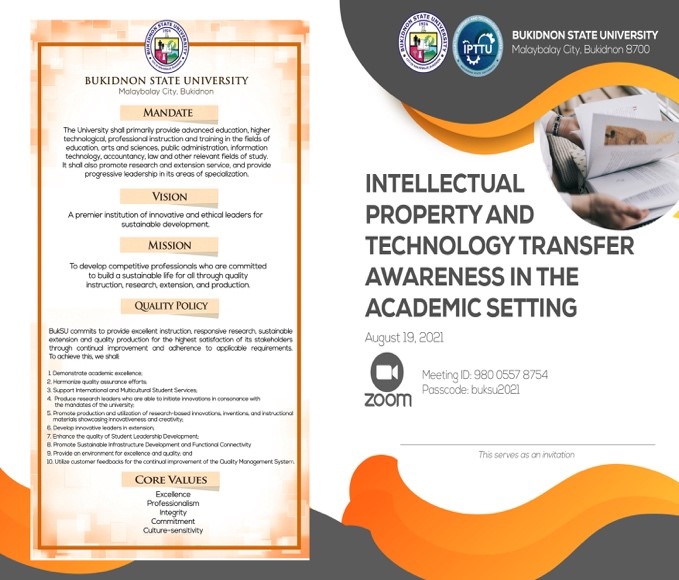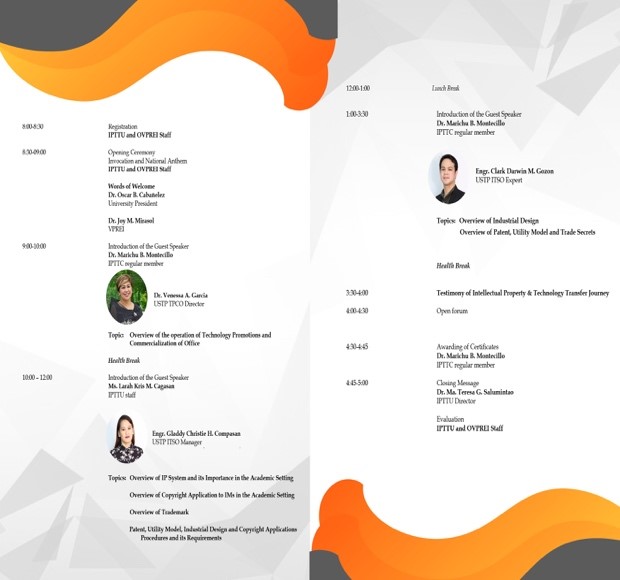 On the part of the BukSU participants, they look forward to a second session which will focus on the presentation and critiquing of their outputs.
USTP continues to promote teamwork and camaraderie with its neighboring universities as it moves towards the goal of using technology to respond to industry or community challenges.