By Jomerl I. Gomez, USTP System STRATCOMM
The Research Office of the University of Science and Technology of Southern Philippines (USTP) in Cagayan de Oro presented the fifth installment of their weekly dialogue with experts aptly titled "An Afternoon with an Expert" on April 8, 2022, via Zoom.
The weekly virtual sharing, which happens every Friday from 1:30 to 2:30, aims to strengthen the research community of practice, allow USTP knowledge assets to share their expertise, and provide researchers with updates on research-related topics. It also creates a platform for a loose and healthy exchange of ideas about research as a scientific inquiry.
During each session, the participants can freely share or intervene in the discussion in a casual, conversational, and respectful manner. They can raise their hands or enter their questions on the chat box.
In the latest virtual sharing, Dr. Romeo M. Del Rosario from the USTP CDO Department of Science Education shared significant insights on the interrelationships between research, theory, and logic.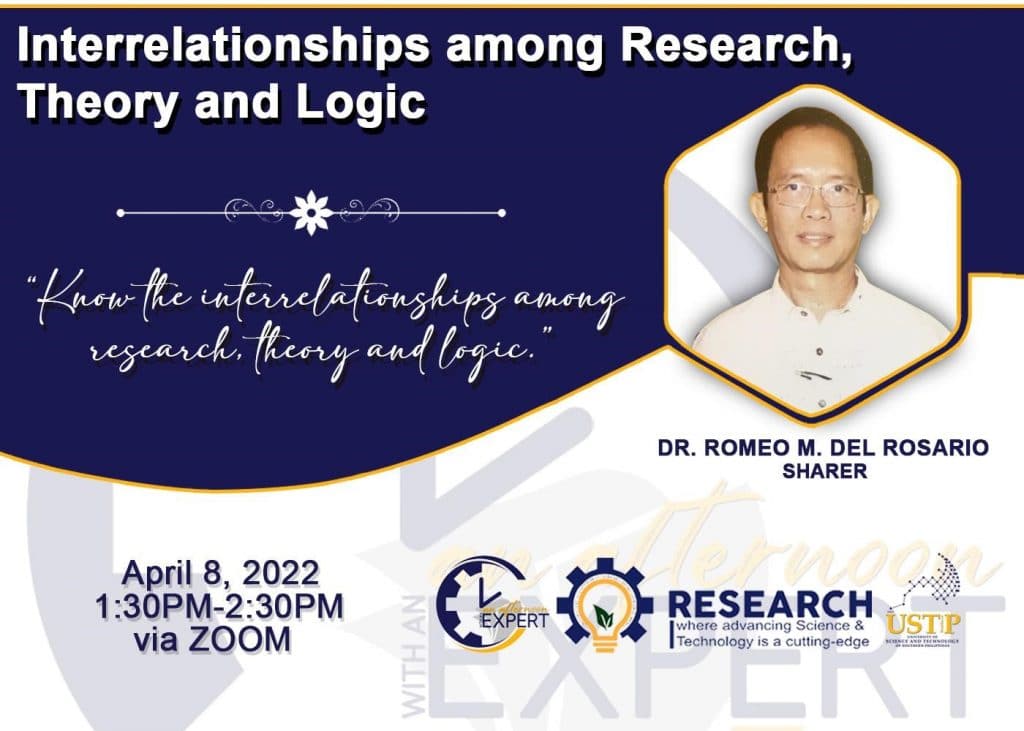 In one segment of his discussion, Dr. Del Rosario proposed that research should be seen as an umbrella concept that requires the application of logic (induction and deduction) in understanding data and observations and their relationship with theory.
Despite the limitations of time, Dr. Del Rosario discussed the topic and answered the participants' queries extensively.
Dr. Ismael N. Talili, Director of the USTP CDO Research Office, also shared a quote during the question and answer portion of the activity, saying, "Without research, a theory is just an opinion. Without theory, research is just a description. Theory, therefore, guides research."
Engr. Jeffrey Ken B. Balangao from the USTP CDO Department of Electronics Engineering moderated the virtual sharing.
On Friday, another expert will be sharing knowledge on Research Paradigms!
So, whether you are a faculty member, non-teaching personnel, or a student, if you are interested in joining the succeeding rounds of dialogue with USTP experts, you can contact the USTP CDO Research Office at 856 – 1738 Local 138 or visit them at the G/F Engineering Complex, USTP Cagayan de Oro.
See you virtually, Trailblazers!