By Matthew R. Maulion, Data Science Department Chair, USTP CDO
John Clark Paner, a fourth-year Information Technology (IT) student from the College of Information Technology and Computing (CITC) of the University of Science and Technology of Southern Philippines (USTP) Cagayan de Oro, earned the privilege to represent the University in the virtual Grand Finals of the ICDL Digital Challenge 2022 on September 5, 2022. He will be competing under the Emerging Technologies Track.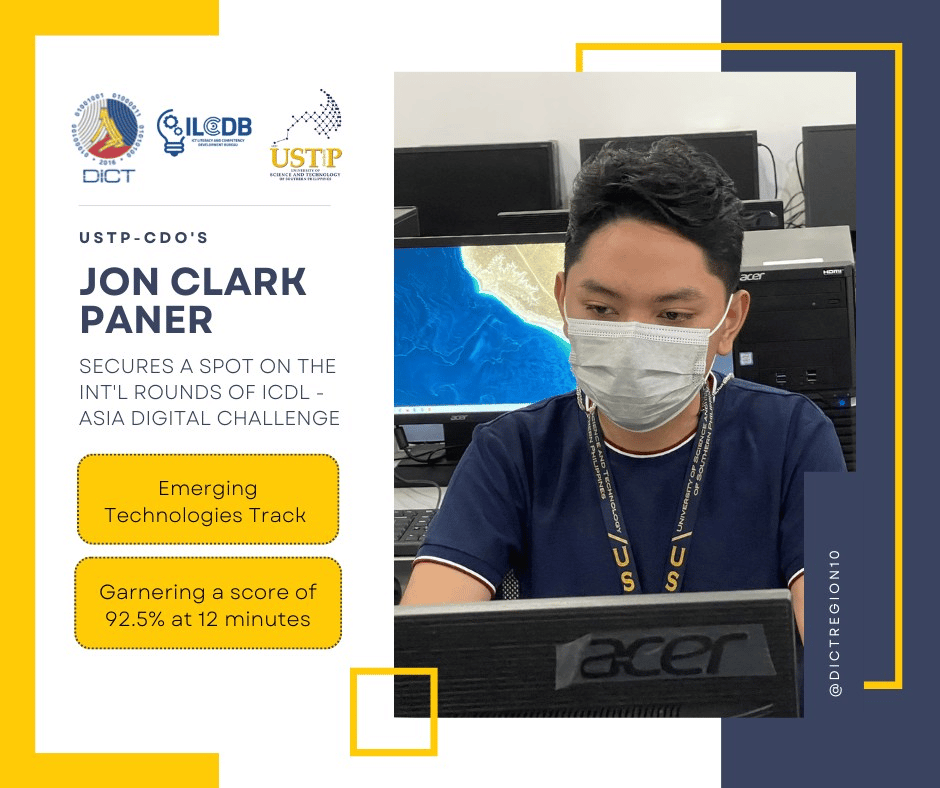 Paner participated in the recently conducted National Round of the competition on July 28, 2022, after successfully passing the Preliminary Round last July 14, 2022, where he and fellow fourth-year IT student, Hannah Mae Hormiguera, was a co-participant and were hailed as the top two (2) scorers for that leg of the competition. The two were coached by Ms. Love Jhoye Raboy, Information Technology Department Chair, and Mr. Matthew R. Maulion, Data Science Department Chair.
The Department of Information and Communications Technology (DICT) is currently a partner of the International Computer Driving License (ICDL) – Asia. The ICDL is the world's leading computer skills certification body. As a flagship project of ICDL, it conducts an annual digital challenge where students in the Asia-Pacific region participate.
The ICDL Digital Challenge 2022 aims to search for and recognize the top Secondary and Tertiary students with the best digital and ICT skills in the Region. The competition is open to private and public Secondary and Tertiary schools in the country. Before the international challenge, preliminary rounds and a national competition were held. The winners in the secondary category and tertiary category (Business, Design, and Emerging Technology tracks) will represent the Philippines in the international challenge, which they will do online.
Participating countries in the Grand Final Round include Bhutan, China, India, Malaysia, the Philippines, Sri Lanka, Singapore, Thailand, and Vietnam.