By Jomerl I. Gomez, USTP System STRATCOMM
To advance the cooperation involving the Academe, Industry, Government, and Community (AIGC) for the regional development of Mindanao, with a special interest in Davao and Cagayan de Oro as economic growth centers, the USTP System – through the Office of the Vice President for Research and Innovation – held the first-ever Seeds & Needs webinar with the theme "Agricultural Innovation: Building Resilience for Food Security" on April 20, 2022, via Zoom.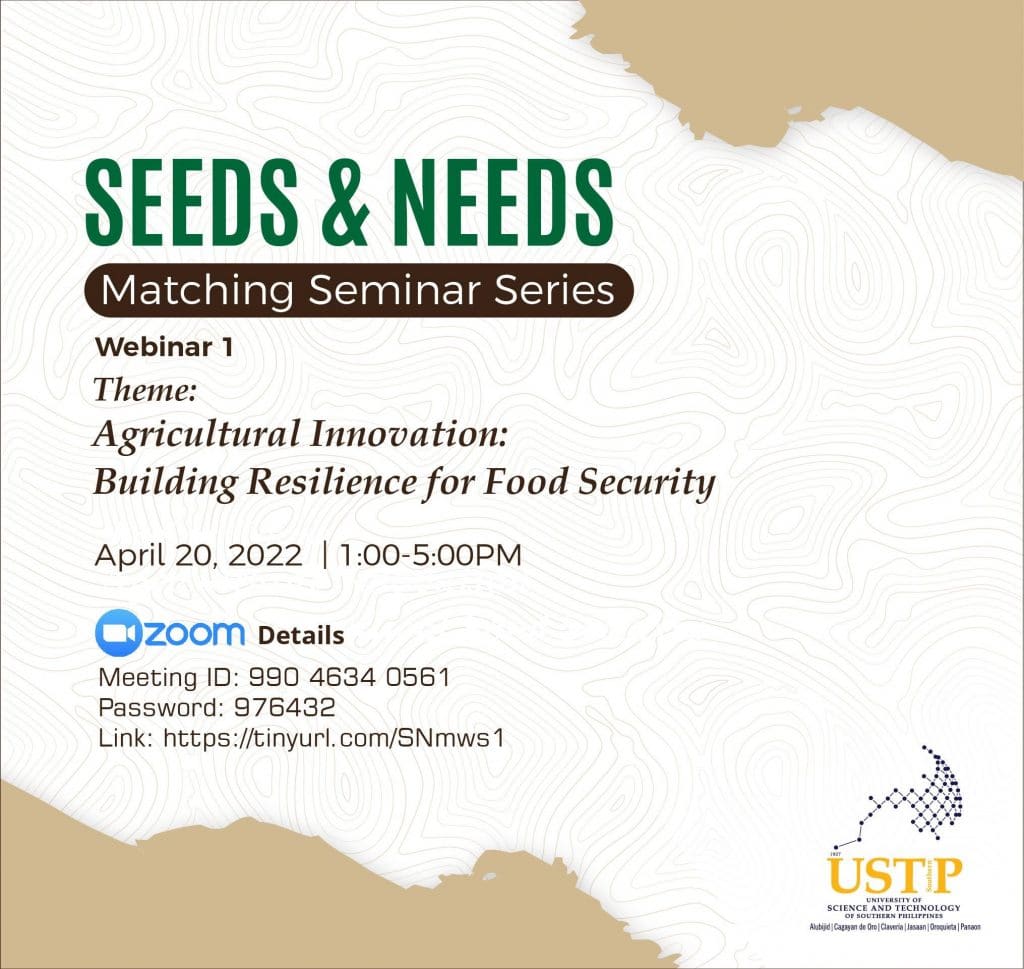 More than 200 participants from various sectors in the academe, industry, government, and community joined in the first webinar of the series, which focused on discussing agricultural innovation, resilience, and food security.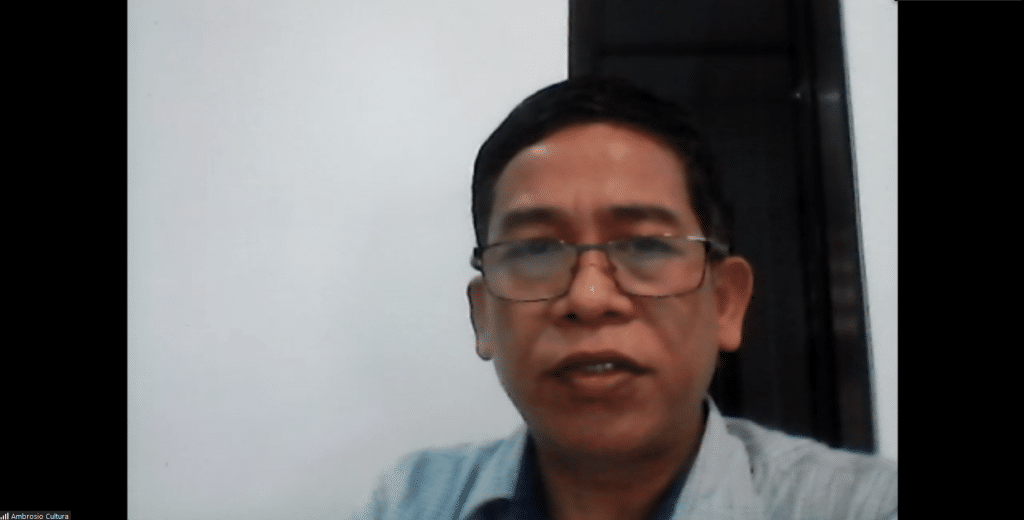 Dr. Ambrosio B. Cultura II, USTP System President, welcomes the Seeds & Needs participants
Dr. Ambrosio B. Cultura II, USTP System President, welcomed the participants to an afternoon of research, innovation, and technology in the pursuit of "creating solutions to long-standing challenges in our region… for a more inclusive and diverse region and country." President Cultura also emphasized the key importance of collaboration "in unlocking and enabling innovation," which is resonant with the USTP Quadruple Helix Collaboration Model.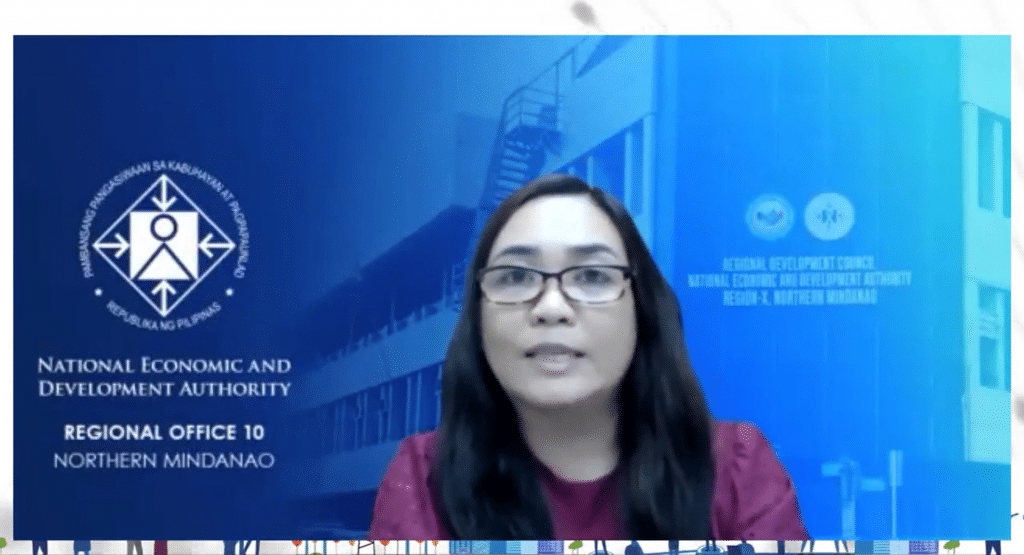 NEDA-X Regional Director Mylah Faye Aurora B. Cariño during her message on AIGC Cooperation
Mylah Faye Aurora B. Cariño CESO III, NEDA-X Regional Director, also graced the event by giving a message on the AIGC cooperation, urging researchers and innovators to create programs that do not only address local problems (e.g., socio-economic recovery from COVID-19, poverty reduction, and food insecurity) but also those that affect everyone on a global scale.
With that, Director Cariño emphasized how we should "contribute to attaining global targets or covenants, such as the Sustainable Development Goals and the Paris Agreement, as Climate Change has far-reaching impacts," which she called "a threat that befalls all of us no matter which path we choose to tread."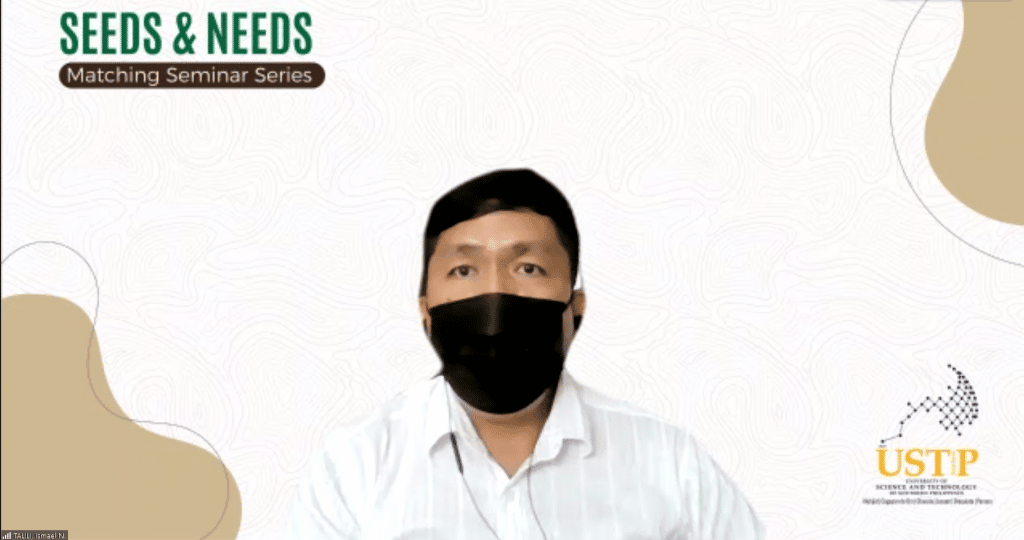 Dr. Ismael N. Talili, USTP CDO Research Office Director, hosts the Seeds & Needs webinar
The online seminar was hosted by Dr. Ismael N. Talili, Director of the USTP CDO Research Office, who shared the rationale behind the title of the afternoon's activity, emphasizing the "need to match the seeds (innovation, technology) and needs (societal problems)" in creating solutions. He also reminded the virtual participants that "we are here to create concrete solutions to problems."
The following groups were invited to present their research and innovation pitches:
Chlomet
Engr. Diogenes Armando D. Pascua showcased "Chlomet," a low-cost chlorophyll meter that allows farmers to measure the chlorophyll content in plants. Knowing this allows farmers to reduce the risk of yield-limiting deficiencies in their plants. Aside from that, they can also avoid costly overfertilizing. According to Engr. Pascua, Chlomet is also definitely a much cheaper alternative, priced at only PHP 3,000-5,000 per unit, compared to existing products in the market worth PHP 20,000-30,000 per unit.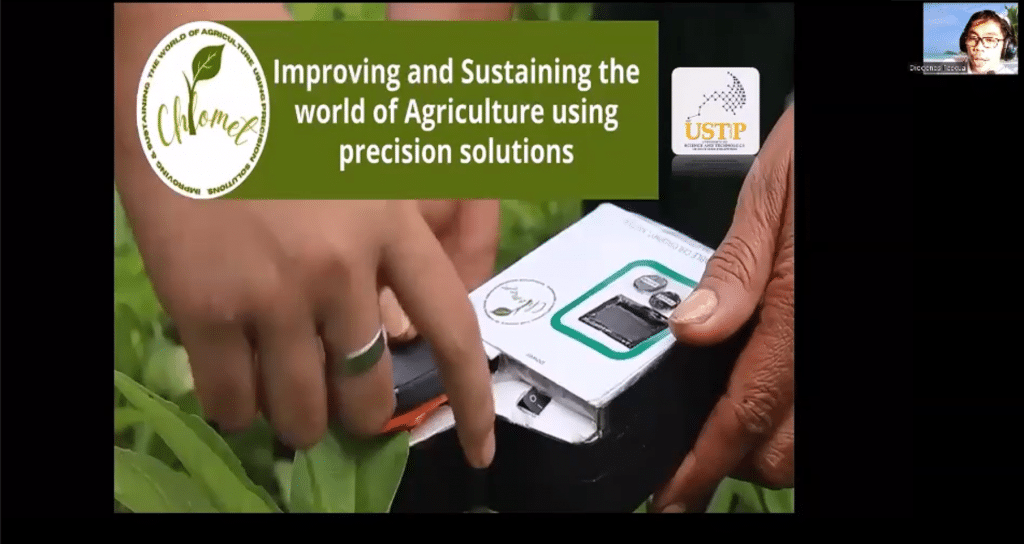 Engr. Diogenes Armando D. Pascua during his innovation pitch for "Chlomet"
Engr. Pascua's team is joined by Dr. Jeovil C. Pepania, Dr. Dennis A. Apuan, and Mr. Horacio Emmanuel S. Factura. They believe that we can improve and sustain the world of agriculture through precision solutions. Engr. Pascua then reminded researchers and innovators to remain passionate and innovate solutions that are centered on the human factor – rooted in human behavior – to ensure that they remain sustainable and, hopefully, environmentally conscious. He shared, "You can only innovate if you are creating something that would change the way we behave."
ZipDrone
The second team, spearheaded by Mr. Mark Anthony M. Bactong, presented "ZipDrone," a cable-suspended drone for farm pesticide application and fertigation. Mr. Bactong believes that, compared to existing spraying drones, ZipDrone is not only the cheaper solution for farmers, it also reduces body pain and saves farmers from the negative health effects of pesticide use, which, unfortunately, often occurs in farmers doing the traditional knapsack fertilizer application process.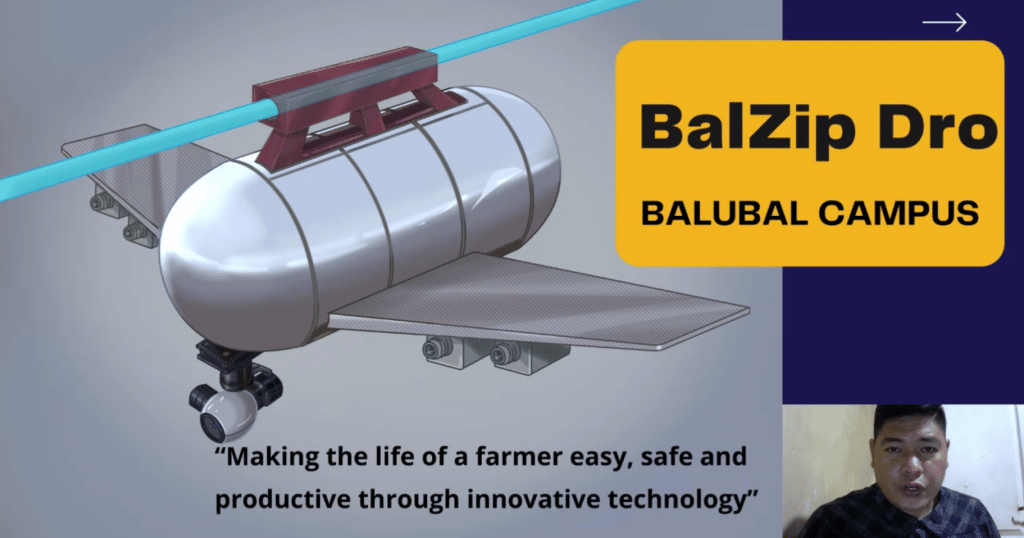 Mr. Mark Anthony M. Bactong presenting "ZipDrone" to the Seeds & Needs participants
Along with Mr. Bactong, ZipDrone was developed by Engr. Diogenes Armando D. Pascua, Ms. Marjelita L. Catayas, and Dr. Dennis A. Apuan. Their goal is to create innovative solutions to make the life of a farmer easy, safe, and productive. Mr. Bactong even stresses, "For the youth, be encouraged in agriculture." Their team believes that, with innovative solutions such as ZipDrone, they can encourage more people to farm, especially the youth.
ChickCheck
Engr. Miriam M. Bergado then completes the afternoon's set of presenters with "ChickCheck," a monitoring system developed to help optimize poultry production. It offers a centralized records system that makes it easy to track performance. With this, users can not only record their regular activities, but they can also use data from the system to generate reports for analysis and performance evaluation. As stated by Engr. Bergado, with ChickCheck, "poultry growers are not only equipped, but they also understand their production."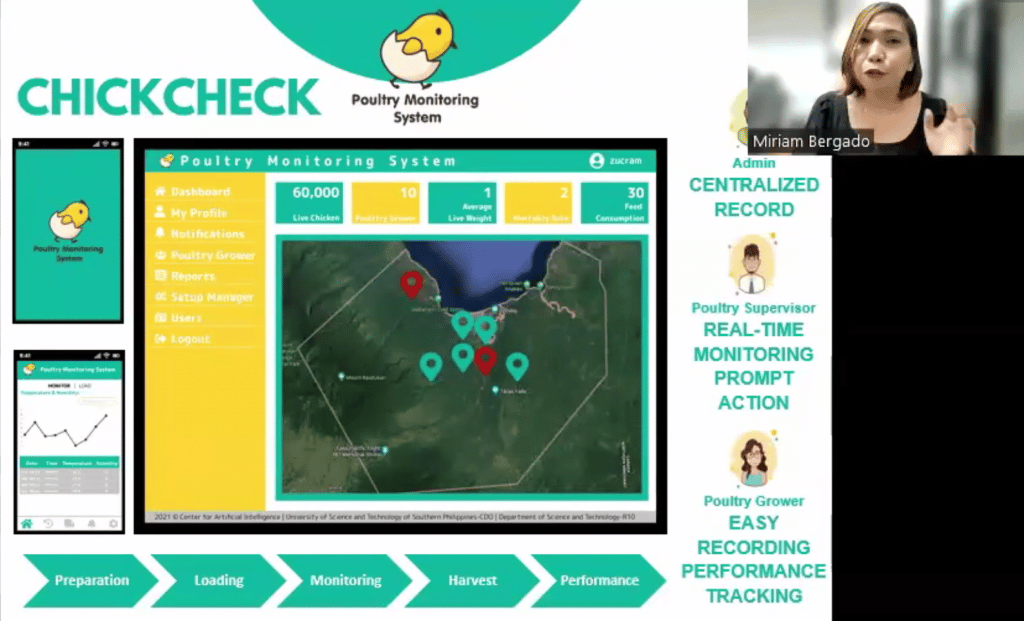 Engr. Miriam M. Bergado showcasing the monitoring features of "ChickCheck"
ChickCheck also features real-time monitoring for its users. But, of course, you need to have an internet connection for this. Fortunately, users can still work with the system even without the Internet. They only must synchronize their data once they get an internet connection. Currently, ChickCheck only runs on smartphones with Android OS. The ChickCheck team, also comprised of Ms. Wencel Jean C. Decay and Mr. Mark Lister V. Nalupa, will soon begin its evaluation and testing stage.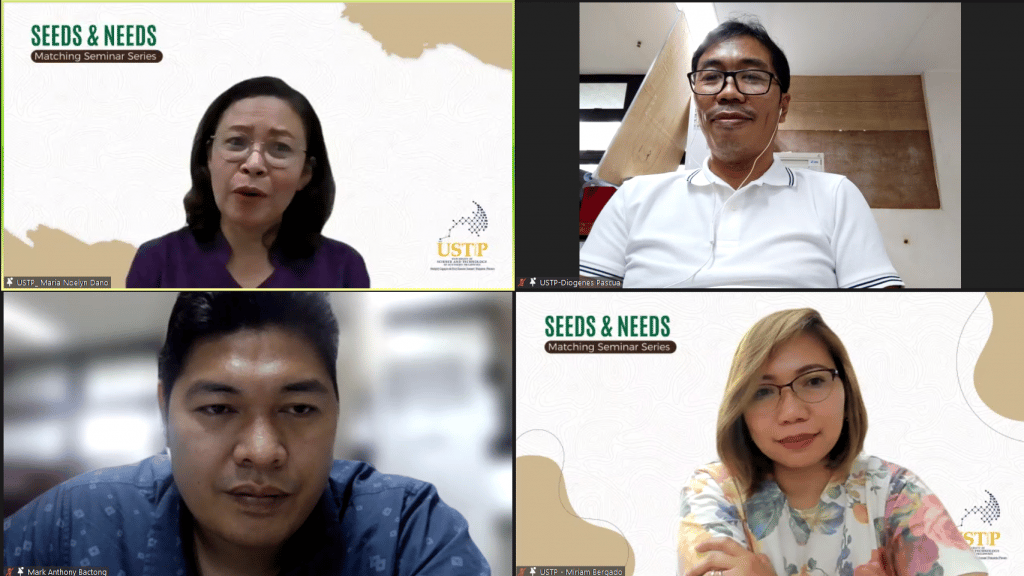 Clockwise: Dr. Maria Noelyn S. Dano; Engr. Diogenes Armando D. Pascua; Engr. Miriam M. Bergado; and Mr. Mark Anthony M. Bactong
An open forum followed, moderated by Dr. Maria Noelyn S. Dano, Director for the USTP System International Affairs, which discussed relevant topics on agriculture, science communication, climate change, resilience, food security, and hunger.
The virtual participants were actively involved in the discussion. They gave positive feedback on each of the presenters' innovative solutions, asked questions, and even provided suggestions to further develop their projects.
Dr. Apolinario B. Gonzaga (lower-right), USTP Claveria Research Office Director, congratulates the presenters for a job well done
Dr. Apolinario B. Gonzaga, USTP Claveria Director for Research commended the pitchers, citing Chlomet in particular, saying "The idea that Chlomet is much cheaper relative to available commercial brands is already a great innovation." Dr. Gonzaga also shared overviews of ongoing research projects conducted at the USTP Claveria campus.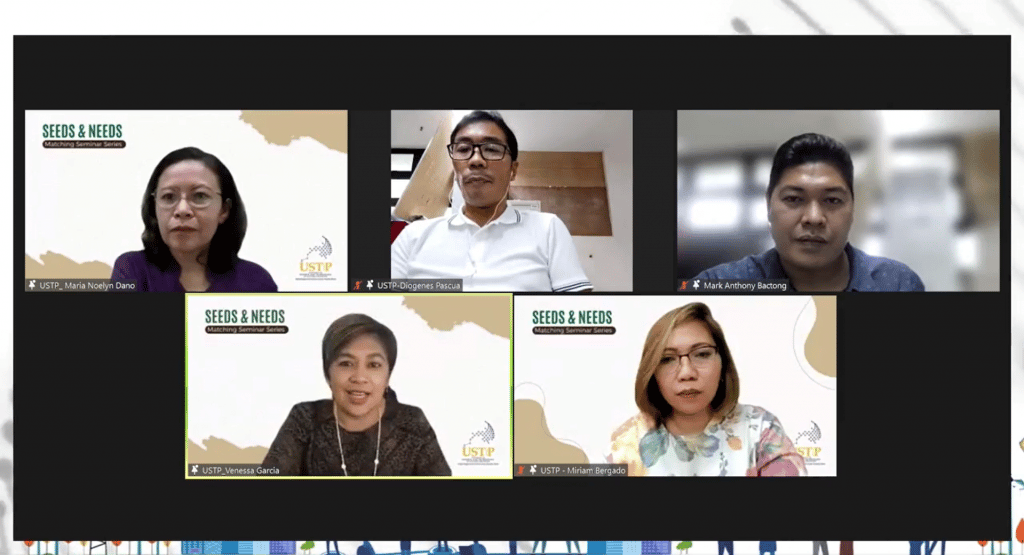 Dr. Venessa A. Garcia (lower-left), USTP System TPCO Director, extends their office's services to the presenters and virtual participants
Dr. Venessa A. Garcia, Director for the Technology Promotions and Commercialization Office (TPCO) of the USTP System also extended their office's services to the presenters, saying "we hope for these technologies to find the perfect industry partner who can adopt the technology and be able to give our share in the economic development—our role in the whole innovation ecosystem."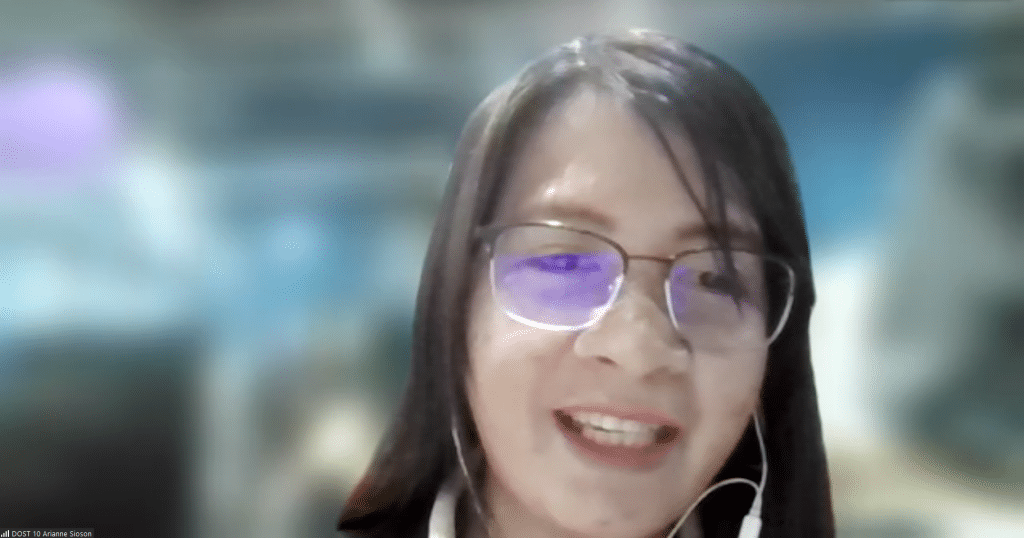 Ms. Arianne S. Sioson, DOST-X Science Research Specialist, gives the concluding message for the Seeds & Needs webinar
Ms. Arianne S. Sioson, a Science Research Specialist from the DOST-X, concluded the virtual seminar, encouraging researchers and innovators to continue with their endeavors. She challenged the participants by asking the question: "If you will not do it, who will?"
Indeed, it is only through our actions and innovative solutions that we can shape the world into a better place not only for us but also for the many generations to come.