Mindanao Journal of Science and Technology (MJST) maintains presence in international databases
By Reymark P. Malinda, MJST Assistant Editor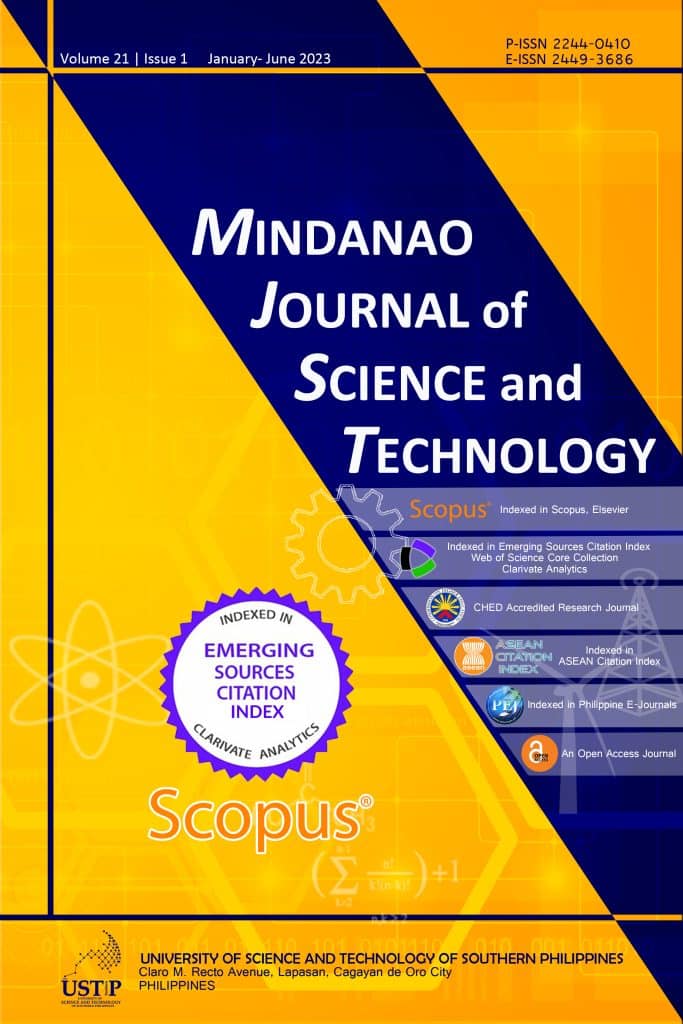 The Office of Publication of USTP CDO is thrilled to announce that the Mindanao Journal of Science and Technology (MJST), the official scientific journal of USTP, is still indexed in major databases, namely Scopus, Emerging Sources Citation Index (ESCI), and the ASEAN Citation Index (ACI) with increasing citations as of 2023.
With the addition of MJST Issue 1 of Volume 21 (2023), 120 scholarly articles from 2019 are now in the Scopus database owned by Elsevier. MJST has received 82 citations from other articles in the same database with a total Citescore of 0.7; it is ranked 104th among 134 journals under the multidisciplinary category.
MJST's current Scopus profile (https://www.scopus.com/sourceid/21100942865)
Concurrently, MJST continues to glimmer among the journals listed in ESCI under the Web of Science Core Collection of Clarivate Analytics with a Journal Citation Indicator score of 0.07. All articles published by MJST from 2010 to the present appear in ESCI.
MJST's profile on Web of Science Core Collection of Clarivate Analytics (https://mjl.clarivate.com/journal-profile)
Meanwhile, the ACI re-evaluated 661 previously listed journals in its database for quality assurance. The results showed that only 405 (61.27%) passed the review process. Notably, MJST is among the 26 Philippine-based journals that have been continued for inclusion in the database; MJST has been covered by ACI since 2019.
Snippet of the official notification letter from ACI
Formerly called IMPACT, MJST was at the helm of the former Editors-in-Chief (EIC), namely Dr. Consorcio S. Namoco, Jr. (2010-2013) and Dr. Ruel R. Cabahug (2014-2022). The journal is presently manned by Engr. Ruth April A. Labajan (EIC), Engr. Bredith Grace Bucton-Venoya and Mr. Reymark P. Malinda (Assistant Editors), and Mr. Arnel L. Edo (Technical Staff).
MJST is an open-access journal that accepts papers in the fields of science, technology, and engineering. Other information can be found on its website: https://mjst.ustp.edu.ph/.
The Publication Office, under the strong directorship of Dr. Ruth G. Cabahug, would like to express its immense gratitude to the authors, reviewers, and editorial board of MJST and the USTP administration for their unwavering support, which has been instrumental in maintaining MJST's inclusion in the aforesaid reputable databases. With this feat, the journal aspires to receive more citations and further impact the scientific community in the coming years.