USTP, DAP forge new partnership for transformative education
By Eric Vincent A. Dotarot, USTP System Strategic Communication Office​
From left to right: Dr. Vanessa V. Ascaño, Vice President for Finance, Planning, and Development, and Quality Management Leader of the USTP System; Atty. Dionel O. Albina, Chancellor, USTP CDO; Dr. Ambrosio B. Cultura, II, USTP System President; Atty. Engelbert C. Caronan, Jr., President and CEO, DAP; Ms. Monina Agrifina R. De Armas, OIC Senior Vice President for Services, DAP; and Mr. Mark Lemuel L. Garcia, Vice President, DAP sa Mindando (DSM)
On August 23, 2023, the University of Science and Technology of Southern Philippines (USTP) forged a significant partnership with the Development Academy of the Philippines (DAP) at the USTP CDO Boardroom. The gathering witnessed the formal signing of a usufruct agreement and a Memorandum of Agreement (MOA) that laid the foundation for collaborative educational endeavors.
The event began with an opening message by Dr. Ambrosio B. Cultura II, USTP System President. Dr. Cultura emphasized the importance of forging alliances that foster innovation and transformation in education. He expressed optimism about the prospects of the partnership and its potential to reshape the educational landscape.
Atty. Engelbert C. Caronan, Jr., President and CEO of DAP, shared his vision for the future of education in his address. He envisions a dynamic education system that offers specialized, shorter courses, moving away from the traditional four-year structure, emphasizing that this would help especially that education is constantly evolving.
The highlight of the event was the official signing of the usufruct agreement, marking the co-location of the DAP Northern Mindanao Development Hub within the USTP campus. Mr. Mark Lemuel L. Garcia, DAP sa Mindanao (DSM), extended his message, emphasizing the collaborative efforts to create a future of transformative education. He stressed that the partnership aims to set new regional standards in education and innovation, benefitting the University and the entire community.
Dr. Vanessa V. Ascaño, Vice President for Finance, Planning, and Development, and Quality Management Leader, also present at the event, expressed her enthusiasm for the future endeavors that the partnership between USTP and DAP will bring forth.
Following these inspiring messages, the ceremony moved on to signing the Memorandum of Agreement between DAP and USTP. The MOA signifies a commitment to bend the reality of education through a transformative immersion into strategic foresight. Mr. Anton Angelo R. Arevalo, a DAP representative, gave a brief presentation describing the strategic initiatives that DAP will take to bridge capacities and promote development throughout Mindanao.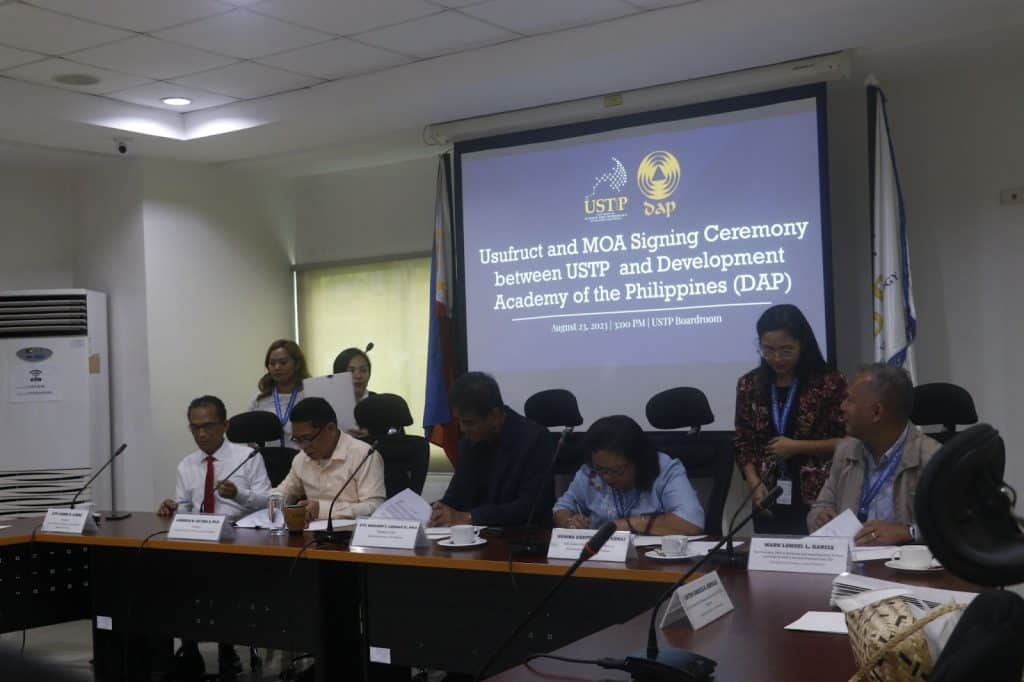 USTP and DAP key officials with participants of the event
The occasion not only marked a significant collaboration between two esteemed institutions but also provided a platform to exchange ideas, share visions, and build connections that will shape the region's future of education and development. As the collaboration between USTP and DAP grows, it has the potential to become a driving force in ushering in a new era of education in Northern Mindanao.