By Peter Jon L. Mendoza, USTP CDO Faculty
In its debut at the recently concluded 2022 TESDA Provincial Skills Competition in Misamis Oriental, the University of Science and Technology of Southern Philippines (USTP) Cagayan de Oro (CDO) Culinary Arts Program dominates supreme in the region as it bagged two 1st place awards.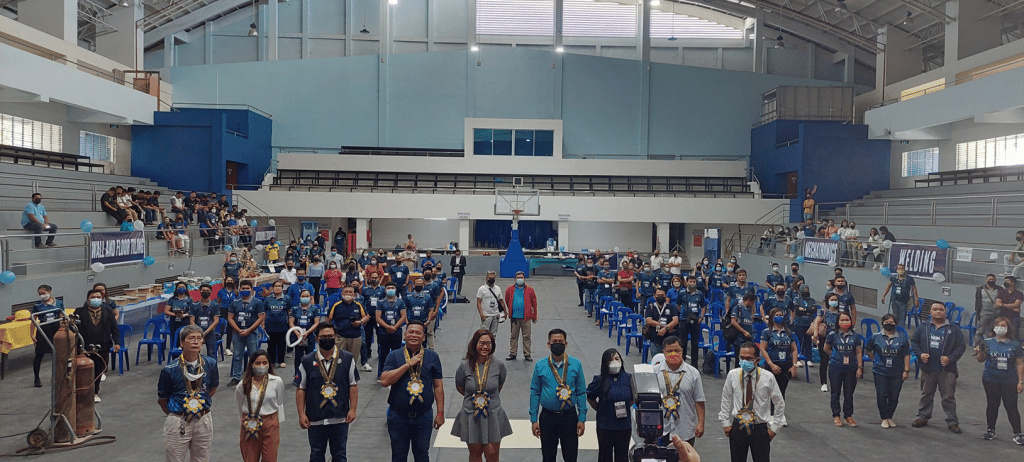 Key officials pose for a photo opportunity with the participants of the 2022 TESDA Provincial Skills Competition
The one-day competition was held at the Dr. Ricardo E. Rotoras (DRER) Memorial Hall in USTP CDO on July 7, 2022. It was organized by TESDA-X and co-hosted by USTP CDO through the Institute of Continuing Education and Training (ICET) under the leadership of ICET System Director, Engr. Erich P. Abad, and in collaboration with the College of Technology and the College of Science and Technology Education.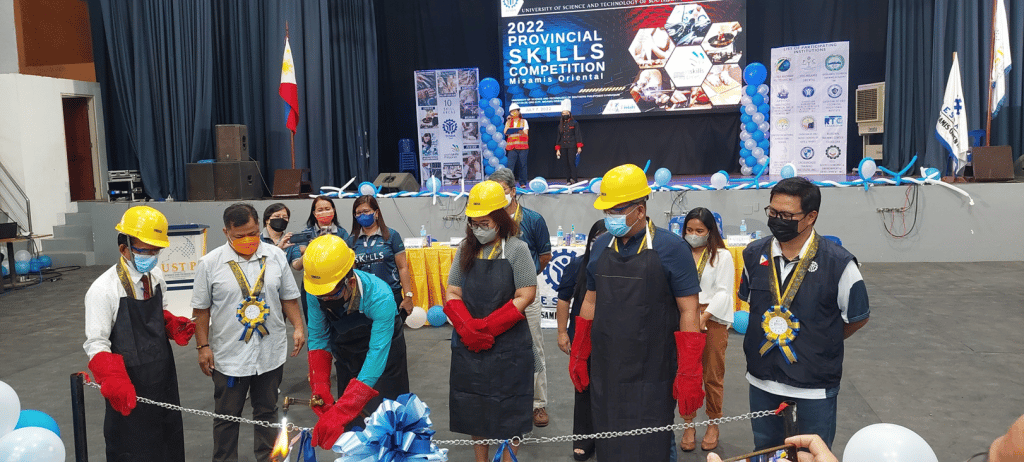 The ceremonial cutting of the Competition Chain for the 2022 TESDA Provincial Skills Competition
The competition was participated in by the following institutions:
USTP CDO
Global Mindanaw Polytechnic Inc.
Provincial Training Center (PTC) Misamis Oriental
Highlands Technical Training Academy, Inc.
Asia Pacific Technical Skills Development Center, Inc.
Christian Samaritan Health Services and Technical School, Inc.
Cagayan de Oro Technical Vocational Institute
TESDA – Kinoguitan National Agricultural School
Cagayan de Oro (Bugo) School of Arts and Trades (COBSAT)
TESDA Regional Training Center – Tagoloan
Crossroads Training Institute, Inc.
TCO Socio-Economic and Environmental Development, Inc.
The said institutions competed in 10 skill areas: welding, carpentry, IT network systems administration, automobile technology, cooking, electrical installation, restaurant services, wall and floor tiling, bakery, and mechatronics.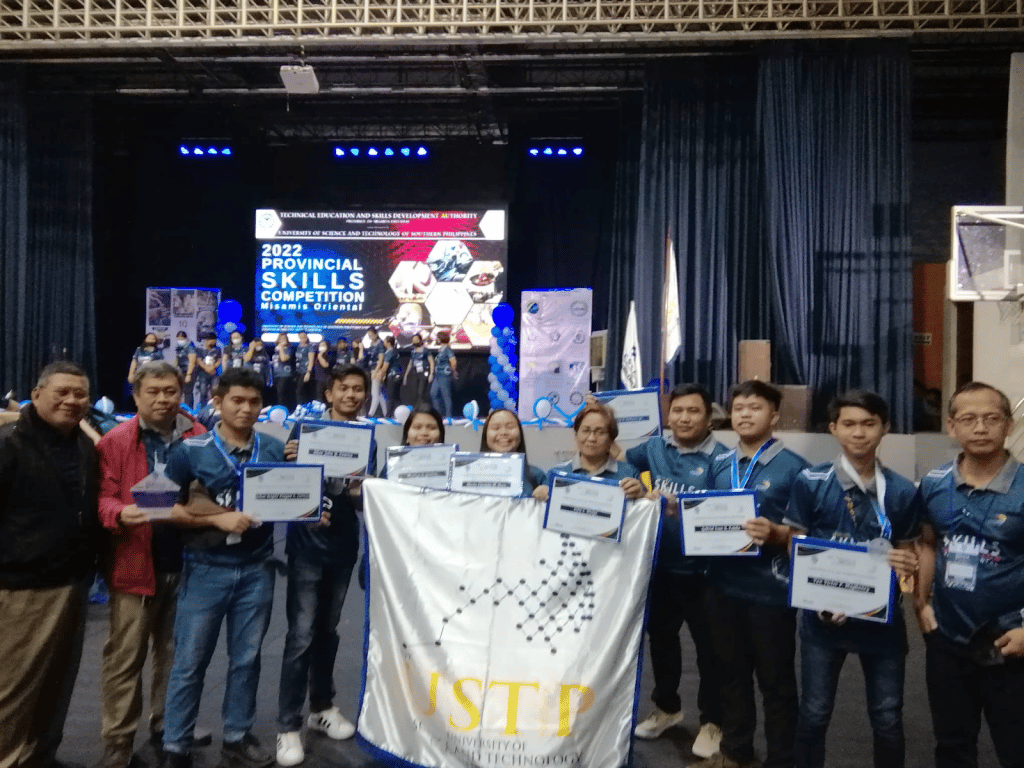 UNDENIABLE FEAT: (Center-Right) Mr. Fabela and Ms. Hora with their coaches (Dr. Naelga and Ms. Gualiza) proudly carrying the USTP CDO banner with the other participants
During the awarding ceremony, Ms. Maria Carmela Hora and Mr. Gabriel Fabela, both 3rd year Bachelor of Technology and Livelihood Education-Home Economics (BTLEd-HE) students, won 1st place in the Baking and Cooking categories, respectively.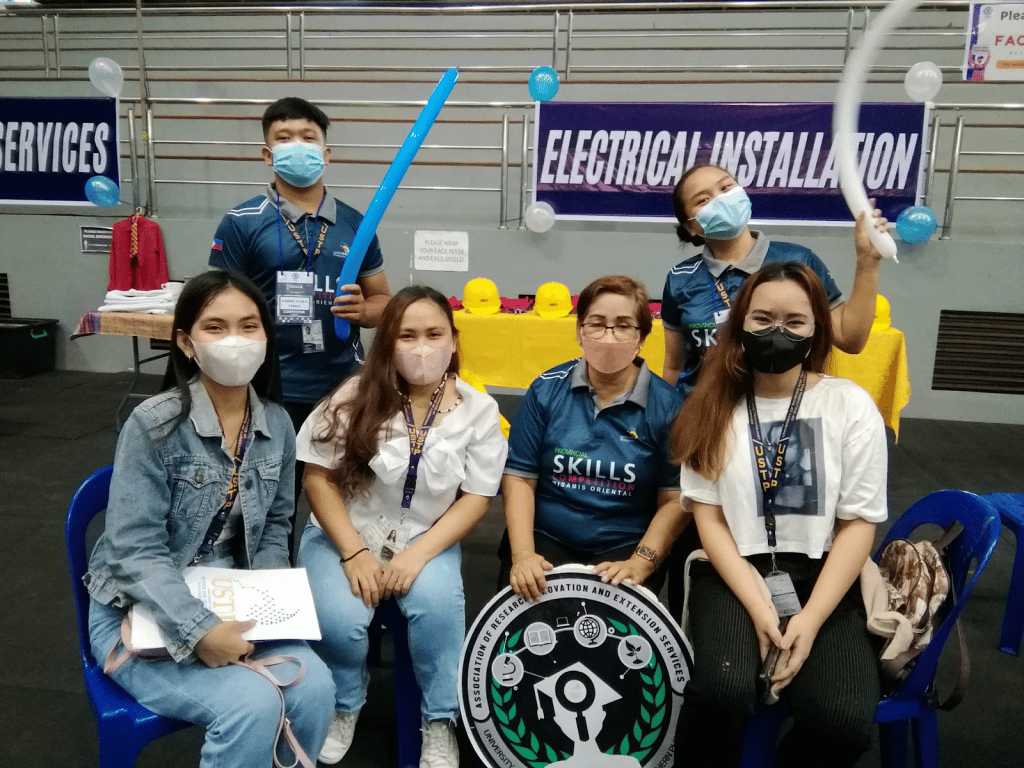 TEAMS WORK TOGETHER: Dr. Naelga (center) with Fabela and Hora (back)  and their supportive batchmates
"All the hard work and valuable training with our coach paid off," Ms. Hora exclaimed in an interview.
Mr. Fabela said it was an experience that he will never forget.
Both expressed gratitude for the dedication and professionalism of their outstanding coaches, Dr. Sofia Naelga (Cooking) and Ms. Manilyn Gualiza (Baking), both core faculty members of the Department of Technician Teacher Education of the College of Science and Technology Education in USTP CDO.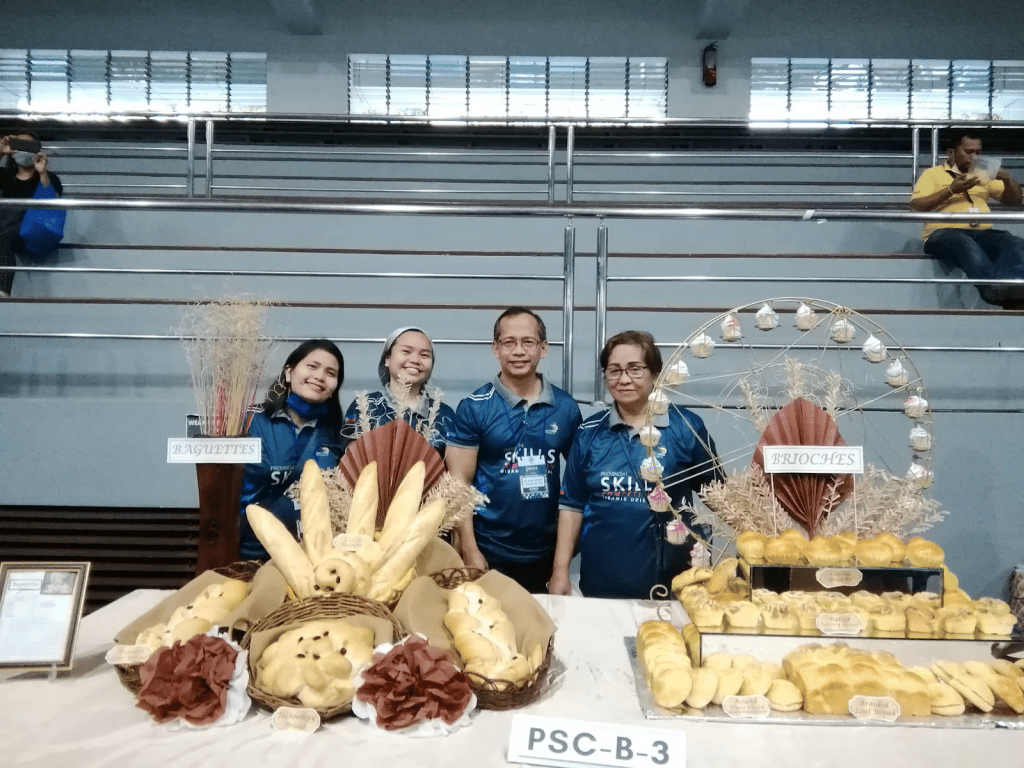 WINNING PIECE: The Culinary Duo of Naelga & Gualiza poses with Dr. Ruvel Cuasito with their winning entry.
The tandem of Prof. Naelga and Ms. Gualiza constantly delivered regional, national, and international recognition for the Culinary Arts Program of USTP CDO. Previously, the Naelga-Gualiza duo were declared National Winners at the Ajinomoto Umami Culinary Challenge in 2015 and a repeat as coaches to the TLE Seniors in 2017.  
"The true purpose of the competition is to strengthen and reinforce the theoretical component of the Culinary Arts program in the region with the actual real-life world-of-work scenarios that our students would face after school. So, our motivation in the program is to ensure that our students are indeed competent and ready for work," Dr. Naelga confidently said in an interview.
Ms. Gualiza added that they "not only prepare the students for one career path," but also "ensure that the future graduates of the program will be self-employed as entrepreneurs" or "productive partners in the industries" where they fit best.
Here is the complete list of winners from the USTP CDO campus:
First Place (Baking)

Maria Carmela Hora
Coach: Ms. Manilyn Gualiza

First Place (Cooking)

Gabriel Fabela
Coach: Dr. Sofia Naelga

First Place (Mechatronics)

Van Victor Maghanoy
Coach: Engr. Romano Pimentel

Second Place (Mechatronics)

Gelan Angelo Cericos
Coach: Engr. Romano Pimentel

Third Place (Welding)

Allen John Pamisa
Coach: Cerilo Buna
Keep moving onwards and up, Trailblazers!