USTP celebrates milestone as Top 1 Performing School in February 2023 ME Licensure Exam
By Mary Rose D. Valerio, USTP System STRATCOMM
On March 2, 2023, the University of Science and Technology of Southern Philippines obtained the recognition as top performing school for the February 2023 Mechanical Engineering Licensure Examination conducted by the Professional Regulation Commission (PRC).
In the last few years, USTP CDO has also won praise for its performance in the Mechanical Engineering Licensure Examination. The campus was recognized as the Top 4 Performing School for the said exam with a passing rate of 83.33% in August 2022. Then, in August 2019, USTP CDO garnered the recognition of Top 7 Performing School with a passing rate of 91.67% in the same exam.
In celebration of the university's success, USTP Cagayan de Oro (CDO) held a convocation program for the newly licensed Mechanical Engineers the following day, March 3, 2023, at the DRER Memorial Hall.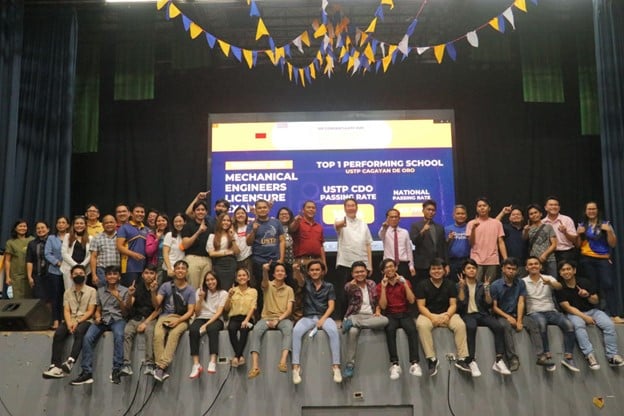 Atty. Dionel O. Albina, USTP CDO Chancellor; Dr. Jocelyn B. Barbosa, USTP CDO Vice Chancellor for Academic Affairs; Dr. Vanessa V. Ascaño, USTP System Vice President for Finance, Planning, and Development; Cong. Rufus B. Rodriguez, USTP Board of Regents Member and 2nd District Representative of Cagayan de Oro City; Engr. Leona Maye P. Gemina, Chairperson for the Mechanical Engineering (ME) Department of USTP CDO; and Dr. Lory Liza D. Bulay-og, Dean for the USTP CDO College of Engineering and Architecture, expressed congratulatory words for the forty-four (44) newly licensed Mechanical Engineers.
In his speech, Atty. Dionel O. Albina emphasized the importance of unity and discipline in achieving success.
Engr. Leona Maye P. Gemina, in addition, raised a challenge and a reminder for the ME Department and the university community as a whole: "We must continue to strive for excellence, to push the boundaries of knowledge, and to maintain our commitment to producing world class mechanical engineers."