USTP Panaon joins LGU Sinacaban Workshop on Review and Updating of Local Fisheries Policy and Developing Local SSF Guidelines
By Charlemagne P. Recente, BSMB Faculty
The University of Science and Technology of Southern Philippines (USTP) in Panaon, Misamis Occidental, was invited to participate in the Workshop on Review and Updating of Local Fisheries Policy and Developing Local SSF (Small-Scale Fisheries) Guidelines last March 30-31, 2023, held at Alma's Rock and Campsite, Poblacion, Sinacaban, Misamis Occidental. The workshop was organized by the Local Government Unit (LGU) of Sinacaban to review and update the local fisheries policy by incorporating the advocacy on community involvement, making it more sustainable.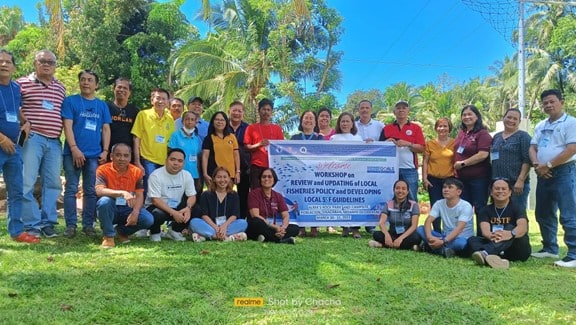 Mr. Charlemagne P. Recente, a BS Marine Biology faculty represented USTP Panaon as a partner academic institution.
Local fisheries policy is critical to sustainable development because it ensures the conservation of marine resources as well as the livelihood of local communities. The local fisheries policy needs to be reviewed and updated often, and this is a process that calls for community input and engagement, which prove critical to the success of the local fisheries policy. Fishing communities have intimate knowledge of the marine environment, which can inform policy development and implementation. Community engagement ensures that local perspectives are considered in decision-making, resulting in policies that are relevant and effective. Additionally, community engagement builds trust between policymakers and fishing communities, fostering cooperation and collaboration.
Despite the benefits of community engagement, there are several challenges to its implementation. Limited resources, lack of IEC activities, education, food, health and inadequate representation can hinder community participation. Additionally, power imbalances between fishing communities and policymakers can lead to ineffective engagement and exclusion of local perspectives.
To overcome these challenges, policymakers can adopt best practices for community engagement. This includes creating opportunities for dialogue between fishing communities and policymakers, providing education and training on policy development, and ensuring representation of diverse groups in decision-making. Furthermore, policymakers can prioritize the needs and interests of fishing communities in policy development, ensuring that policies are equitable and sustainable.

In conclusion, local fisheries policy and sustainable development rely heavily on LGUs, community involvement, and the support of the academic community working together. Fishing communities can inform policy creation and execution by providing appropriate and effective information, education, and communication, as well as active engagement. If policymakers want to ensure that local voices are heard and accounted for, they must make community involvement a top priority and standard operating procedure. Conservation of marine resources and local economies can be advanced via concerted efforts of policymakers and fishing communities.