USTP System President talks importance of renewable energy during ATU-Net World Engineering Day 2023
By Jomerl I. Gomez, USTP System STRATCOMM
On March 6, 2023, Dr. Ambrosio B. Cultura II, USTP System President, served as one of the guest speakers for the ATU-Net World Engineering Day 2023 (ATU-Net WED 2023), with the theme "Celebrating Engineers: Towards Sustainable Innovation in Engineering."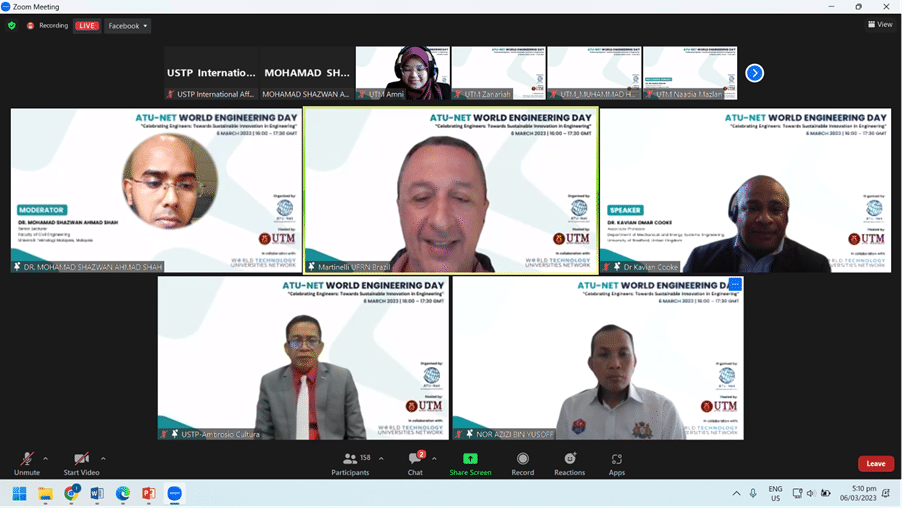 In his report, Dr. Cultura emphasized on the importance of renewable energy resources, such as solar, wind, hydropower, geothermal, and biomass energy, for sustainable development. He discussed their advantages and how they can be utilized through Distributed Energy Systems (DES), which are small-scale power generation technologies used to "provide an alternative to or an enhancement of the traditional electric power system."
Dr. Cultura also stressed on the following points:
renewable energy sources are generally far more sustainable than fossil fuel sources
development, innovation, and a desire to make a change is needed if renewable energy source is to be adapted as the solution to our energy crisis
the Philippines is filled with alternative or renewable energy resources, only if we seek out solutions to harness these natural energies and bring them forward for use
The USTP System President also expressed how interdisciplinary innovations can present potentials for sustainability, and how we should understand the role of other disciplines in complementing fields of engineering to create innovations and technology solutions with a meaningful impact to society. According to Dr. Cultura, it is through this that USTP has established service centers, innovation centers, and institutes that enable the university to directly respond to emerging challenges through innovation.
In line with this, he highlighted innovative solutions through automation and digitization of processes (powered by the university system's Digital Transformation Office), which the university has implemented in support of its energy projects.
In addition, Dr. Cultura mentioned that sustainable innovation cannot be attained without the right environment for it to thrive and continue to grow.
He then presented the Innovation Ecosystem, a type of environment where innovation is fostered, nurtured, and co-created. He stated that the university is not the only implementer in this kind of environment. The Innovation Ecosystem needs the participation of government agencies, co-working spaces, service providers, incubators, cooperators, and other key players to sustain innovation that is responsive and resilient, particularly to emerging challenges in energy.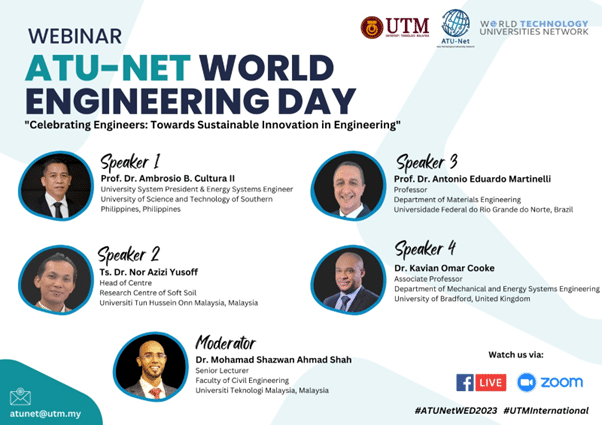 The USTP System President was also joined by other speakers from different universities across the globe with various fields and specializations:
Antonio Eduardo Martinelli, a Professor from the Department of Materials Engineering at the Universidade Federal do Rio Grande do Norte in Brazil
Nor Azizi Yusoff, Center Head for the Research Centre of Soft Soil at the Universiti Tun Hussein Onn Malaysia in Malaysia
Kavian Omar Cooke, an Associate Professor from the Department of Mechanical Energy Systems Engineering at the University of Bradford in the United Kingdom.
The webinar was facilitated by Dr. Mohammad Shazwan Ahmad Shah, a senior lecturer from the Faculty of Civil Engineering at the Universiti Teknologi Malaysia in Malaysia. It was organized by the Asia Technological University Network (ATU-Net), in collaboration with the World Technology Universities Network (WTUN), and was hosted by the Universiti Teknologi Malaysia (UTM).
Sources: USTP System International Affairs Office ATU-Net: Asia Technological University Network