BSMB students conduct Mangrove Walk and Assessment
By Celso C. Almirol & Christopher R. Balaba, USTP Panaon Faculty
Bachelor of Science in Marine Biology (BSMB) students of the University of Science and Technology of Southern Philippines (USTP) in Panaon, Misamis Occidental, conducted a Mangrove Walk and Assessment within the campus and at Barangay Punta, Panaon last March 9, 10 & 14, 2023.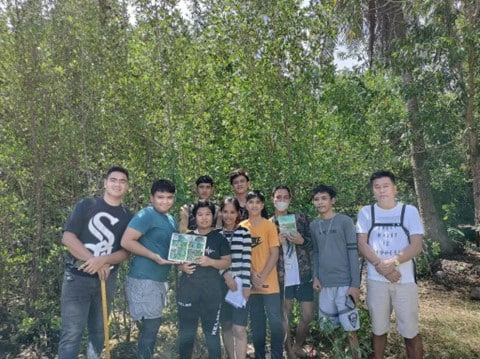 The activity aimed to acquaint students with the current status of the mangrove ecosystem of USTP Panaon and Punta Tumoy in Panaon, Misamis Occidental. A total of 136 freshmen students were assigned to the different areas of the mangrove ecosystems.
During the mangrove walk and assessment, students are taught mangrove identification, height and girth measurement, counting, and recording of species abundance.
Mangrove identification is based on the leaf's shape, formation, and arrangement. The mangrove's bark, flowers, and fruit are also considered in the process. A total of 15 recorded species under the three groups of mangroves (major, minor, and specialized) were identified.
Moreover, results revealed a total abundance of 716 mangrove specimens, where Lumnitzera racemosa was the most abundant mangrove species and the Aegeciras corniculatum the least number of mangrove species with only 6 abundance.
The identified mangrove ecosystem was also revealed to be diverse, with a computed diversity of 1.82, which lies within the desired diversity value of 1.5 – 3.5 to be considered diverse.
Mr. Celso C. Almirol facilitated the mangrove assessment, where the Field Guide on Mangrove Assessment by Primavera et al. (2004) and Montilijao et al. (2017) was used.