By Louisse L. Achacoso & Ryan L. Ga-as, The Trailblazer Publication
August 15, 2022 – In celebration of its 6th Charter Day, the University of Science and Technology of Southern Philippines (USTP) heard for the very first time the new USTP Hymn, which highlighted the University's mission, vision, and core values. The composition of the new USTP Hymn was the initiative of the Office of the President and the Strategic Communication Office.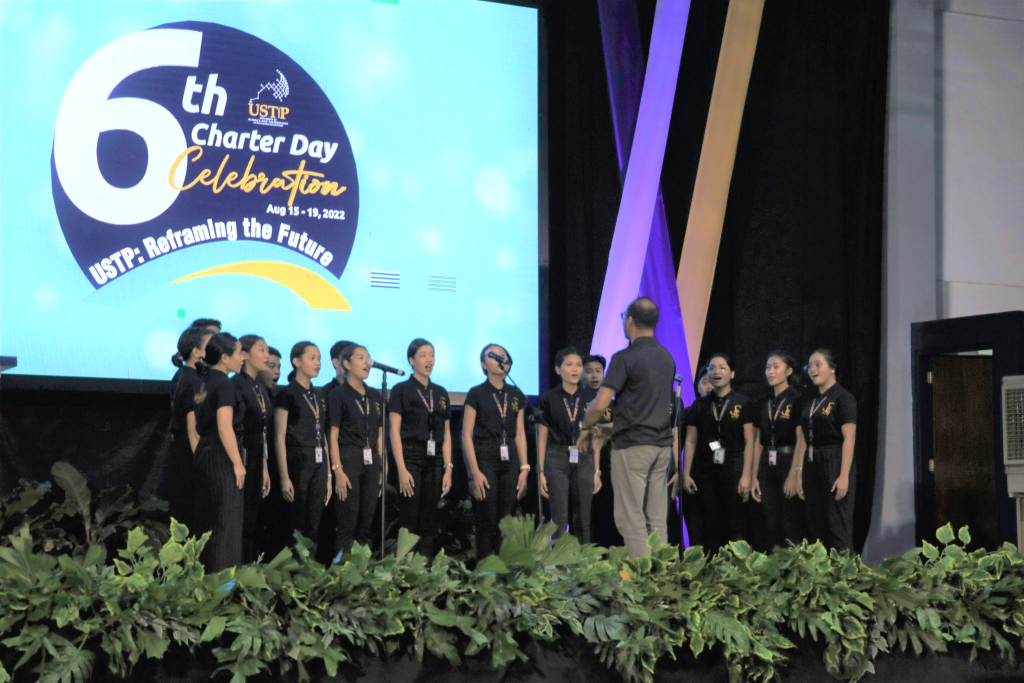 The USTP Sanghimig Chorale – with their Conductor, Mr. Bernard Mabao, Jr. – performing the new USTP Hymn a cappella at the Dr. Ricardo E. Rotoras (DRER) Memorial Hall.
To assist in the preparation of the hymn, an Ad Hoc Committee was constituted through OP Memorandum No. 059-A, s. 2021, that involved Dr. Maria Angeles D. Hinosolango as the chairperson, Dr. Renato O. Arazo as the vice-chairperson, alongside the respective members, Mr. Joel O. Abratiguin, Mr. Romeo M. De Asis, Mr. Gerum O. Salatan, Dr. Nenita D. Palmes, and two members of the USTP Board of Regents (BOR), Hon. Fritzie B. Salado, President of the USTP Federation of Faculty Associations, and Hon. Mateo Julio G. Gervise, President of the USTP Federation of Student Councils.
According to Dr. Hinosolango, the New USTP Hymn encapsulates the graduate's attributes and identity of being a Trailblazer.
The new university hymn was also made possible through the collaborative effort of a USTP alumnus and lyricist, Mr. Raymond Dalay, along with the orchestration and composition of Mr. Paul Tiburtius Salipong.
The creation of the new Trailblazer's Hymn was strengthened through OP Memorandum No. 001-B, s. 2022, where students, faculty, staff, and alumni were encouraged to take a survey via Google Form to collect their ideas upon crafting the university hymn.
One of the spectators during the event said that this development introduces new inspiration and brings forth a new challenge to the students at this university. Lady Trisha D. Salazar, incoming second-year BSTCM student attested, "This will surely be a new facade of the university. And hopefully makes every Trailblazer's dream a reality."
Photo contributions: Mark John Ajero, USTP University Digital Arts (UDA)