USTP Claveria snatches 3rd place in #Y4AGRI video contest
By Carlos Ian H. Mendoza & Aire Jade L. Taga, USTP Claveria STRATCOMM
On January 15, 2023, the Southeast Asian Regional Center for Graduate Study and Research in Agriculture (SEARCA) launched the Youth COVIDeo Contest through its flagship youth engagement initiative, Young Forces for Agricultural Innovation, or #Y4AGRI. The online announcement of the winners was made on March 1, 2023, where USTP Claveria's video entry titled "Perdigon Farm" was announced in 3rd place.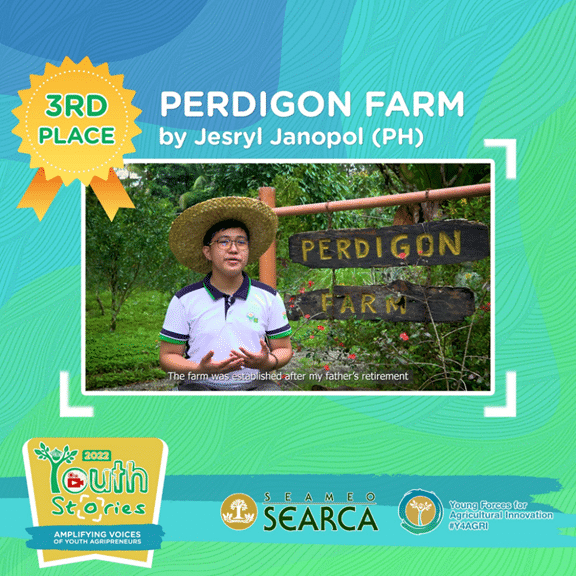 Perdigon Farm is a work by Mr. Jesryl Janopol, an instructor from the College of Agriculture at the University of Science and Technology of Southern Philippines (USTP) Claveria campus. The video entry, which represented the Philippines, showcases the youth success story of Mr. Francis Perdigon, a fourth-year Bachelor of Science in Agriculture (BSA) student majoring in Crop Science, and his agribusiness endeavor on his integrated and diversified farm located in Brgy. Manila de Busabos, Butuan City.
Read an overview of "Perdigon Farm" below (lifted from the SEARCA website):
In the hands of youth, countless possibilities for making a difference will grow. The rise of every young agripreneur is a new light rekindled. There is still hope. There is still a chance to save the world. Behold the beat of this young heart for agriculture, Francis Joseph Perdigon is a fourth-year BS in agriculture student majoring in crop science at the College of Agriculture, University of Science and Technology of Southern Philippines—Claveria Campus.
The #Y4AGRI video contest provides a platform for agricultural youth to tell their stories and be heard. This year's theme, "Amplifying Voices of Youth Agripreneurs," aims to highlight the potential of youth in debunking the stereotype that agriculture only deals with planting crops under the sun by positioning the activity as enjoyable, an advocacy, and a viable career option.
Keep moving onwards and up, Trailblazers!