By Jomerl I. Gomez, USTP System STRATCOMM
With the hopes of expanding scholarly ties and promoting closer academic collaboration with other higher educational institutions here and abroad, the University of Science and Technology of Southern Philippines (USTP) signed a Memorandum of Understanding (MOU) on March 7, 2022. The signing officially sealed a 3-year collaboration with the Northern Illinois University (NIU) for the Philippine Youth Leadership Program (PYLP) from 2022 to 2024.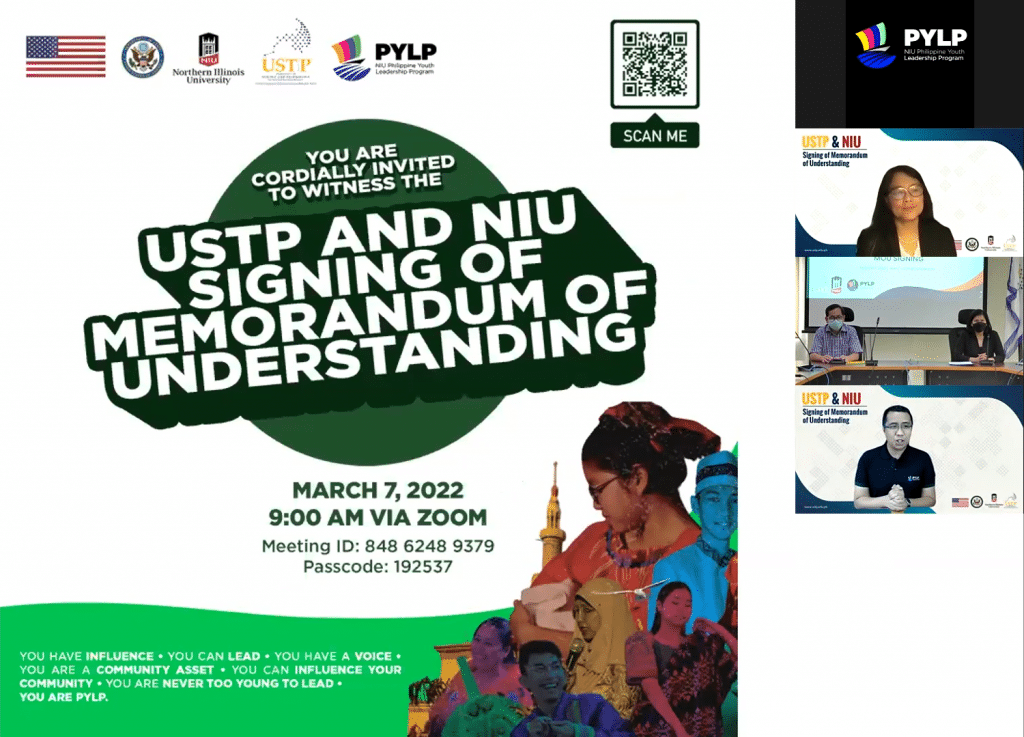 The Philippine Youth Leadership Program (PYLP) is a leadership development exchange that gives Philippine secondary students (ages 15-17) and adult mentors (ages 25-35) from Mindanao a four-week training in the United States. PYLP is now in its nineteenth year of providing student leaders from various communities throughout Mindanao the chance to take part in an intensive one-month leadership training and team-building experience in the USA. They have chosen the USTP System as their partner for the next three years of implementing the program in the Philippines.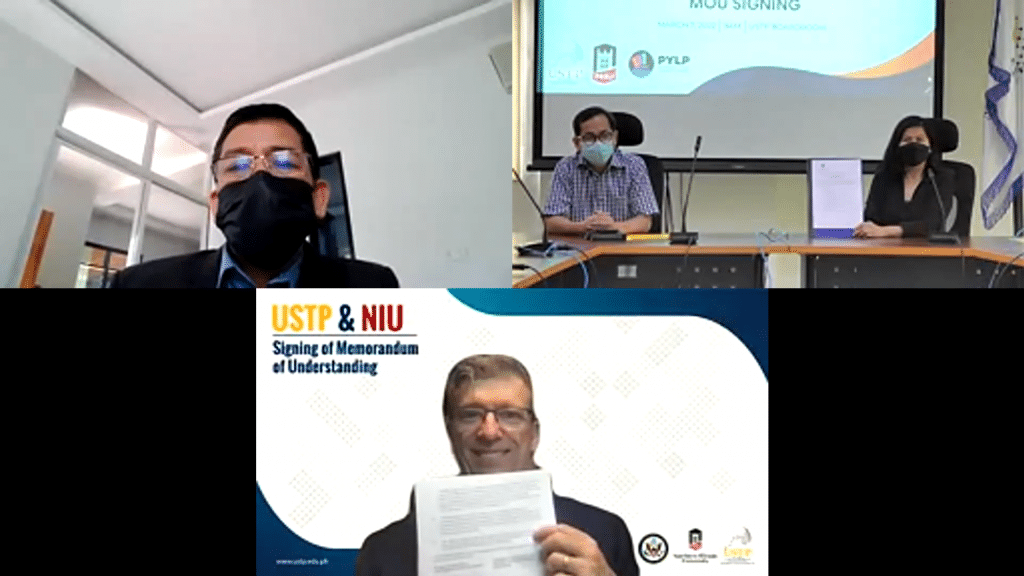 L-R: Dr. Ambrosio B. Cultura II, USTP System President; Engr. Reuel C.Pallugna, Presidential Assistant for External Affairs, and Dr. Ma. Elena L. Paulma, USTP System Vice President for Academic Affairs; and Mr. Robert Brinkman, NIU Dean of the College of Liberal Arts and Sciences during the virtual MOU signing
The PYLP primarily focuses on civic education, youth leadership, respect for diversity, community engagement, and environmental education — themes that they deem crucial in developing cross-ethnic relationships and understanding that allow for peaceful coexistence and cooperation in Mindanao.
USTP officials were joined by Prof. Rhodalyne Gallo-Crail, Program Director of PYLP at NIU, Dean Robert Brinkman from the NIU College of Liberal Arts and Sciences, and Dr. Judy Ledgerwood, CSEAS Director at NIU. The NIU officials expressed their gratitude and excitement for this partnership with USTP.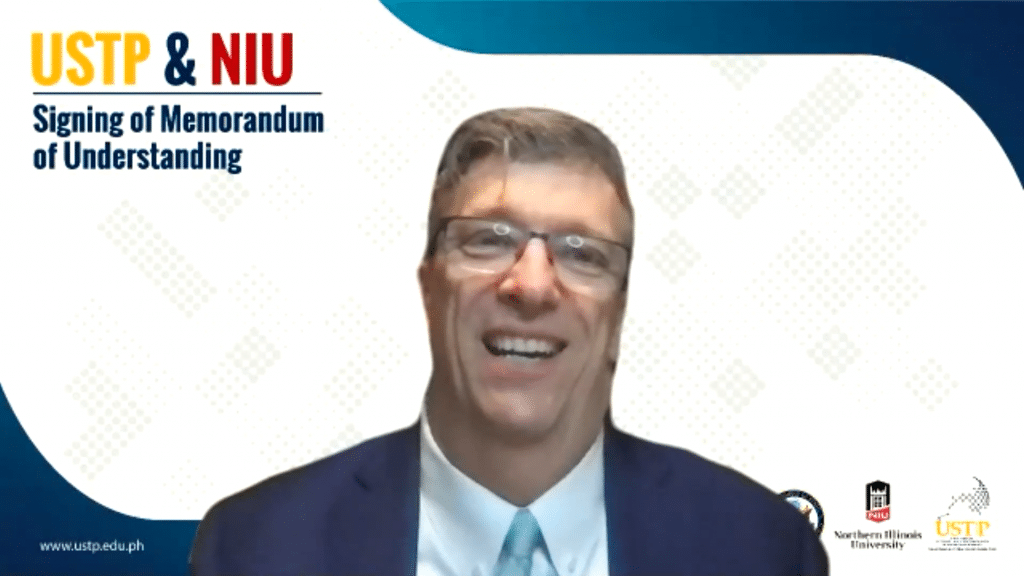 Dean Robert Brinkman of the College of Liberal Arts and Sciences at NIU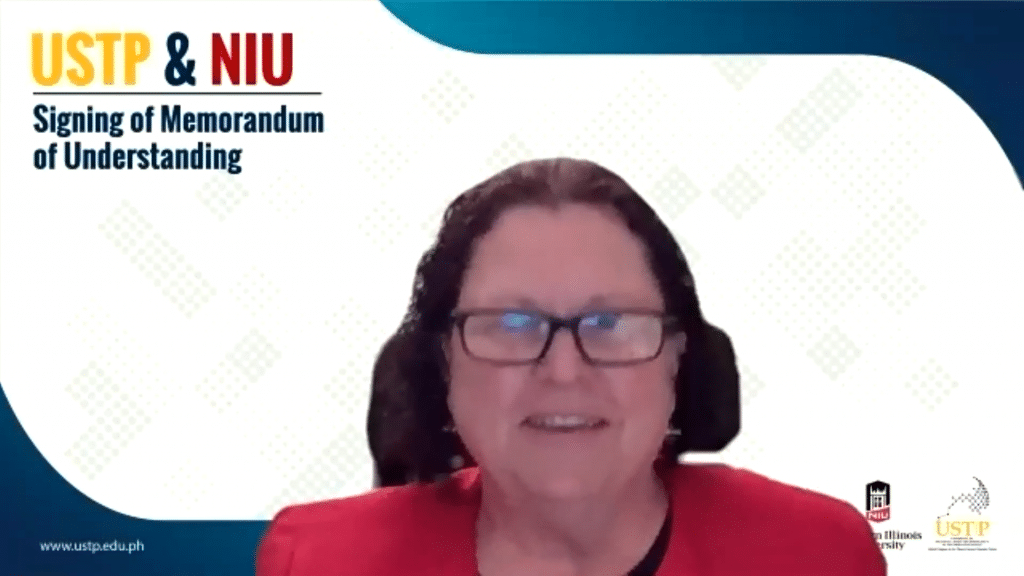 Dr. Judy Ledgerwood, Director of the Center for Southeast Asian Studies at NIU
Dr. Ambrosio B. Cultura II represented USTP System. During his message, he shared that he is confident that this collaborative effort can "transpire the socio-economic growth in the region and the country… by nurturing the next generation of innovators, scientists, entrepreneurs, and leaders in Mindanao by actively engaging our youth and encouraging them to become part of the change that we want in our country."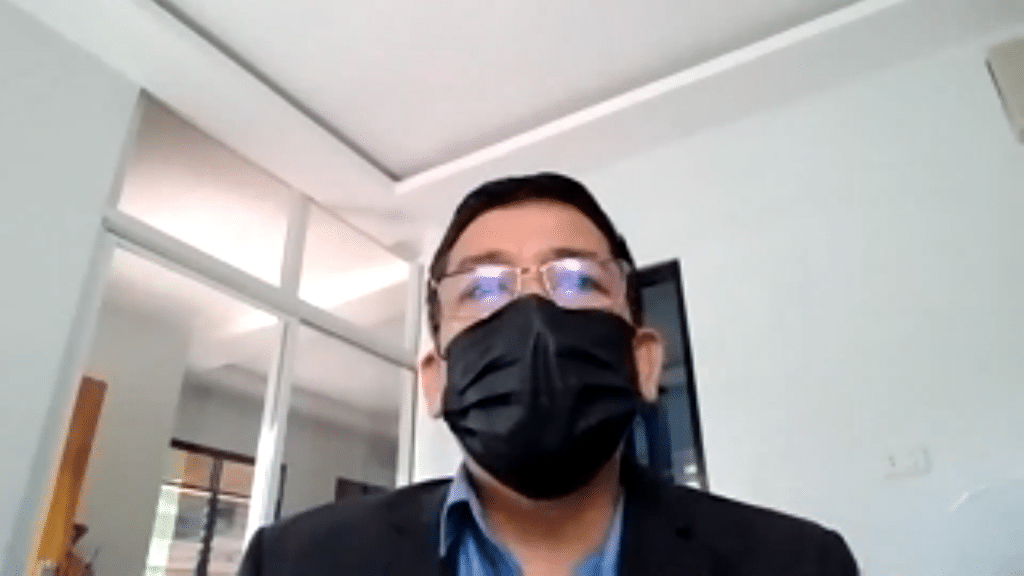 Dr. Ambrosio B. Cultura II, USTP System President
After the virtual MOU signing, the following PYLP Batch 19 semi-finalists were announced by Dr. Anito Librando Jr., PYLP Youth Program Officer, and Atty. Ernesto Neri, PYLP Special Programs Officer:
Male Youth
Jamael Abdulrauf
Jodenn Markalgallar
Ben Russel Ampahani
Churchly Keith Balatian
Roy Balladares
Junaid Basher
Hassam Gampong
Mohammad Ishaq Hadji Faisal
Adzrie Ishmael
Mohaimer Jailani
Ailan Maca-ampao
Anton Joaquin Khan Mala
Elmer Rendon
Keen Ramziz Rule
Vincent Paul Salayog
Charles Ivan Solis
Mohammad Sumpingan
Al-Azerbaijan Usman
Ben-Zha'ad Yusop
Female Youth
Ferry Anne Kyla Abdulganih
Jasmine Abelidas
Kiana Angela Bitos
Monique Cabanayan
Anjelica Edzel
Ianah Jeannie Eguia
Haneenah Habib
Francine Leigh Jumana
Hanirah Latip
Elyza Carisse Magalasin
Scherizna Managola
Allyza Sophia Manundo
Nurhafizah Mohammad Zaidie
Nursaeda Musaiya
Laviña Naive
Kaycee Louchel Occeña
Somaiya Padilla
Satrina Raja
Hana Samimi
Christine Jane Soria
Therese Orlhanne Tulabing
Male Adults
Al-Jayson Abubakar
Al Amen Guimbalan
Al-Rashid Nul
Rod John Pandili
Richard Sucion
Female Adults
Shielamar Judan
Sheila Manocay
Saima Maulana
Denzy Rose Tangkusan
Quennie Marie Zuyco
The semi-finalists will undergo an interview process to determine the final set of participants for the PYLP Batch 19.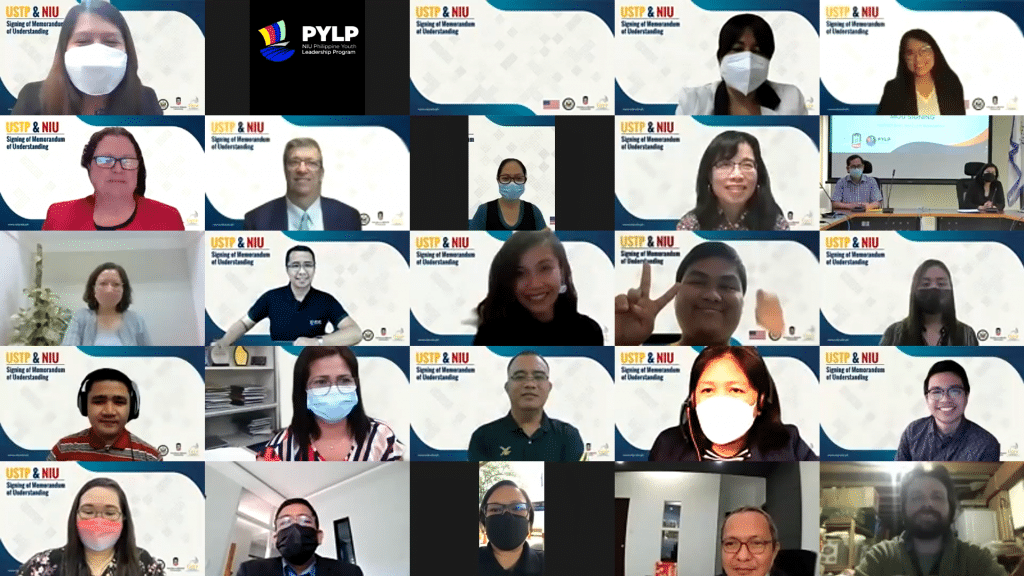 Zoom participants share a smile for the successfully concluded MOU signing
USTP and NIU look forward to empowering the youth and promoting community development in their respective communities.
Dr. Maria Angeles D. Hinosolango, Vice Chancellor for Student Affairs and Services and concurrent Director of Student Affairs at USTP CDO, moderated the virtual MOU signing.