Bachelor in Food Processing and Technology
After five years, graduates of Bachelor of Food Processing and Technology (BFPT) program will be:
Technically skilled and competent workforce in industries related to food processing and allied discipline towards improvement of quality of life.
Active practitioners and contributors in entrepreneurial activities and business ventures in the field of food and allied disciplines that supports economic development.
Proficient in promoting food sufficiency and security by conducting value adding of commodities.
Upon completion of the Bachelor of Food Processing and Technology (BFPT) program, graduates are able to:
Convey mathematical skills, ideas, and information effectively through oral, written, and non-verbal communication.
Apply professional, social, and ethical responsibility in food preparation, services, and processing for employment and business engagement.
Utilize various information and communication technology (ICT) media for presentations, packaging designs, and other entrepreneurial related activities.
Holder of National Assessment and Certification related to food and allied disciplines.
Show management, service, and customer care skills in local, national, or global business arena to optimize productivity and gainful employment.
Participate or contribute new knowledge for product commercialization to improve food security and alleviate economic status.
Exhibit a holistic development of a mature and rationale individual in dealing and advocating ethical, social, entrepreneurial, and environmental endeavors as a sustainable lifelong process.
Utilize the competencies in baking, catering, food processing, and allied proficiencies in entrepreneurship, management and marketing to a gainful and cost-effective business venture using a locally produced high valued commodities with a global quality.
Work effectively and efficiently in multi-disciplinary and culturally diverse environment to promote gender equality and patriotism by engaging in agri-eco, cultural, and tourism activities.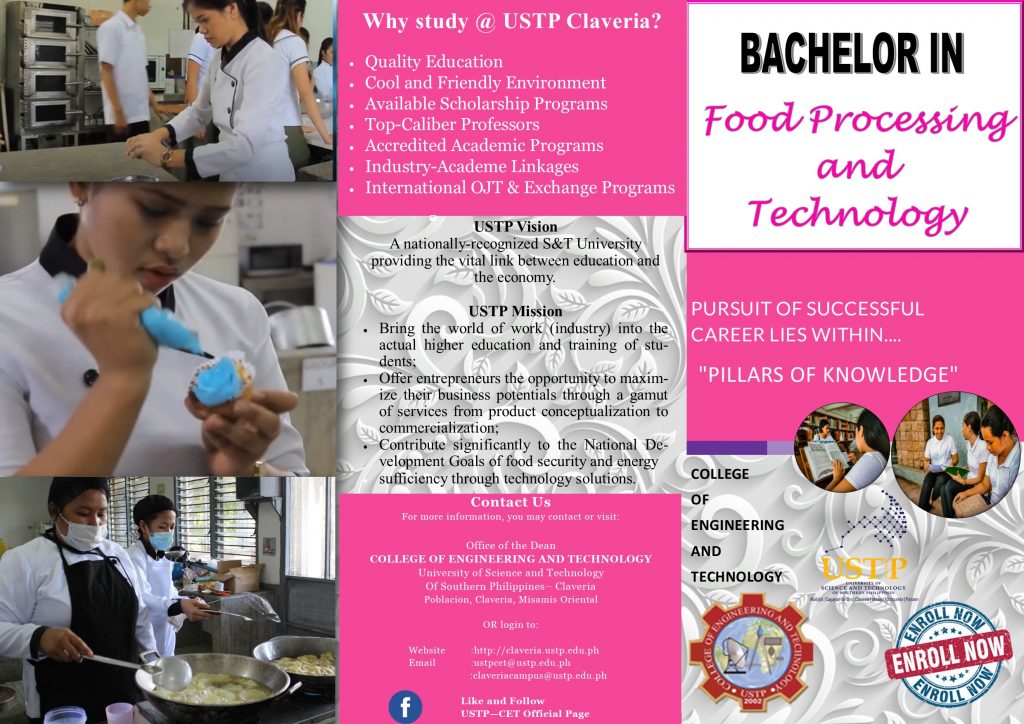 Food Quality Assurance Specialist/Analyst
Food Quality Control Officer
Food Quality Inspector
Food Product Developer
Food Processor
Research Assistant
Audit and Inventory Specialist
Food Business Entrepreneur
Professional Baker
Chef
Restaurateur