Dr. Adams obtained his Ph.D. in Educational Leadership from the University of Malaya. He is a recipient of the University of Malaya's Bright Sparks scholarship – a special program at UM to upgrade research and publications by selecting outstanding researchers (Bright Sparks) from within UM and other universities to serve with UM and a recipient of the University of Malaya's Excellence Award 2016: PhD Completion in Less than 3 Years.
He is also a candidate for AKEPT's 'Young Scholars Leadership Programme' 2016 and University Malaya's Emerging Scholars Leadership Advancement program (EmeraLd).
He is an author and reviewer of Web of Science ISI (Social Science Citation Index) and SCOPUS journals and the Editor-in-chief for the International Online Journal of Educational Leadership (IOJEL).
He is actively involved in research and development work in the area of leadership in special educational needs and school-wide reformation of inclusive education agenda in Malaysia.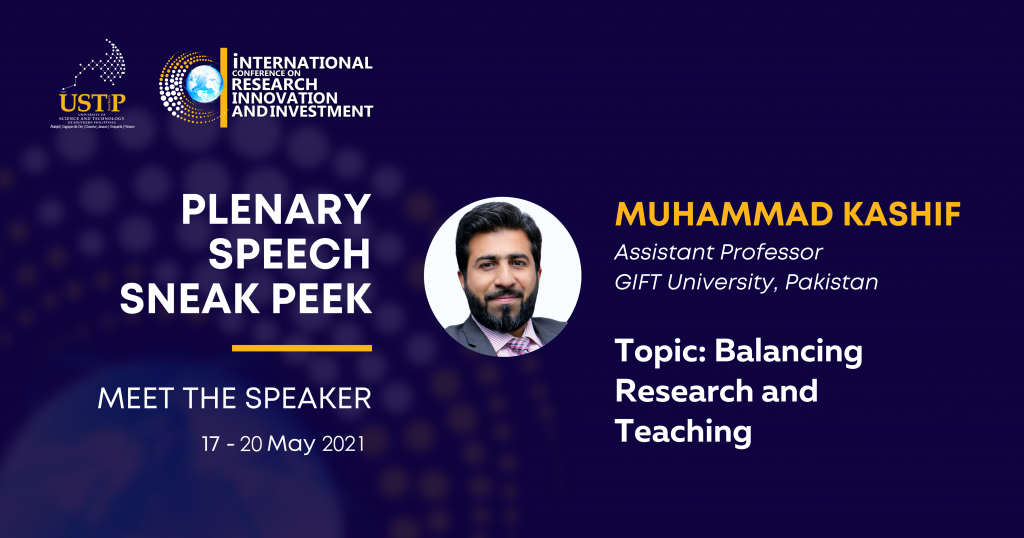 Prof. Kashif has been serving the higher education institutes for the 16 years in different capacities. While teaching to undergraduate and MBA students, he had a chance to teach courses by following a Case-based pedagogy. It resulted into development of critical thinking skill that took him to Emerald publishing as a brand ambassador to offer different training programs i.e. case-based teaching awareness, writing cases, and capacity building for faculty in business schools. So far, he has been able to travel to different Asian and African countries to deliver training programs for PhD students and faculty.
Apart from teaching, he was able to publish 57 research articles in peer-reviewed international journals. A significant element of these publications is not only the quality of journals but also the successful collaborations with co-authors from more than 15 countries. Recently, he successfully completed a call for papers in his role as a guest editor for British Food Journal, a 116 years old outlet. There he got a chance to work in close collaboration with Professor Chris from Cardiff University in United Kingdom. Moreover, he served as Head, Faculty of Management at GIFT University where he was able to strengthen financial position of the faculty and also worked in close collaboration with faculty members and colleagues from industry. Currently, he is working with University of Colombo, as a doctoral researcher and also an adjunct professor to teach various modules at the Business school. Moreover, he is serving as Editor, South Asian Journal of Marketing and Associate Editor, Asia-Pacific Journal of Business Administration.
Dr. Angela Yung-chi Hou has been actively committed to quality assurance practices and international research for more than 15 years, including serving as Vice President & Board member of the International Network of Quality Assurance in Higher Education (INQAAHE), Vice President & Board member of Asia Pacific Quality Network (APQN), and international reviewer of institutional and program accreditation in several countries, including UK, Hong Kong, Macao, Philippines, Mongolia, etc.
She specializes in higher education policy, quality management, internationalization, faculty development, and quality assurance of cross-border higher education.
She is the author of CHEA Principles "Principle 1 Quality and higher education providers" and was the first Asian scholar interviewed by The Newsletter of the CHEA International Quality Group (CIQG). She has been recognized by Springer as one of the top 24 Asian researchers in the field of higher education.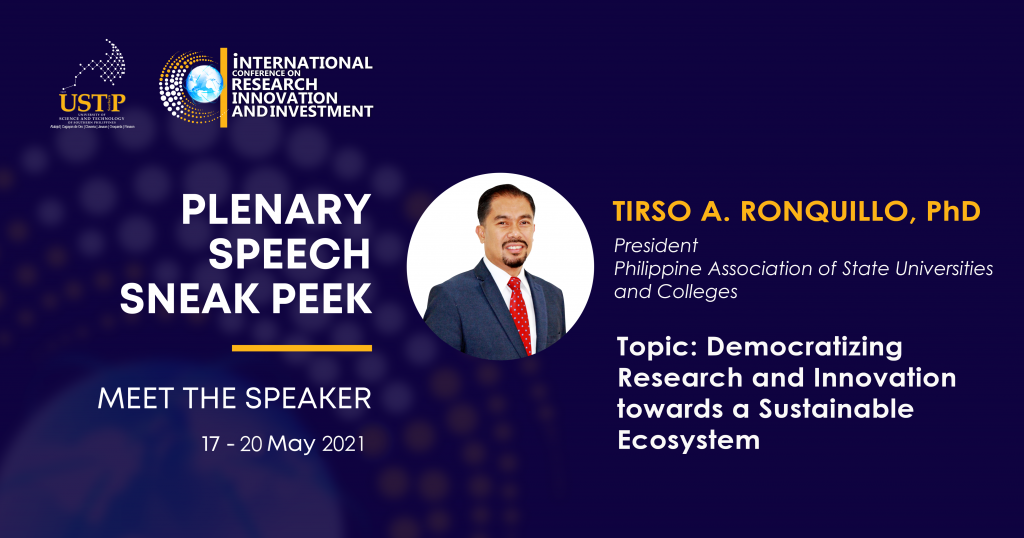 Dr. Ronquillo's research publications and presentations are distinctive affirmations of his academic and research proficiency, most especially in the fields of engineering innovation, technopreneurship, and disaster risk management. His professional activities brought him to Australia, Germany, South Korea, Japan, Taiwan, Cambodia, Malaysia, Singapore, and the USA, among others. He has also published the outputs of his research work in international and national refereed journals such as the Journal ofEnergy Technologies and Policy and the International Journal of Pure and Applied Mathematics. He also has 5 IP and patent applications for his inventions and industrial designs. Two of his most recent research projects have received nationwide recognition: Tactical Operative Amphibious Drive (TOAD) and the Solar-powered Isotropic Generator of Acoustic Wave (SIGAW).
He also established the university's Center for Technopreneurship and Innovation (CTI), which helps its Technology Business Incubators succeed by providing a supporting ecosystem that includes financing, mentoring, leadership development and technology commercialization. Through this, BatStateU received a grant for the establishment of the South Luzon Hub for Technopreneurship and Innovation from CHED. He spearheaded the development and offering of 24 Emerging Academic Programs in Engineering and Allied Fields and establishment of the university's Center for Transformative Learning (CenTraL). He has also spearheaded the establishment of the Knowledge, Innovation and Science Technology Park, the first technopark in the university and is approved by the Philippine Economic Zone Authority and proclaimed by President Duterte as a Special Economic Zone. Recently, it received three (3) Stars in the Quacquarelli Symonds (QS) Stars University Rating and thus listed in the QS Top Universities.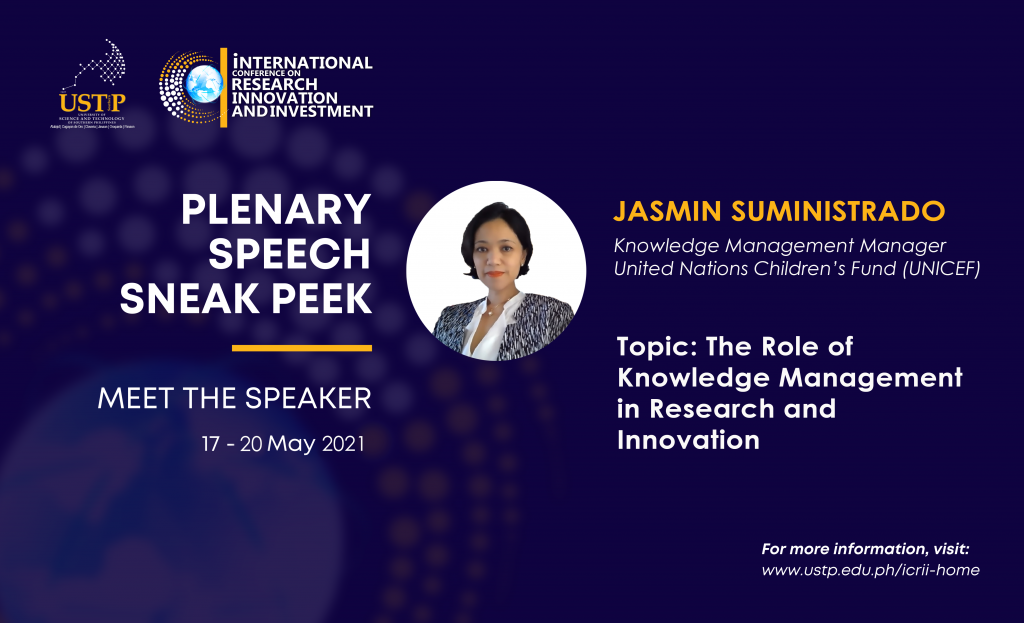 Ms. Suministrado has worked with the United Nations for almost a decade now, passionate about the role that Knowledge Management (KM) can play in the development sector. She currently serves as Knowledge Management Manager at UNICEF's Private Fundraising and Partnerships Division, and prior to that, as Knowledge Manager at the International Labour Organization, both in Geneva, Switzerland.

Her experience in KM ranges from strategic to tactical. She has developed and deployed KM strategies in both the ILO and UNICEF, and has also initiated and supported teams in implementing specific KM initiatives to capture knowledge, reflect and exchange experiences, and repackage knowledge into formats that are more sustainable and easily applicable. Among the notable achievements of the teams she has led were the development of a knowledge hub and the formation of practitioner learning groups on microinsurance at the ILO, the development of a Learning hub, the launch of a global recognition program called 'Inspire Awards', the launch of a learning curriculum on Private Sector Fundraising and Partnerships at UNICEF, and only recently, the delivery of the first global Virtual Skill Share attended by almost 3,000 UNICEF colleagues from 159 countries using innovative online knowledge exchange tools and methodologies.
Ms. Suministrado has been invited to speak in various KM events globally, including the Innovations for Knowledge Organizations in Singapore, a Knowledge ShareFair organized by the FAO in Rome, a KM Conference in Malaysia, the Communities and Change Management Conference organized by ICRC in Switzerland. She has also co-authored several papers and publications on knowledge management, including an e-book on the Knowledge for Poverty Alleviation framework, and chapters on the books "Beyond the Knowledge Trap" and "Knowledge Management in Asia: Experiences and Lessons".